Safety of Young Riders
All RideKC buses are designated as Safe Places for children and young adults. Safe Place is a nationwide program that sets up public locations as a network of places where youth in crisis can get immediate help. Children who are in a dangerous situation can find the help they need at RideKC.
Traveling on RideKC can be fun for young riders and to enhance that experience, children and young adults should abide by the following safety rules:
Young riders: Use caution when riding alone
Wait in a safe place.
Don't talk to strangers.
Be aware of what's going on around you.
Hold on to handrails when boarding and exiting.
Get to the bus stop early so you don't have to worry about missing your ride.
Don't play around because you could injure yourself.
Wait for the bus to come to a complete stop before getting out of your seat.
If you miss your ride or get lost, ask a RideKC employee for help.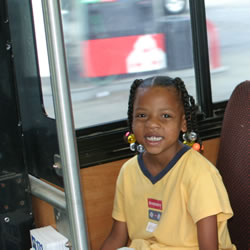 Adults: Keep an eye on children
While it is important for riders to look out for one another, it is especially important that they look out for younger riders. Here are a few tips for adults:
Lead by example. Show children good riding habits by practicing them yourself.
If you are a parent or a guardian, hold your child's hand when boarding and exiting RideKC vehicles.
Point out to them what is safe and unsafe riding behavior.
Let them know how to contact police and RideKC operators for assistance.