2017 Budget
2017 Financial and Management Plan
Operating Budget [PDF, 3 MB]
KCATA would like to thank our stakeholders for their input and engagement in the 2017 budget process. This budget is supporting a regional transportation initiative to provide access to jobs, educational opportunities, medical needs, shopping and local events. It also supports economic development and other major initiatives and provides a lifeline to those with cars in a growing population. The budget was built on five strategic priorities:
Regional stakeholder engagement
Structural redevelopment of the organization
Initiatives to increase ridership
Financial sustainability
Innovative solutions
The proposed Operating Budget for 2017 is $96,540,411. This reflects a growth of 4.1% from the 2016 Expense Budget of $92,714,768. The 2016 Operating Budget was balanced through the use of self-generated revenues, community contributions, sales tax collections and the use of reserves. The 2017 Operating Budget will be structurally balanced by the end of the year without any use of reserves.
Planned expenditures for the 2017 capital improvement program are $52,467,412, compared to $35,611,362 in 2016. This growth is primarily related to vehicle replacement, implementation of Prospect MAX, and facilities improvements.
Economic conditions and consumer sales play a major role in the generation of our sales tax revenues which the primary revenue source for the KCATA. The economic forecast for Kansas City, Missouri is stable and sales tax revenues for that period are projected to increase 1.5% per year based on prior year trends. There are still uncertainties at the KCATA that could have a significant economic impact including:
Federal funding related to changes in the current administration
Volatility of fuel prices
Transit ridership
Personnel costs
Strategic Direction
During the past year, KCATA has made significant strides toward fulfilling its mission as the Regional Transportation Authority. Early this year, the Commission endorsed the vision of "Quality Seamless Regional Transportation for Everyone" and challenged the organization with these three goals:
Position KCATA to be a recognized leader in regional transportation and related development.
Position the organization to meet current and future needs and opportunities.
Communicate KCATA's value in the vitality and economic growth of the community and the region.
These goals create a fundamental shift from an inward focus of providing transportation services to the global focus of ensuring that transportation needs of all stakeholders in the Kansas City region are met. To accomplish this transformation, KCATA needs to grow and change as follows:
Forge strong regional partnerships through organizational stakeholder engagement.
Structural redevelopment of the organization to be fully focused on being a regional provider of transportation services.
Leverage the expertise of members of the Board of Commissioner and leaders in partner organizations through committee involvement in the areas of Finance, Marketing, Human Resources and Economic Development.
Funding Sources
A portion of the expense growth related to these initiatives will be covered with federal funding and other local sources for operations and capital. However, the remaining budget growth resulting from these new initiatives will require use of $1,784,790 from the reserve balance in 2017. In the coming year, leadership will propose changes to the reserve usage policy to limit use to innovative or new programs or operating emergencies. Further, the revised policy will recommend that the minimum reserve balance will be 20% to 30% of the annual operating budget expense.
Unsolicited Proposals
KCATA's Unsolicited Proposals Policy
Unsolicited Proposal Form [PDF] - KCATA's Unsolicited Proposal Policy [PDF]
Note: Please DOWNLOAD the Unsolicited Proposal Form, rather than opening it in your browser. Right click on the link to the PDF, and select "Save as…" to download the form. Opening the form in your web browser may result in an error message.
KCATA is open for business and we want to hear from you. We encourage innovators, civic hackers, programmers, and other businesses to share ideas and concepts through our unsolicited proposal process.
What is an Unsolicited Proposal?
An unsolicited proposal is a written offer that is submitted to the KCATA for the purpose of developing a partnership or concept which is not in response to a current procurement solicitation.
An unsolicited proposal meets the following characteristics:
Be innovative and practical;
Have potential to significantly reduce KCATA operating and/or capital expenses for a service the KCATA currently provides, or for a new service, including services for our customers (i.e. information about the KCATA's service status) which the KCATA could provide;
Be independently originated and developed by the proposer;
Be prepared without KCATA supervision, endorsement, direction, or direct involvement; and
Contain sufficient details regarding the benefits for the KCATA's mission and responsibilities.
In short, an unsolicited proposal is a concept that uses innovative but efficient solutions to offer added value, lower operating expenses and/or avoided capital expenses to our regional transportation system.
An unsolicited proposal is not an offer or alternative for property or services that the KCATA is currently procuring through competitive methods. An unsolicited proposal is not a policy or operating procedure recommendation.
Who Should Submit?
The KCATA welcomes proposals from any vendor with technical and financial resources to provide the services proposed or the ability to contract with the KCATA and/or serve as a partner in a contract resulting from the adoption of the proposal. The KCATA encourages and welcomes innovative submissions from private sector businesses (including startups and small businesses), labor unions, municipalities, academic institutions, philanthropic foundations and non-profit organizations.
Submitting an Innovation Proposal – Concept Submission
Unsolicited Proposal Form [PDF] - KCATA's Unsolicited Proposal Policy [PDF]
Note: Please DOWNLOAD the Unsolicited Proposal Form, rather than opening it in your browser. Right click on the link to the PDF, and select "Save as…" to download the form. Opening the form in your web browser may result in an error message.
All Conceptual Proposals shall be submitted to the KCATA by email to .(JavaScript must be enabled to view this email address) using the submittal form. The KCATA will log the proposal and within three business days transfer it to the evaluation team for assessment of technical and/or financial merit. A review process will be completed within 60 days of acknowledgement, whereupon the proposer will be notified of the KCATA's decision. The KCATA may request more detailed information for the proposer as a component of the evaluative process. After a full review, the KCATA will decide whether to forego the proposal, to proceed to a sole source agreement, to test a pilot program, or to pursue a competitive solicitation based upon the proposal.
2016 Budget
Kansas City Area Transportation Authority Combined Operating Budget, for transit and paratransit service, 2016: PDF
About KCATA
In addition to providing high quality transit services, the Kansas City Area Transportation Authority is an employer as well as a partner of business and other community organizations. In this section, you can learn more about the future of transit in the Kansas City metropolitan area, as well as information on business opportunities available with KCATA. You also can view job postings and download the necessary job application information.
About KCATA Procurement
The KCATA Procurement Department purchases goods and services required by KCATA. Current Opportunities lists all current competitive procurements over $10,000. WeKCATA has established its goal of 15% for Disadvantaged Business Enterprise (DBE) participation during Federal Fiscal Years 2018-2020. Vendors included in the competitive procurement mailings are selected from the vendor master database, the Yellow Pages, a direct request and advertisements or provided by KCATA's DBE Officer. Vendors will be included unless they have been debarred, suspended, proposed for debarment or declared ineligible by any Federal departments or agency. Please contact Denise Adams at 816.346.0224 or email .(JavaScript must be enabled to view this email address) if you have any questions.
Affirmative Action
All firms doing business with the KCATA are required to meet federal Affirmative Action (AA) requirements. To receive AA compliance, please complete the enclosed Vendor Registration Form and submit one of the following documents.
A current letter of Certificate of Compliance issued by another governmental agency that has reviewed and approved your Affirmative Action plan; or
A written Affirmative Action plan and a current Workforce Analysis Form; or
A formal request for exemption from #1 and #2 above if your firm has 12 or fewer employees. This request must list names, job titles, race, gender, and salary ranges for all positions. This form must be submitted on the company's letterhead and notarized.
For complete information on the DBE and/or AA certification process, please contact: Denise Bradshaw, DBE Manager 1200 E. 18th Street Kansas City, MO 64108 (816) 346-0224 or (816) 346-0336 fax Email: .(JavaScript must be enabled to view this email address)
Americans With Disabilities Act (ADA)
Complementary Paratransit
The Americans With Disabilities Act (ADA) requires that all public bus systems provide Complementary Paratransit service for disabled persons who cannot independently use the bus service because of a disability. The service acts as a "complement" to the bus service. In Kansas City, the primary agency providing this service is RideKC Freedom, formerly known as Share-A-Fare. Complementary Paratransit service operates door-to-door. It is provided by vans or cabs in the KCATA ADA service area. Generally, the ADA established service area extends three-quarters or 0.75 of a mile on each side of regular bus route service. Complementary paratransit service is available on those days and during those times when trips are provided on regular RideKC routes. The fare charged for eligible trips is no more than twice the comparable full adult bus fare. To take advantage of complementary paratransit service, you must be certified as ADA Eligible. Other agencies providing ADA Complementary Paratransit service in the metro area are:
Dial-A-Ride - Kansas City, Ks. (913) 573-8351
IndeAccess - Independence, Mo. (816) 325-7399
For more information call the RideKCFreedom paratransit office at (816) 842-9070.
Paratransit Applications
All prospective participants must complete an application to be admitted to either the Complementary Paratransit. RideKC Freedome Only participants have higher fares and more program limitations than do the Complementary Paratransit participants. Applications are available online and from the RideKC Freedom office: Paratransit Services, 1200 East 18th Street, Kansas City, MO 64108
Applications are also available at some hospital social service departments, from medical social workers, and by calling the RideKC Freedom office at (816) 842-9070. All applicants with a disability must have a physician or qualifying agency assess and then attest to the nature of the disability. If not applying for Complementary Paratransit, proof of age and income will be required.
Board of Commissioners
The ATA is governed by a 10-member Board of Commissioners, five from Missouri and five from Kansas. Commissioners are limited to two consecutive four-year terms. Responsibility for the management, control and operation of the Authority and its properties is vested in the Board. The Board exercises its responsibility by adopting all general policies of the Authority, including the adoption of annual capital and operating budgets, the establishment of the goals of the Authority, and the selection of a President/CEO. The Board may delegate certain duties and responsibilities to the President/CEO for the management and operation of the Authority.
Commissioners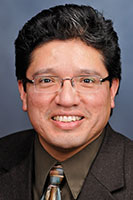 Daniel Serda, Chairman, Kansas City, Kansas - email
Kansas City Catalytic Urban Redevelopment (KC CUR) Project Manager, Local Initiatives Support Corp.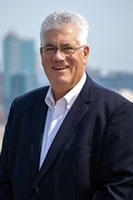 David Bower, Vice Chairman, Jackson County, Missouri - email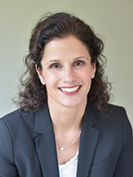 Anne Post, Secretary, Kansas City, Missouri
Senior VP, USA, Xakia Technologies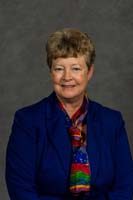 Melissa Bynum, Treasurer, Wyandotte County, Kansas - email
Unified Government Board of Commissioners, Executive Director of Shepherd's Center of KCKS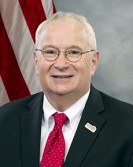 Jim Allen, Johnson County, Kansas
Second District Commissioner, Johnson County Commission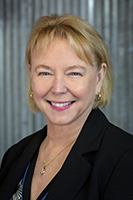 Nancy Bauder, Leavenworth County, Kansas
Business Owner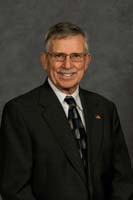 Gary Mallory, Cass County, Missouri - email
Owner, Governmental Professional Service Management, LLC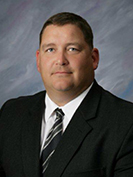 Joe Peterson, Kansas City, Kansas
Former Bonner Springs City Council member, Transportation Industry
(not pictured)
Louie A. Wright, Clay County, Missouri
Attorney
Vacant seat:
Platte County, Missouri
Board of Commissioners Meetings
The Board of Commissioners meets monthly, on Wednesdays.
Meetings are be in the Breen Administration Building, 1200 E. 18th Street, Kansas City, Mo., 64108. Meetings begin at 12:00 p.m. See below for variations to the schedule.
Schedule of meetings for 2019
January 30
February 27
March 27
April 24
May 22
June 26
July 24
August 28
September 25
October 23
Novemeber 20
December 18
Board Committees
See agenda page for for meeting dates and locations.
Committees include:
Board Governance
​Economic Development
​Finance, held monthly
​RideKC Development Corporation
​Marketing
​Human Resources​
Kansas Commissioner Appointment Process
From the inception of the ATA in 1965 until 2000, the Governor of Kansas appointed commissioners, subject to confirmation by the State Senate and the Kansas Commissioners representing Johnson and Leavenworth counties. In 2000, the process was changed so that these two commissioners are now appointed by their respective county commissioners. The other three Kansas commissioners, representing the Wyandotte County jurisdiction, have always been appointed by the Mayor of Kansas City, Kansas, now known as the Unified Government of Wyandotte County/Kansas City, Kansas. However in 2000, the process changed to include a requirement that these appointments must be approved by the City Commissioners.
Missouri Commissioner Appointment Process
The Kansas City, Missouri, Mayor appoints three of the five Missouri Commissioners, including a direct appointment that must be a Kansas City, Mo., resident. The Clay and Platte County Commissioners will each submit a list of three eligible candidates for the Mayor's consideration. The Jackson County Executive appoints a Commissioner from a community, other than Kansas City which contracts with KCATA for service. The other Missouri Commissioner must reside in Cass County, be nominated by that county's commission, then be appointed by the Governor and confirmed by the State Senate.
2018 Meetings:
2017 Board of Commissioner Meetings:
Board of Commissioners Agendas

The Board of Commissioners meets monthly. Meetings are regularly in the Breen Administration Building, 1200 E. 18th Street, Kansas City, Mo., 64108.
Meetings of the full Board begin at 12:00 p.m. See meeting notices below for variations to the schedule.
Committee meetings are at other times.
To view documents, click on the drop down menus in the "Files" column of the table below. The "Files" column is on the right side of the table.
Civil Rights and Title VI
KCATA's Commitment to Civil Rights
Traduccion en español The Kansas City Area Transportation Authority (KCATA) is committed to ensuring that no person is excluded from participation in or denied the benefits of its services on the basis of race, color or national origin, as provided by Title VI of the Civil Rights Act of 1964, as amended. Toward this end, it is KCATA's objective to:
Ensure that the level and quality of transportation service is provided without regard to race, color or national origin;
Identify and address, as appropriate, disproportionately high and adverse human health and environmental effects, including social and economic effects of programs and activities on minority populations and low-income populations;
Promote the full and fair participation of all affected populations in transportation decision making;
Prevent the denial, reduction or delay in benefits related to programs and activities that benefit minority populations or low-income populations; and
Ensure meaningful access to programs and activities by persons with limited English proficiency (LEP).
The General Manager, senior management, and all supervisors and employees share the responsibility for carrying out RideKC's commitment to Title VI. For more information on Title VI, visit the Federal Transit Administration's website.
Title VI Complaint Procedure
Any person who believes that he or she has been subjected to discrimination under Title VI on the basis of race, color or national origin may file a Title VI complaint with KCATA within 180 days from the date of the alleged discrimination. To file a complaint or for more information on your rights, contact:
Chief Planning Officer
KCATA
1350 E. 17th St.
Kansas City, MO 64108
816-346-0311
Title VI Complaint Forms can be downloaded in English or Spanish, or by calling 816-346-0311.
The written, signed complaint should include:
Your name, address and telephone number,
How, why, and when you believe you were discriminated against.
Include as much specific, detailed information as possible, and
The names of any people, if known, who KCATA can contact to support or to clarify your allegations.
KCATA will provide appropriate assistance to complainants who are limited in their ability to communicate in English. Complaints may also be filed with the U.S. Department of Transportation: Federal Transit Administration Office of Civil Rights Attention: Title VI Program Coordinator East Building, 5th Floor – TCR 1200 New Jersey Avenue, SE Washington, D.C. 20590
KCATA's current Title VI program is avaialble here [PDF, 8 MB].
Título VI
Compromiso de KCATA hacia los Derechos Civiles
The Kansas City Area Transportation Authority (KCATA) está comprometida a asegurar que ninguna persona sea excluida de participar o que se le nieguen los beneficios de sus servicios en base a raza, color, u origen nacional, según queda dispuesto en el Título VI de la Ley de Derechos Civiles de 1964, enmendada. Para cumplir con este fin, los objetivos de KCATA son:
Asegurar que el mismo nivel y calidad de servicio de transporte se provea a todos sin tener en cuenta la raza, color u origen nacional;
Identificar y resolver, según sea apropiado, efectos desproporcionadamente altos y adversos a la salud humana y al medio ambiente, inclusive los efectos sociales y económicos que ciertos programas y actividades puedan tener sobre poblaciones minoritarias y de bajos ingresos;
Promover la participación justa y total de todas las poblaciones afectadas en el proceso de toma de decisiones relacionadas con el transporte;
Prevenir la negación, reducción o retrasos en beneficios relacionados con programas y actividades que benefician poblaciones minoritarias o de bajos ingresos; y
Asegurar la participación de personas con uso limitado del idioma ingles (LEP, según la sigla en inglés) en programas y actividades.
El Administrador General, los administradores jefes y todos los supervisores y empleados comparten la responsabilidad de cumplir con el compromiso del RideKC de hacer cumplir el Titulo VI. Para obtener más información sobre el Título VI, favor de visitar la página web de la Administración Federal de Tránsito (Federal Transit Administration).
Procedimiento para interponer quejas bajo el Título VI
Toda persona que considere que ha sido discriminada bajo el Título VI en base a su raza, color u origen nacional puede interponer una queja bajo el Título VI en KCATA dentro de los 180 días de ocurrida la presunta discriminación. Para interponer una queja o para obtener más información sobre sus derechos, comuníquese con:
Chief Planning Officer
KCATA
1350 E. 17th St.
Kansas City, MO 64108
816-346-0311
La queja, escrita y firmada, también debe incluir:
Su nombre, dirección y número de teléfono.
Cómo, por qué y cuando cree usted que fue discriminado/a.
Información detallada y específica, si es posible.
Los nombres de toda persona con quien KCATA se pueda comunicar para apoyar o clarificar sus alegatos.
Los formularios de quejas bajo Título VI se pueden descargar de Internet en ingles o español o se pueden obtener llamando al (816)346-0311. KCATA brindará ayuda apropiada a los denunciantes que tienen capacidad limitada para comunicarse en inglés. Las quejas también se pueden presentar ante el Departamento de Transporte de los Estados Unidos: Federal Transit Administration Office of Civil Rights Attention: Title VI Program Coordinator East Building, 5th Floor – TCR 1200 New Jersey Avenue, SE Washington, D.C. 20590
Title VI Resources for Subrecipients
As the designated recipient of Federal Transit Administration funds for the region, KCATA is responsible for ensuring that its subrecipients comply with Title VI general reporting requirements outlined in FTA's Circular 4702.1B. To that end, following are resources to assist subrecipients in developing and implementing a Title VI Program:
Compressed Natural Gas (CNG) Fueled Vehicles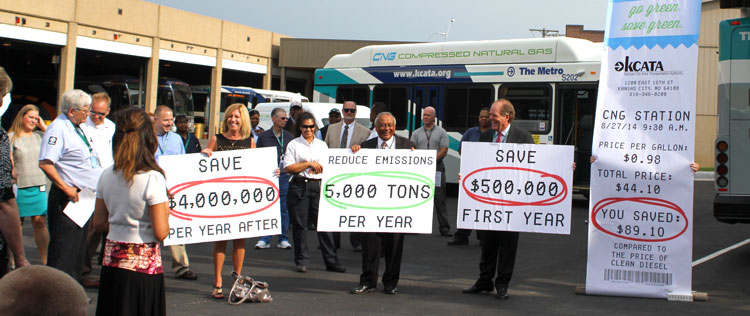 Representatives from MGE/Laclede Gas, the Federal Transit Administration and Clean Engery help illustrate the savings that CNG will provide.
KCATA unveiled its first two CNG buses in 2013, marking a new era in clean air technology for KC transit. In Spring 2014, KCATA has added 15 CNG buses to its fleet and anticipates delivery of an additional eight CNG buses in the fall. Over the next 12 years, new CNG buses will be phased in as current clean diesel buses are retired.
In August 2014, the Kansas City Area Transportation Authority opened the all-new "Fast Fill" Compressed Natural Gas (CNG) fueling station for KCATA's CNG fleet and support vehicles. The agency has partnered with Clean Energy Corporation, which will be responsible for the monitoring and maintenance of the fueling station, and Missouri Gas Energy/Laclede Gas Company, who install the gas main extension nearly a half mile to KCATA's facility.
The CNG Fueling station is termed "Fast Fill" because of its high pressure and capacity to simultaneously fill two CNG buses in less than seven minutes. KCATA's CNG station is currently the largest in the Kansas City region and all of Missouri. The fuel station technology has proven to be reliable and safe; however, if the need arises, five emergency shut down buttons are interspaced along the length of the station.
KCATA projects a fuel cost savings of $500,000 in 2015 and $4,000,000 annually once its fleet of 260 buses and service vehicles have been fully converted over the next 12 years.
See a video from the Kansas City Star about how the CNG station works:

Contact Form
Reason for contacting KCATA:
Current Opportunities
The following is a list of KCATA's upcoming bid and proposal opportunities. All dates and times are subject to change and KCATA reserves the right to cancel any solicitation at any time. All public events (bid openings and conferences) are held at KCATA, 1350 E 17th Street, Kansas City, MO. 64108 unless otherwise indicated.
Customer Service
Mailing Address
Kansas City Area Transportation Authority, 1200 E. 18th Street, Kansas City, MO 64108
KCATA Offices
Customer Service Lobby: 1200 E. 18th Street Kansas City, MO 64108. Open Monday through Friday, 8 a.m. to 5 p.m.
KCATA Email
When submitting a complaint or compliment via email, please include bus number, route, direction of travel, time, date, driver's name or badge number, and description of driver as it relates to the comment. Send to .(JavaScript must be enabled to view this email address).
Web Site
www.ridekc.org - Rider information
www.kcata.org - Corporate information
Contact Phone Numbers
Office or Service
Phone Number
Administrative Offices
816-346-0200
Route and Schedule Info for RideKC
816-221-0660
Regional Call Center (TDD Line for the hearing impaired) (Nationwide number)
711
Commendations & Complaints
816-221-0660
Bus stop, shelter, park-and-ride issues (Leave message)
816-346-0845
Lost and Found
816-346-0265
Lost and Found - Johnson County
913-715-8267
Lost and Found - IndeBus
816-461-4293
RideKC Freedom Paratransit Reservations
816-842-9070
RideKC Freedom Paratransit Complaints & Commendations
816-346-0860
RideKC Freedom Paratransit (TDD Line for the hearing impaired)

(Nationwide number)

711
RideKC Flex
816-346-0346
RideKC Van Vanpool
816-346-0800
KCATA Job Line
816-346-0282
Discounted Passes for Employers
816-346-0200
Reduced Farecards
816-346-0265
Transit Advertising - www.adsposure.com
816-256-2214
Media Relations
816-346-0258
DBE and SBE Programs
Disadvantaged Business Enterprise
NOTICE: NOTICE OF PUBLIC HEARING - DBE GOAL FOR FFYs 2018-2020
Pursuant to 49 CFR Part 26, the Kansas City Area Transportation Authority (KCATA) has established an overall DBE participation goal of 15.0% (as amended) for FFYs 2018-2020.
The proposed goal and its rationale are available for inspection Monday thru Friday, 8:00 a.m. to 4:30 p.m., at KCATA's Finance/Grants offices, 1350 E. 17th Street, Kansas City, MO 64108. Comments and inquiries will be accepted from the public for 45 days following the date of this notice and may be directed to Whitney Morgan, KCATA, at the above address (e-mail .(JavaScript must be enabled to view this email address)) or to the Federal Transit Administration Region VIII, Byron Rogers Federal Building, Civil Rights Office, 1961 Stout Street, Suite 13-301, Denver, CO 80294.
A public meeting will be held Monday, July 24, 2017 at 3:00 p.m. at KCATA's Breen Bldg., Large Conf. Rm., 1200 E. 18th St., KCMO. The meeting is to discuss the USDOT's recommended methodology for setting annual goals, and to include your input in the goal setting processing.
Download the ATA's Disadvantaged Business Enterprise Policy statement.
Certification
To be certified as a bona fide Disadvantaged Business Enterprise (DBE) your firm must meet the criteria established by the Department of Transportation under 49 CFR Part 26 established March 1, 1999. Key considerations include, but are not limited to:
The majority stockholder (firm's principle) must be considered socially and economically disadvantaged according to DOT guidelines. This includes recognized minority groups and females.
The principle(s) must have a documented personal net worth that does not exceed $1.31 million, which excludes equity in the firm.
The firm's annual receipts (based on a three-year average) cannot exceed the Small Business Administration's size standards based on the firm's primary function and NAICS codes.
Further information on these regulations and the certification requirements can be found at https://www.transportation.gov/civil-rights/disadvantaged-business-enterprise/obtaining-certification.
Required Forms
Disadvantaged Business Enterprise (DBE) Application (must be signed and notarized)
Note: If you firm has a current Letter of Certificate of Compliance issued by another governmental agency that has reviewed and certified your firm as a DBE in accordance with 49 CFR Part 26, you may submit it as part of the certification process with KCATA. Pursuant to 49 CFR Part 26.81, the KCATA participates in Missouri's Unified Certification Program through the Missouri Regional Certification Committee (MRCC). A firm that is certified through a partner agency will also be considered "certified" through the MRCC. Certified firms will be included in the MRCC DBE Directory, which is available to interested parties. You may access the MRCC DBE Directory at the Missouri Department of Transportation website.
Small Business Enterprise (SBE) Program
To facilitate competition by small business on projects funded in part by the Department of Transportation (DOT), KCATA has implemented a Small Business Enterprise (SBE) Development Program as mandated in 49 CFR Part 26.39. This program fosters small business growth and competitive bidding on USDOT funded projects. The program operates in a race and gender neutral manner and is designed to include all segments of the business community. In order to be eligible as a Small Business Enterprise, firms must: 1) fall within the Small Business Administration's size guidelines; and 2) the Owner's Personal Net Worth (PNW) cannot exceed the cap determined by USDOT (as amended) which is currently $1.32 million. Disadvantaged Business Enterprises (DBEs) are small businesses and are automatically included in the SBE program.
In order to participate in the SBE program, firms must complete the "Small Business Enterprise Declaration of Certification Affidavit." Firms that have the SBA's 8(a) Business Development Certification, as described in 13 CFR Parts 121 and 124, may submit a copy of its certificate. Firms that are not certified as 8(a) firms by the SBA must submit: 1) a copy of business tax returns for the most recent three-year period indicating the gross receipts; or if the SBA uses the number of employees to determine small business eligibility, a copy of the firm's payroll statement indicating the average annual employment for the most recent year. Firm owners must also complete a Personal Net Worth Statement.
For additional information, please contact Whitney Morgan at .(JavaScript must be enabled to view this email address) or 816-346-0227.
Driving Results publication
2017 presented fresh prospects for connecting the region to new opportunities in 2018. It was a year of internal assessment and external advocacy, investing in the basics, and building on the momentum generated over the last couple of years.
The good news headlines were plentiful; yet the year was not without challenges. Because of budget constraints, a number of low ridership routes were modified to run more efficiently, and we had
our first reduction in workforce in over a decade. 2017 expenses were under budget and the 2018 budget is balanced without tapping into reserves.
Read Driving Results to learn about community support for the RideKC Veterans Pass, the launch of RideKC Freedom On-Demand, safety initiatives and the Greater Kansas City Chamber's of Commerce's addition of Transportation as part of their Big 5 regional goals.
View Driving Results as a PDF. (1 MB)
Drug-Free Workplace
As a Drug-Free Workplace, the KCATA seeks to create a work environment free from the adverse effects of drug abuse and alcohol misuse.
Drug Screen and Pre-Employment Physical
If you are hired for a position at RideKC, you are required to pass a drug test (in accordance with Federal Regulation) and a physical examination, with regards to the nature of the position. RideKC has a policy that prohibits the illegal use, manufacture, distribution, sale, dispensation or possession of narcotics, drugs, or controlled substances, and will require random urine and drug and alcohol tests of its employees as an enforcement measure in providing for a drug-free workplace. You will be excluded from consideration for employment with KCATA if the results of your urine drug test indicate evidence of marijuana, cocaine, opiates, phencyclidine (PCP) and/or amphetamines.
Environmental Benefits of Public Transit
Go Green with RideKC
Reducing greenhouse gas emissions and CO2 with public transit
Approximately 85 percent of greenhouse gas emissions from the transportation sector are related to the surface transportation system.
Public transportation use is one of the most effective actions individuals can take to conserve energy. Riding public transportation far exceeds the benefits of other energy-saving household activities, such as using energy-efficient light bulbs, adjusting thermostats, or using energy-efficient appliances.
A single person who switches from a 20-mile commuting alone by car to existing public transportation, can reduce their annual CO2 emissions by 20 pounds per day, or more than 48,000 pounds in a year. That is equal to 10% reduction in all greenhouse gases produced by a typical two-adult, two-car household.
By eliminating one car and taking public transportation instead of driving, a saving of 30% of carbon dioxide emissions can be realized.
U.S. public transportation saves 37 million metric tons of carbon dioxide annually, equivalent to the emissions resulting from the electricity generated for the use of 4.9 million households or every household in Washington DC; New York City; Atlanta; Denver; and Los Angeles combined.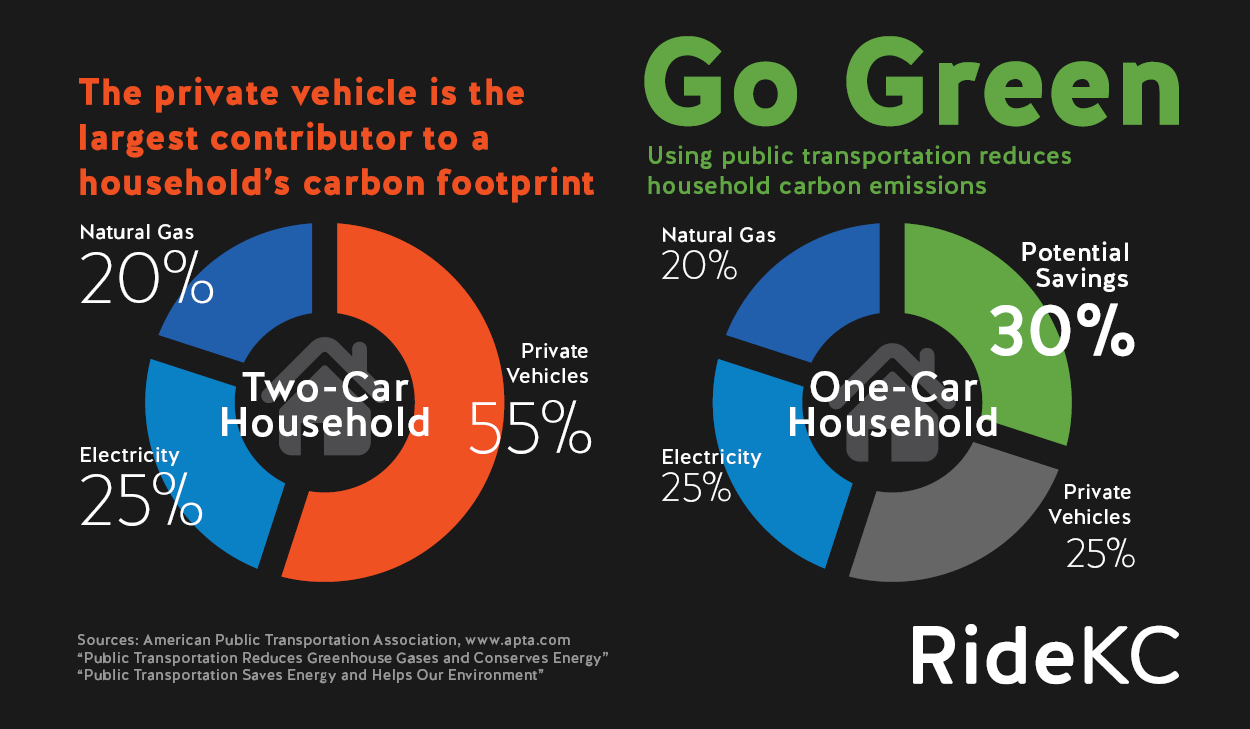 Public transportation in Kansas City
Locally, RideKC buses have used the equivalent of 1,000,000 diesel gallon equivalents (DGEs) of compressed natural gas (CNG) since starting to use the fuel in August 2014.
The move from diesel to CNG fuel is creating cost savings and environmental benefits. By reaching the milestone of 1,000,000 DGEs of CNG, KCATA reduced its greenhouse gas emissions by 1,870 metric tons. This is the equivalent of taking 395 passenger cars off the road for one year.
Reducing fuel dependency
Public transportation use saves the U.S. the equivalent of 4.2 billion gallons of gasoline annually — and more than 11 million gallons of gasoline per day.
Public transportation use saves the equivalent of 300,000 fewer automobile fill- ups every day.
Public transit use saves the equivalent of 300,000 fewer automobile fill-ups every day
Reducing congestion
Public transportation has a proven record of reducing congestion.
The latest research shows that in 2011, U.S. public transportation use saved 865 million hours in travel time.
Without public transportation, congestion costs in 2011 would have risen by nearly $21 billion from $121 billion to $142 billion in 498 urban areas.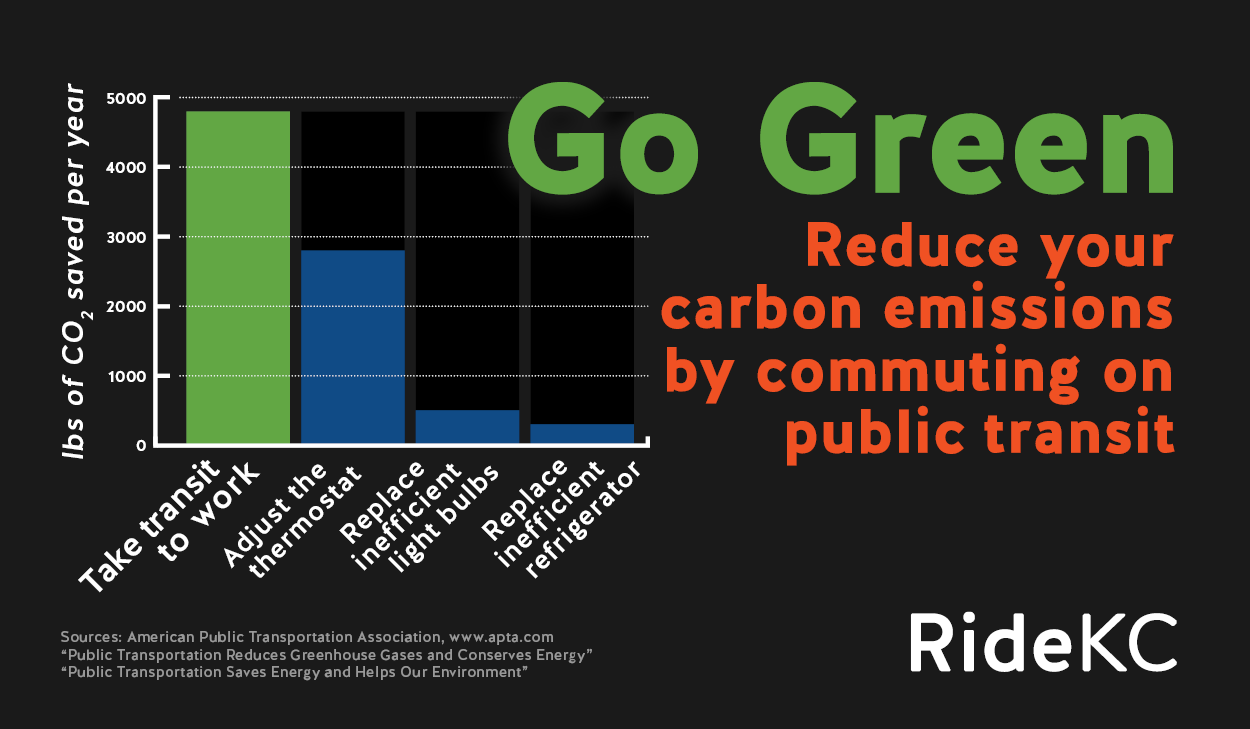 Sources: American Public Transportation Association, "Public Transportation Reduces Greenhouse Gases and Conserves Energy," "Public Transportation Saves Energy and Helps Our Environment.
Forms
You may need some or all of these forms in order to do business with the KCATA. They are available in PDF or Word format. If you have any problems accessing them, please call (816) 346-0254.
KCATA Standard Contract Terms and Conditions
In an Emergency
In case of an emergency do the following:
Notify a RideKC employee, security or call 911.
Remain calm.
Inform others around you and calmly evacuate the area.
Don't take risks that could harm you or others.
If you have to report an incident, be prepared to give a description of the people involved, location and time the event took place.
Job Benefits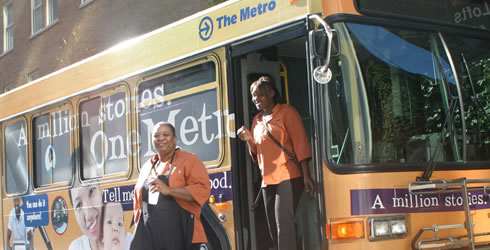 Working at the Kansas City Area Transportation Authority has its benefits: The ATA offers health, dental and life insurance to eligible full-time employees. Health and dental insurance are also available to part-time employees. Flexible spending accounts are available pre-tax for out-of-pocket family health care or dependent care expenses. In addition, employees may purchase voluntary products (i.e., long-term and short-term disability, group term life insurance). A deferred compensation plan is available, which allows employees to set aside monies for retirement. ATA also provides a Defined Benefit Pension Plan for full-time employees. This plan is to provide retirement benefits for employees who retire. Full-time employees are eligible to accrue vacation and sick leave based on their years of service. KCATA recognizes nine paid holidays, plus the employee's birthday and one floating holiday.
Fostering a healthy work environment is important to the ATA. North Kansas City Hospital partners with the ATA to identify and work with high-risk employees. During our annual health fair, on-site medical services are provided, such as blood pressure, diabetes and cholesterol screenings. These services give employees insight on how they can improve their lifestyle. A free bus pass for the employee and dependents, on-site fitness center, cellphone discounts, and employee recognition events are just a few additional perks ATA employees enjoy.
The above description of benefits is to provide a general overview of benefits available, and does not represent a binding commitment of offerings. Benefits are subject to change with or without website posting. Firm benefits will be detailed at time of hire.
Job Vacancies
Applications for all open positions are accepted online. This reduces the need for duplicate information required on multiple forms, and speeds up the screening process for qualified applicants.
Thank you for your interest in working at KCATA.
Ladders of Opportunity Project
Ladders of Opportunity Initiative is funded under the U.S. Department of Transportation's Section 5309 discretionary grant program. In August 2014, KCATA submitted an application for $1.5 Million for design and construction of transit improvements along the Prospect Corridor between 22nd Street and 27th Street on Prospect Avenue in Kansas City, Missouri. KCATA is partnering with the City of Kansas City, Missouri to revitalize the Prospect corridor. The Prospect Corridor is served by KCATA's second busiest route, 71-Prospect, with about 6,000 passengers on a typical weekday.
These improvements will facilitate access to recent investments in this corridor, improve access to the Prospect Avenue transit line and future BRT, and access to connecting east-west routes on 27th Street and 23rd Street. It includes concrete bus pads and bus pull offs, new curbs and sidewalks, ADA compliant bus stops, passenger benches and shelters, and ADA compliant curb ramps and related improvements to support access, economic development and job creation.
Documents
Ladders of Opportunity Grant Application
Prospect Corridor Demographics (prepared by KCMO Planning Department)
New KCPD East Patrol Facility: The City leaders and police officers broke ground on the new crime lab on the city's east side. News coverage from KSHB.
East Patrol Division Station and Crime Lab. Project website.
Kansas City, Missouri FOCUS - Forging Our Comprehensive Urban Strategy. FOCUS website.
Kansas City, Missouri Prospect-Corridor-Initiative-Strategic-Plan
The Heart of the City Area Plan
MARC Long Range Transportation Plan
KCATA Organizational A-133 Annual Audit: Financial Report - Compliance Report
Media Relations
The KCATA responds promptly and completely to news media inquiries. Above all, we want to ensure that the information furnished is accurate. If you are a member of the working press and have an inquiry, please contact:
Chief External Affairs Officer: Cindy Baker
Phone: 816-346-0209
E-mail: .(JavaScript must be enabled to view this email address)
Mission
Mission Statement
We connect people to opportunities.
Vision Statement
Quality seamless regional transportation for everyone.
Core Values
Safety
Customer Service
Fiscal Accountability
Respect and Integrity
Employee Development
Innovation
Community Involvement
Accessibility
Overview
The Kansas City Area Transportation Authority is a bi-state agency created by a compact between the States of Missouri and Kansas, and approved by the United States Congress. The compact was authorized by legislation passed in both states in 1965. The compact gives the ATA responsibility for planning, construction, owning and operating passenger transportation systems and facilities within the seven-county Kansas City metropolitan area. The compact defines the ATA district as the counties of Cass, Clay, Jackson, and Platte in Missouri; and Johnson, Leavenworth, and Wyandotte in Kansas. The Authority's jurisdiction is limited to these seven counties.
The ATA operates RideKC bus service, the MAX Bus Rapid Transit service, Flex demand-response routes, RideKC Freedom paratransit service for the elderly and persons with disabilities, and RideKC Van vanpool service.
Ozone Alert!
75¢ bus fareon Ozone Alert! days.
Clear the air with RideKC. Riding the bus in not only a great way to get around, it's also good for Kansas City's air quality. During the area's high ozone months, June through September, you can help prevent ground-level ozone pollution—and other forms of air pollution.
Leave your automobile at home and ride the bus. It's especially important to take action when an Ozone Alert! is issued for the Kansas City area. An Ozone Alert! occurs when there is a forecast for unhealthy amounts of ozone. On these days, bus fare is only 75¢. You can track the ozone forecast at the Mid-America Regional Council.
Safety First
More and more people are learning the benefits of riding RideKC, such as reduced commuting costs, less stress and increased mobility and access throughout the region. Whether you're at a park and ride lot or a bus stop, there are actions you can take to keep yourself and others safe.
At Transit Stops and Other Public Areas
Pay attention to who gets on or off at your stop.
Stay alert to strangers.
When possible, travel with another person.
There is safety in numbers.
Stand near others in well-lit areas and move toward your bus when it arrives.
Trust your instincts.
If something or someone makes you uneasy, avoid the person or leave.
Be Careful When Boarding
Hold on to handrails.
Don't stand too close to the curb.
If you miss the bus, don't run after it, wait for the next trip.
Do not dart in front of traffic to catch the bus; instead use crosswalks when you have the right of way.
Let those exiting get off before you board.
Use Caution When Exiting
Once again, remember to use handrails.
Don't cross the street in front of a RideKC vehicle.
Use the rear exit door so those boarding can use the front.
If you drop something near the bus, don't pick it up until the bus has driven away.
Prevent AutoTheft Auto theft is a problem that occurs in cities big and small. Follow these suggestions when leaving your vehicle unattended.
Always lock your doors.
Hide valuable items under your seats or in your trunk; never leave them in plain view.
Park your vehicle in busy, well-lit areas.
Completely close windows.
Never hide a second set of keys in your vehicle.
Use car theft deterrents to protect your vehicle.
Be Careful Walking To Your Car
Be aware of people in your area.
Walk briskly and confidently to your vehicle.
Have your keys in your hand before you reach your vehicle.
Check inside your care for intruders before getting inside.
More Rules To Follow When On RideKC
Take your seat quickly and remain seated until your ride stops.
Keep your feet on the floor and never extend hands, feet or arms in the aisle or out the windows.
Don't lean or press against the doors.
Ride near the driver during non-rush hours.
Be considerate of other riders.
Safety and Security Features On Board
On board security cameras.
Easy access to doors.
Ramps or lifts for people in wheelchairs.
Emergency side windows that can be opened in the event of a crisis.
Radio link between drivers and communication center.
Tracking devices.
Grip poles for safe movement while on RideKC.
Evacuation doors at the top of each bus.
Be Aware of Suspicious Packages
Packages are often left unattended and most are harmless, but if you notice anything suspicious such as visible wires, a mist or odor around the package or anything seeping from it, please notify your RideKC Operator or a RideKC Supervisor.
Keep Your Eyes Open For Suspicious Behavior
People showing strange or suspicious behavior are usually:
In the wrong place or appear lost.
Staring, loitering or watching employees and customers.
Nervous or jumpy.
Exiting an area quickly after leaving a package in unauthorized or restricted areas.
Taking photos or expressing a high level of interest in operations, equipment or employees.
If you notice strange behavior, notify a RideKC Operator or Supervisor.
Safety of Young Riders
All RideKC buses are designated as Safe Places for children and young adults. Safe Place is a nationwide program that sets up public locations as a network of places where youth in crisis can get immediate help. Children who are in a dangerous situation can find the help they need at RideKC.
Traveling on RideKC can be fun for young riders and to enhance that experience, children and young adults should abide by the following safety rules:
Young riders: Use caution when riding alone
Wait in a safe place.
Don't talk to strangers.
Be aware of what's going on around you.
Hold on to handrails when boarding and exiting.
Get to the bus stop early so you don't have to worry about missing your ride.
Don't play around because you could injure yourself.
Wait for the bus to come to a complete stop before getting out of your seat.
If you miss your ride or get lost, ask a RideKC employee for help.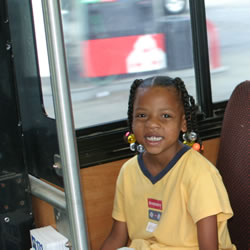 Adults: Keep an eye on children
While it is important for riders to look out for one another, it is especially important that they look out for younger riders. Here are a few tips for adults:
Lead by example. Show children good riding habits by practicing them yourself.
If you are a parent or a guardian, hold your child's hand when boarding and exiting RideKC vehicles.
Point out to them what is safe and unsafe riding behavior.
Let them know how to contact police and RideKC operators for assistance.
Strategic Plan

KCATA is moving forward – and we're doing so at a rapid pace. The theme of this strategic plan, Mobility Momentum, captures the hyper-focused attention we are placing on efforts to continue our evolution as an impactful regional asset for innovative transportation and economic development.
Over the next three years, we will be reinventing KCATA from a bus agency into a regional Transportation Authority; we will become the region's premier mobility resource; and we will continue to explore Innovative funding models so that our vision is sustainable.
While Mobility Momentum is a three-year initiative, this Strategic Plan outlines a road map for specific projects and programs KCATA teams will undertake over the coming fiscal year.
The plan focuses on three strategic elements to our core priorities of Ridership, Revenue, and Relationships:
What success milestones we propose to achieve,
How we propose to achieve them, and
Who will contribute to the work involved to achieve success.
This ambitious and actionable plan incorporates a performance scorecard system which KCATA will track on a quarterly basis.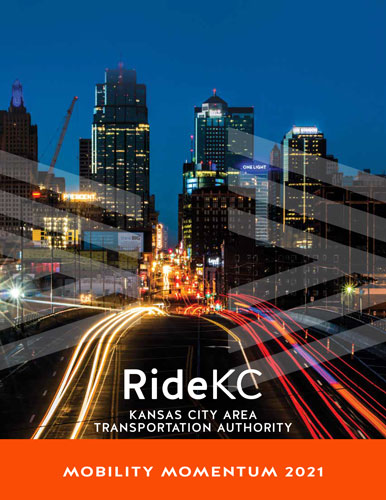 Transit Watch
Be Alert, Informed, Involved and Prepared Your safety and security is a top priority at RideKC. We have taken steps to ensure the safety and security of our transit system, such as:
Installing cameras on buses.
Conducting emergency evacuation exercises.
Making extra patrols and monitoring the remote video camera system.
In addition, RideKC is involved in the Federal Transit Administration's (FTA) TransitWatch program that encourages our customers to be active participants in security matters. While we are working to keep you safe, we ask that you do the same. Follow these simple safety measures to keep you and other riders, especially young riders, safe. You are a vital part of our Safety and Security Team and we rely on you to be our "eyes and ears." By practicing a few safety measures, such as waiting in well-lit areas, being aware of your surroundings and notifying operators in the event of an emergency, you will be able to help prevent crime. As customers, we want you to remember to be alert, informed, involved and prepared.
Who We Are
The Kansas City Area Transportation Authority (KCATA) operates RideKC bus service, the MAX Bus Rapid Transit, RideKC Freedom paratransit service for the elderly and disabled, and RideKC Van vanpool service.
KCATA was formed with the signing of a bi-state compact created by the Missouri and Kansas legislatures on December 28, 1965. The compact gives the KCATA responsibility for planning, construction, owning and operating passenger transportation systems and facilities within the seven-county Kansas City metropolitan area. These include the counties of Cass, Clay, Jackson and Platte in Missouri, and Johnson, Leavenworth and Wyandotte in Kansas.
The KCATA is governed by a 10-member Board of Commissioners five from the state of Missouri and five from the state of Kansas. RideKC logs more than 50,000 trips every weekday. RideKC Freedom provides 250,000 trips per year, and there are dozens of vanpools helping to meet the commuting needs of people living outside the boundaries of bus service.