Troost MAX
Troost MAX travels from downtown to the Crossroads district, Hospital Hill and south along Troost to Bannister. Troost MAX offers local service south of 75th Street. Other major destinations include the East Village development (currently under construction), Discovery Center, UMKC Hospital Hill and Main Campus, Rockhurst University, The Landing, Truman Medical Center, and Children's Mercy Hospital. Park and Rides are located at 31st & Troost, 95th & Troost, and the Bannister & Hillcrest area. Trail Connections are a vital part of Troost MAX: a future trail between Troost & Bannister will connect to the Trolley Track Trail near 87th & Garfield.
MAX stations are well-lit and feature a distinctive, easily identifiable information marker, and a specially designed passenger shelter. The stations are clearly marked and named, featuring easy-to-understand route maps and real-time transit information. Riders have instant and constantly updated access to the exact arrival time through GPS technology and real-time signs at MAX stations.
Troost MAX Artwork
For the first time, the Kansas City Area Transportation Authority has commissioned original public art at prominent locations along Troost MAX. Artists drew upon community input and local history to create interesting and compelling works.
31st & Troost, "Catalyst," Matt Dehaemers
This large-scale incorporates linguistic history in the structure's design. Dehaemers designed the structure to resemble a tree, playing off one origin of the word "Troost," which can mean tree. The motion of the structure results in a creation that is constantly in flux, much like the history of Troost. Dehaemers recently completed Seven Sentinels at the city's vehicle impound facility. Nationally, he has been recognized by the Public Art Network's Year in Review for four years in a row starting in 2004, and again in 2009. See a video of the sculpture in motion.
39th & Troost, "Unite," Jefrë
The Catholic Key covered the March 2011 dedication of Unite. Jefrë created a sculpture that draws on the image of hands coming together, evoking a joining together or way to cross a divide. The artist worked with area children, gathering drawings of what the children want to be when they grow up. These drawings of doctors, firefighters, engineers and other vocations are incorporated into the sculpture. Jefrë is an internationally acclaimed emerging public artist based in Miami who has received numerous awards for his innovative designs. After ten years working with international design firms, Jefrë launched his own couture public art studio in 2008 with a focus on environmental art, green roofs, boutique plazas, parks, and public art master plans. In his first year, he has been selected for six national blind public art competitions in New Orleans, Washington D.C., Toledo, Palm Beach, Orlando, and Philadelphia.
75th & Troost, "Every Day I Have the Blues," David Dahlquist
The installation chosen for the 75th & Troost MetroStation is a tribute to Kansas City's rich jazz history. The sculpture is an oversized piano structure with LED lighting. It is a powerful red epoxy painted steel and aluminum structure. The open, cantilevered framework suggests the raised lid of a grand piano; pedestrians can actually walk under the structure on a walkway or sit on benches resembling the piano's keyboard. David B. Dahlquist is a nationally-recognized public artist and teacher. He is the Creative Director of RDG Dahlquist Art Studio, a comprehensive design and fabrication facility within RDG Planning & Design, specializing in the integration of artwork within building architecture and the landscape.
The Troost Bridge

The new bridge over Brush Creek is a project of the City of Kansas City, Mo. On the pedestrian walkway of the bridge, a series of polished stainless steel of panels reflect light throughout the pedestrian walkways on the bridge. The panels will evoke the movement of the water flowing under the bridge, as well as the motion of the pedestrian, bicycle and transit traffic across the bridge. See drawings of the bridge: View from the pedestrian walkway Side view of the Troost Bridge at daytime View of the reflective glass wall at nighttime Side view of the Troost Bridge at nighttime
Green Technology
Troost MAX incorporates green features and technologies. The MAX fleet includes five hybrid electric buses. Hybrid buses operate on battery power from start-up until a speed of 25 mph at which time a diesel engine supplies power and recharges the batteries. This action reduces nitrous oxide emissions and increases fuel economy by 10%-20%. Other green features at select stations and park-and-rides include:
Rain gardens at several MAX stations to capture and filter water run-off
Posts or bollards that include solar-powered lighting
Recycling receptacles
Solar-powered trash compactors
Pervious concrete that allows water to soak through to the subsoil, reducing the amount of polluted water that runs off of the pavement surface
Hybrid vehicle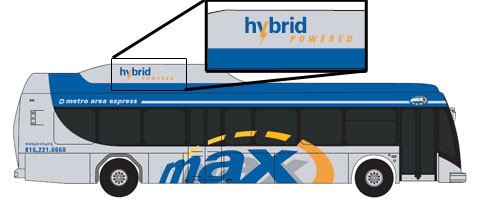 Rain gardens at stations

Recycling bins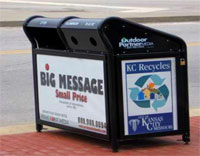 Solar-powered lighted bollards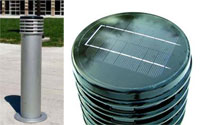 Funding for MAX
Capital federal funds were used for planning, construction, vehicles, stations, and technology:
Total budget $30.6 million, $24.5 million from federal grants
This includes $18 million for construction and fabrication
Local entities provided a required 20% match:
KCP&L Streetscape Funding
City of Kansas City, Mo., PIAC funds for streetscape
Property and funds for Park-and-Ride at 31st & Troost
Pedestrian improvements on Troost Bridge at Brush Creek
Other ATA and city sources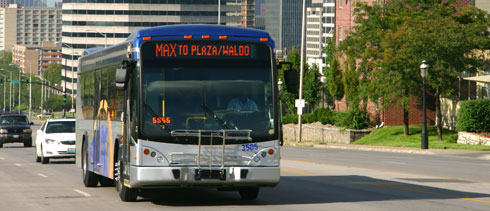 Back
Trolley Track Trail
Update, Spring 2014: A chain link fence has been placed around the unsafe portion of the trail between Troost & Woodland.
Additionally, we are putting asphalt on a small portion of the trail just south of Waldo to 77th St., for several hundred feet.
NOTICE: January 2012 Until further notice, a detour on the Trolley Track Trail between Troost and Woodland will be in effect. Pedestrians and bicyclists should use 85th Street instead of the trail. In late 2010, a hole was discovered in the trail east of Troost and south of 85th Street. Over the last year, KCATA hired consultants and geologists to investigate the cause of the sink hole and repair it. These repairs have been completed, but concerns still remain. There is a larger area of underground mines along the trail between Woodland and Troost. There is no evidence of an imminent collapse. However, until the area can be more thoroughly assessed, KCATA has created a detour and closed this section of trail in the interest of public safety. Barriers have been placed on the trail and signs will be installed to direct trail users to travel on the detour on 85th Street between Troost and Woodland.
The Harry Wiggins Trolley Track Trail is a popular recreational facility for walkers, runners and cyclists. The trail is named after the late Senator Wiggins who throughout his 28 years of representing the 10th district, sponsored KCATA's tax legislation. The trail was the site of Kansas City's last streetcar line, the Country Club route. It's six miles long, from Volker to 85th & Prospect. The streetcar right of way is seven miles, from Westport Road to 85th Street. An original, renovated Country Club Streetcar Station is located at 54th and Brookside. The trail surface is compacted, crushed limestone. However, the surface south of 85th Street is asphalt, as are some other short sections in areas subject to brief flooding in heavy rain. KCATA owns and maintains the trail. The KCATA, the City of Kansas City, Mo., and to a lesser extent, private sector adjoining property owners have jointly invested more than $5 million in enhancement projects.

Who to Contact: For information related to leasing, maintenance/cleanup, trail and landscape construction, security, vandalism, or the Advisory Committee, contact Dick Jarrold, (816) 346-0356 or .(JavaScript must be enabled to view this email address).
Back
TIGER Projects
TIGER (Transportation Investment Generating Economic Recovery) is a discretionary grant program of the U.S. Department of Transportation funded by the American Recovery and Reinvestment Act. In 2010, the Kansas City region was awarded, on a competitive basis, $50 million in TIGER funding to make transportation infrastructure improvements along several regional transit corridors and in the Green Impact Zone in Kansas City, Mo. To track the progress on these projects visit the TIGER Tracker.
Green Impact Zone
TIGER funds will be used to rehabilitate the infrastructure in the Green Impact Zone, focusing on better transit stop amenities, traffic-signal improvements, street resurfacing and sidewalk replacement, Troost Avenue pedestrian bridge, and other neighborhood improvements.
Missouri Corridors
Approximately $1.42 million in TIGER funds will be used for Missouri corridors transit improvements (North Oak Trafficway and U.S. 24 and U.S. 40 corridors in eastern Jackson County). The project consists of improving bus stops and increasing pedestrian access to and from these bus stops.
State Avenue Transit Improvements
A total of $10.3 million of the $50 million TIGER grant awarded to the Kansas City region was allocated to the State Avenue corridor. TIGER grant funds in the east-west State Avenue corridor in Kansas City, Kan., will support existing transit services through improved stops, shelters, pedestrian connections and building two new transit centers. The two new transit centers for the State Avenue corridor will be located at the corner of 7th Street and Minnesota Avenue and at the corner of 47th Street and State Avenue. These facilities will bring dedicated transit centers to downtown Kansas City, Kan. to facilitate transit connections and transfers.


Back
State Ave. Connex
Enhanced Transit Facilities Planned for State Avenue
KCATA and Unified Government Transit have secured federal TIGER funding to improve the existing Minnesota/State Avenue transit corridor. The improvements will be made along the transit route that begins at the 10th & Main MetroCenter in downtown Kansas City, Mo., travels through Downtown Kansas City, Ks., and ends at Village West at 109th and Parallel Parkway in Wyandotte County . The route will serve activity centers and neighborhoods along State and Minnesota avenues. State Avenue Connex will be complete in 2013.
Why Transit is Important to State Avenue
Effective transit connects employment centers, educational facilities, neighborhoods and shopping and entertainment areas. As a major east-west route through the Kansas City metropolitan area, State Avenue links Kansas City's revitalized urban core with new development occurring farther west. With two new transit centers providing regional connections, State Avenue Connex supports the regional vision for enhanced and expanded regional transit in Kansas City. State Avenue Connex will improve transit facilities and continue to provide access to jobs, support economic development, and provide efficient transportation. What's Included with the Improvements State Avenue Connex will include new transit centers at 7th and Minnesota Avenue and at 47th and State Avenue (Indian Springs). Both transit centers will be custom-built with improved passenger waiting areas and amenities such as real-time passenger information. Other State Avenue corridor Connex stop improvements include:
Bus passenger shelters and benches
Bus stop platforms
Landscaping and environmentally friendly features
Improved pedestrian connections

Click on the map for a closer view.
Design Process and Schedule
KCATA, UGT, business leaders, neighborhoods, elected officials, the general public, other stakeholders, and a consultant design team are working together to develop State Avenue Connex. The preliminary design process began in the spring of 2011, and final design will be complete by winter 2011-2012. Construction began in Summer 2012 and finish in 2013. The process involves:
Developing preliminary and final transit design plans for the corridor.
Meeting with an advisory group of targeted State Avenue stakeholders to discuss needs, concerns, and ideas for improving the transit corridor.
Holding public meetings to gather feedback about the design plans.
Communicating with riders and the public in a number of ways, including online at http://www.kcata.org.
How State Avenue Connex Improvements are Funded
A Transportation Investment Generating Economic Recovery (TIGER) Grant from the U.S. Department of Transportation is funding the State Avenue Connex bus enhancements. The grant awarded last year included $10.5 million for the design and implementation of these physical enhancements along the corridor. State Avenue Connex is an intermediate step to a MAX Bus Rapid Transit Line. View a Fact Sheet about the State Avenue project. [PDF]

Back
Prospect MAX Visuals
The following images were presented at the March 2014 public meeting regarding Prospect MAX.
About the project - Frequently Asked Questions - View a PDF of this information [4MB]
Click on a picture for a larger view.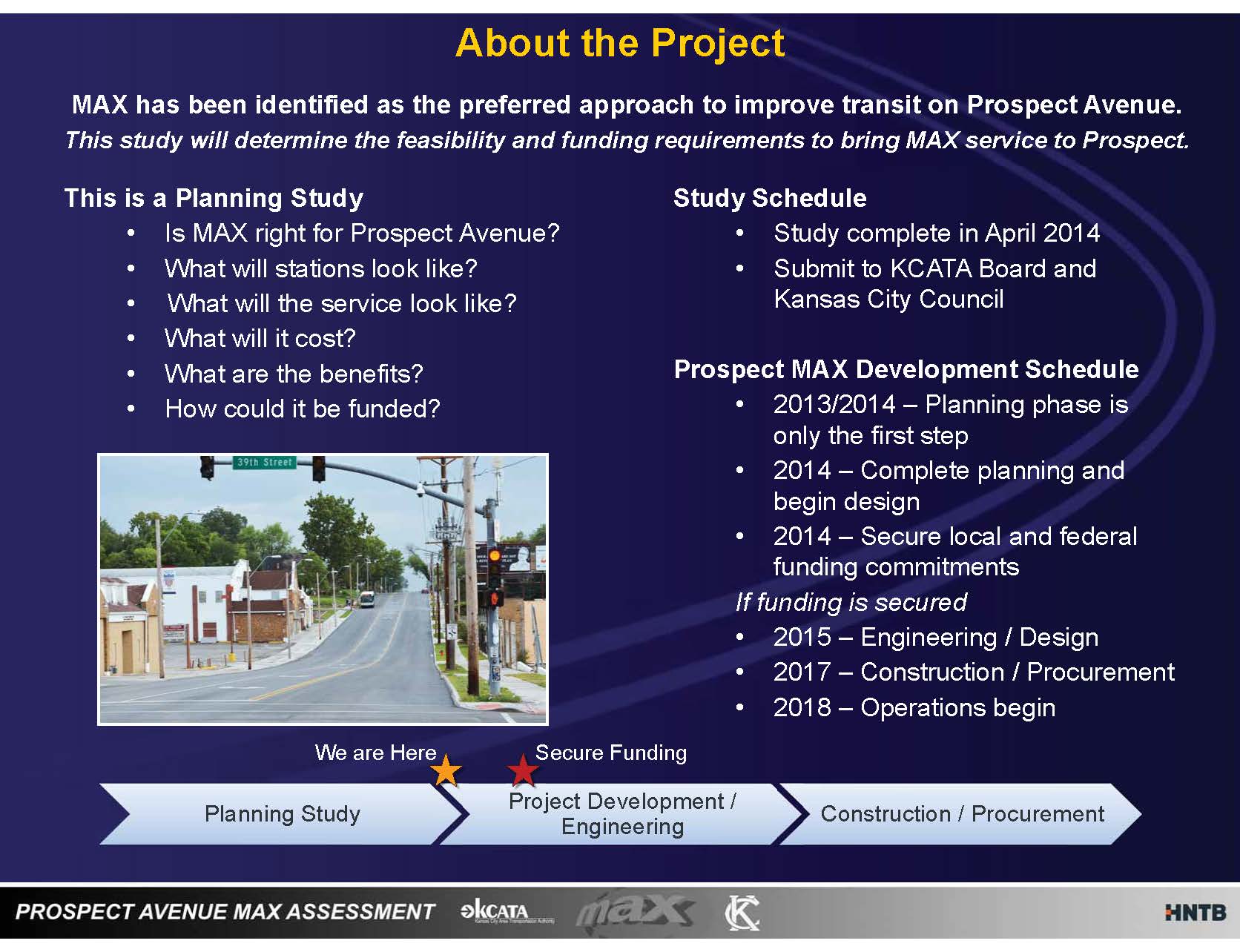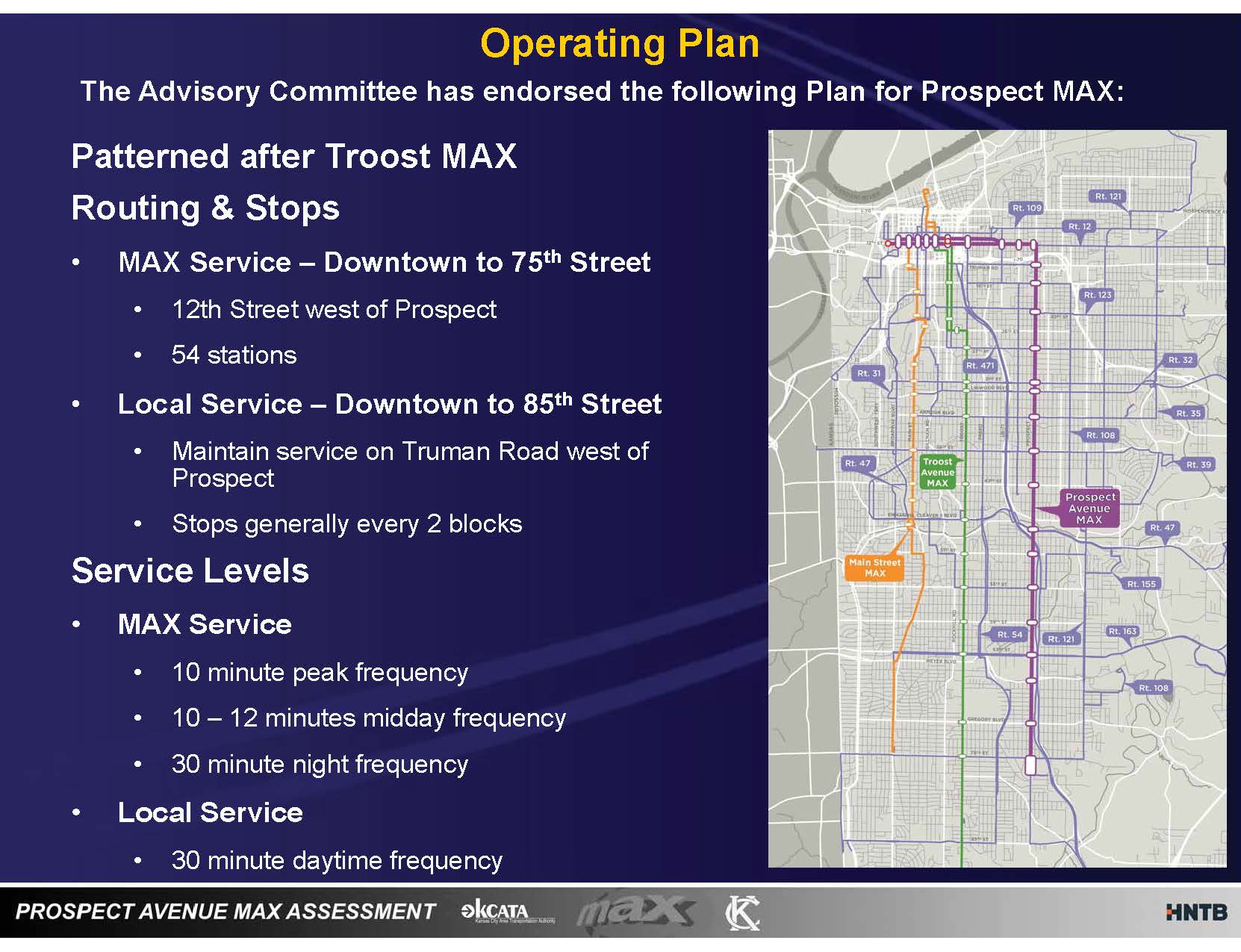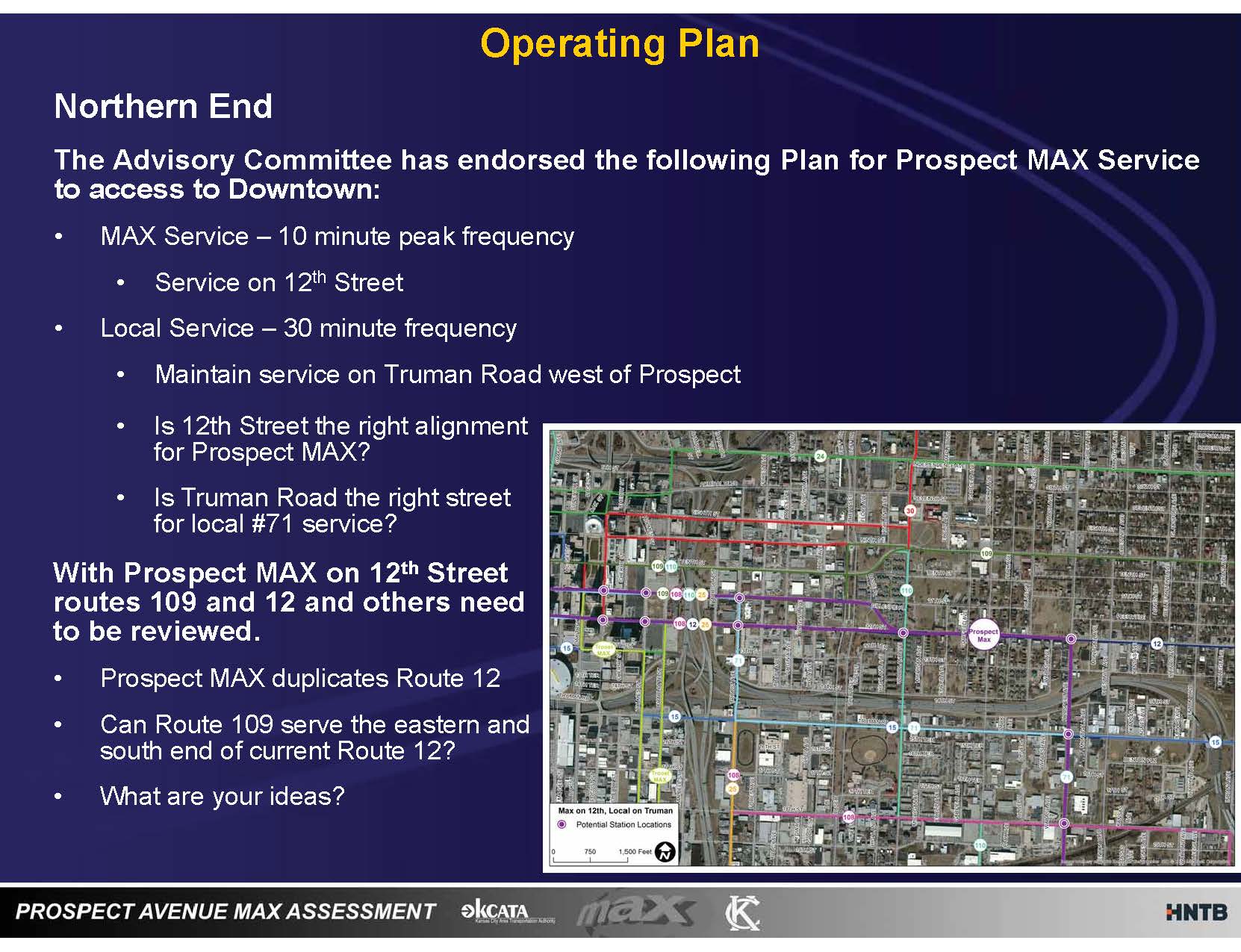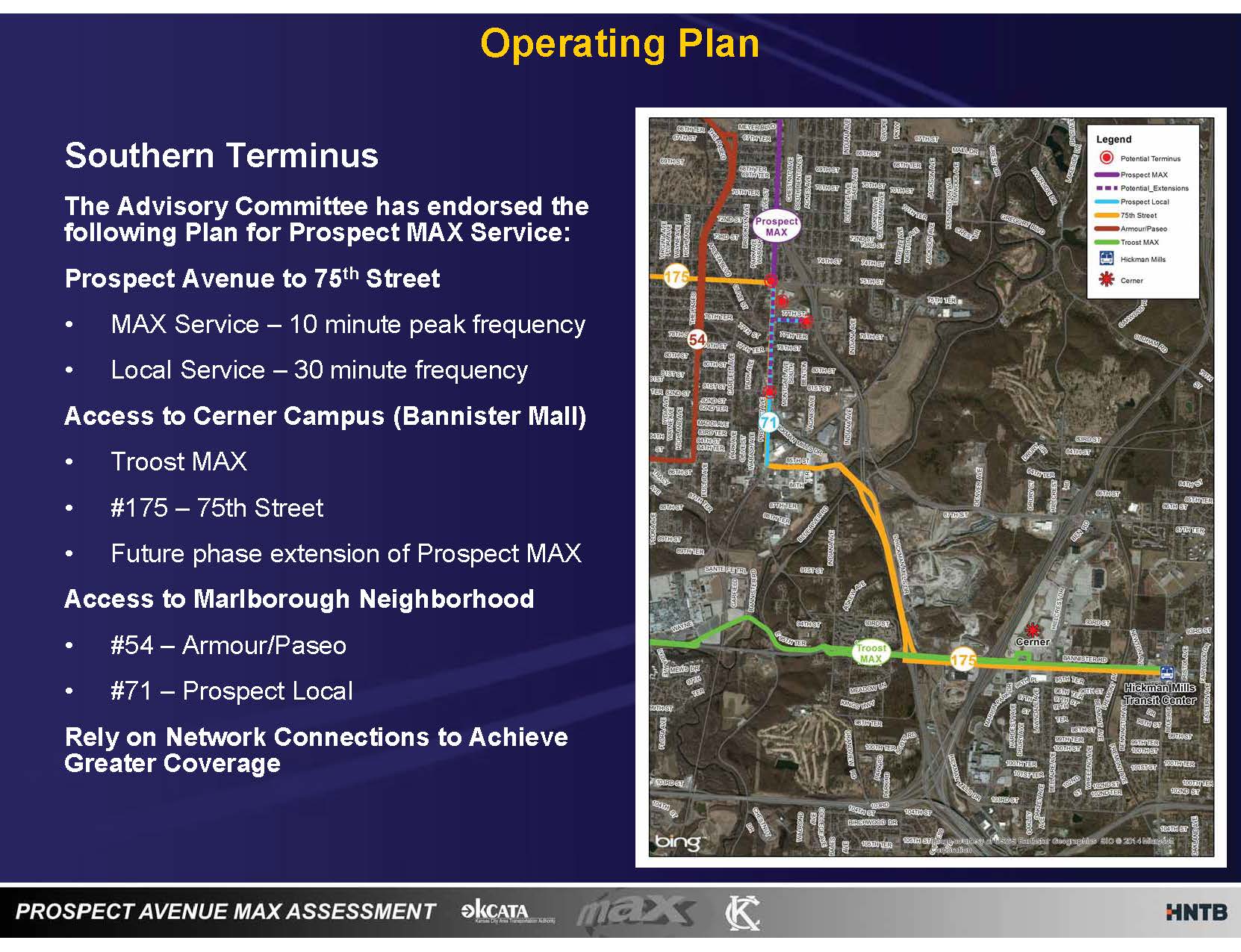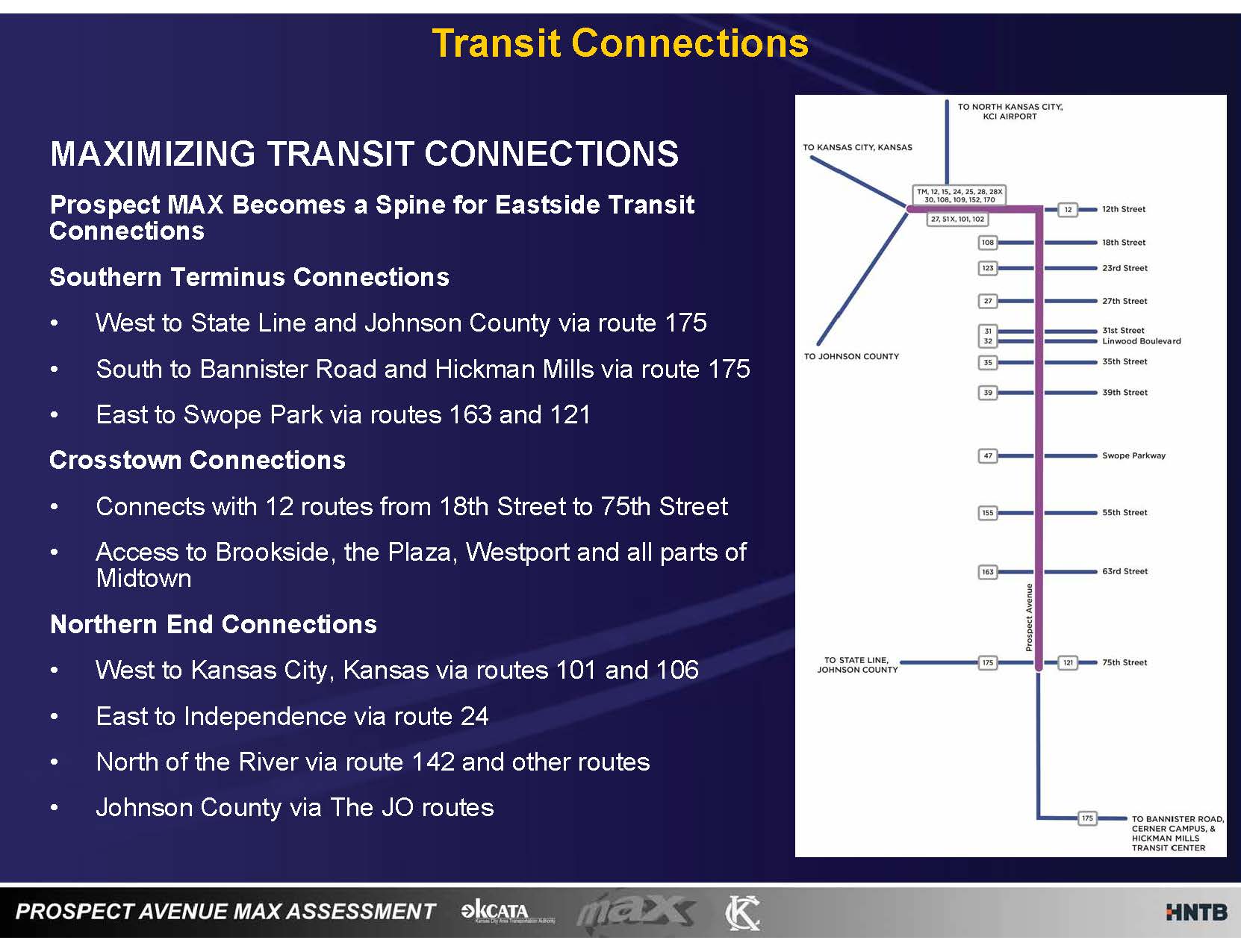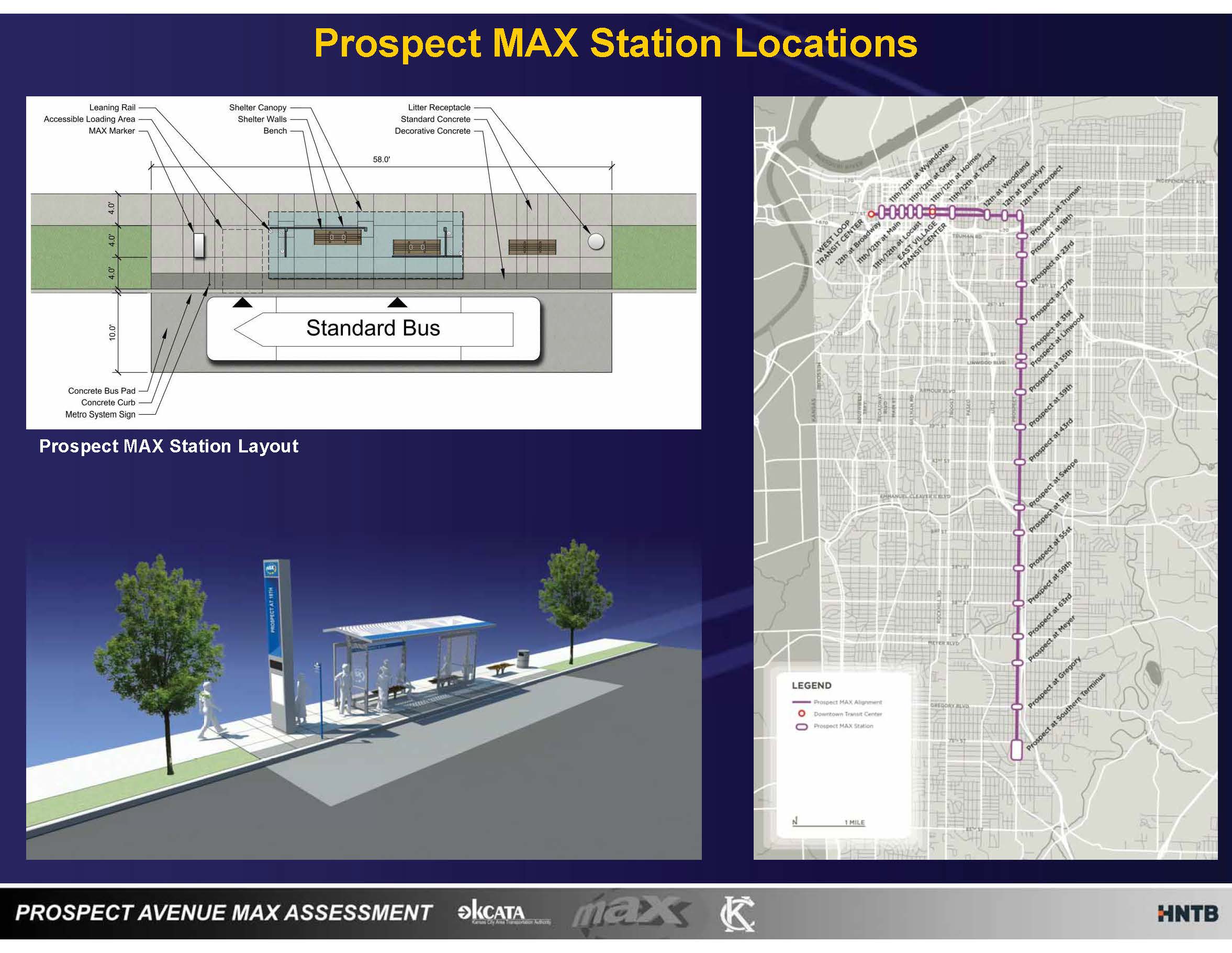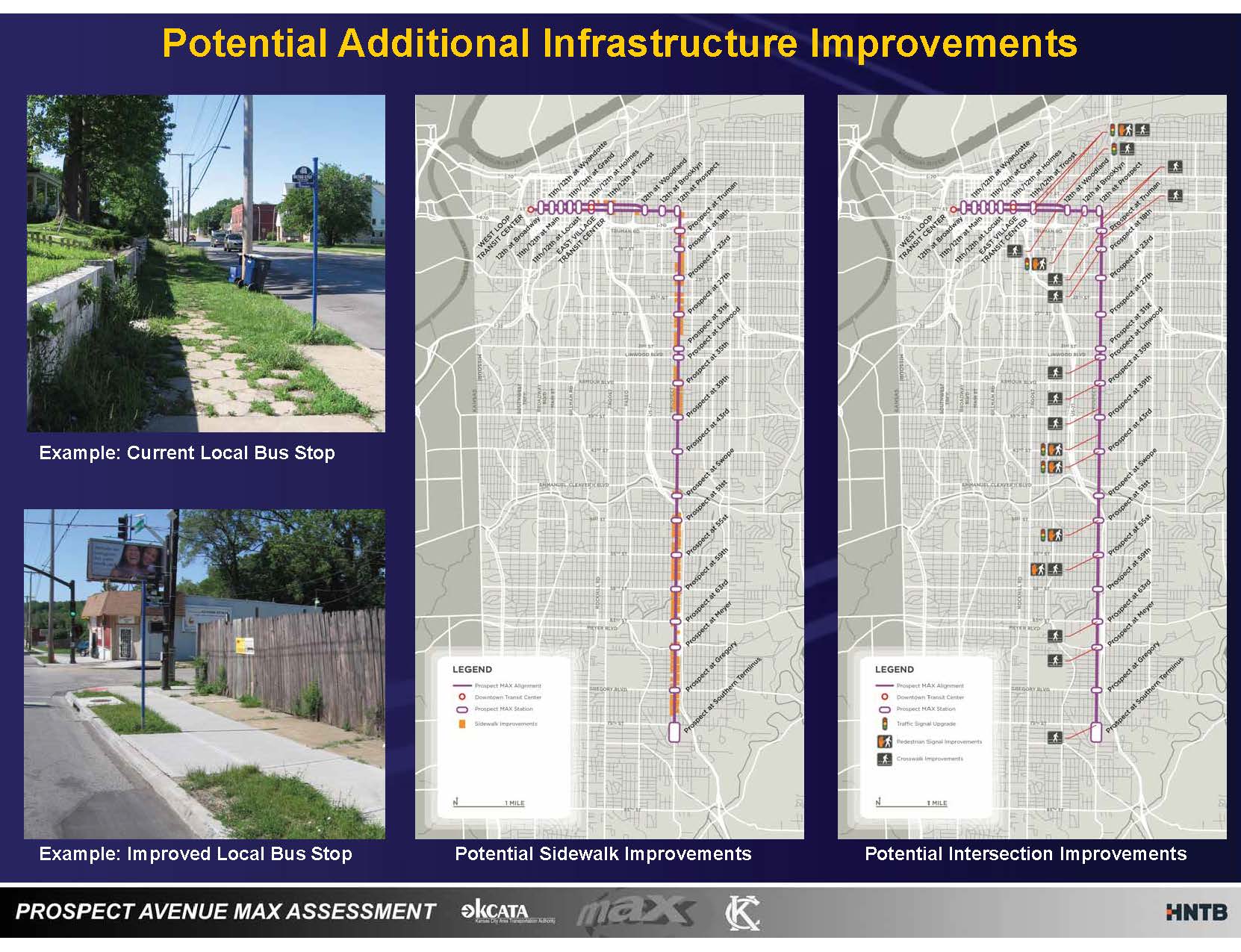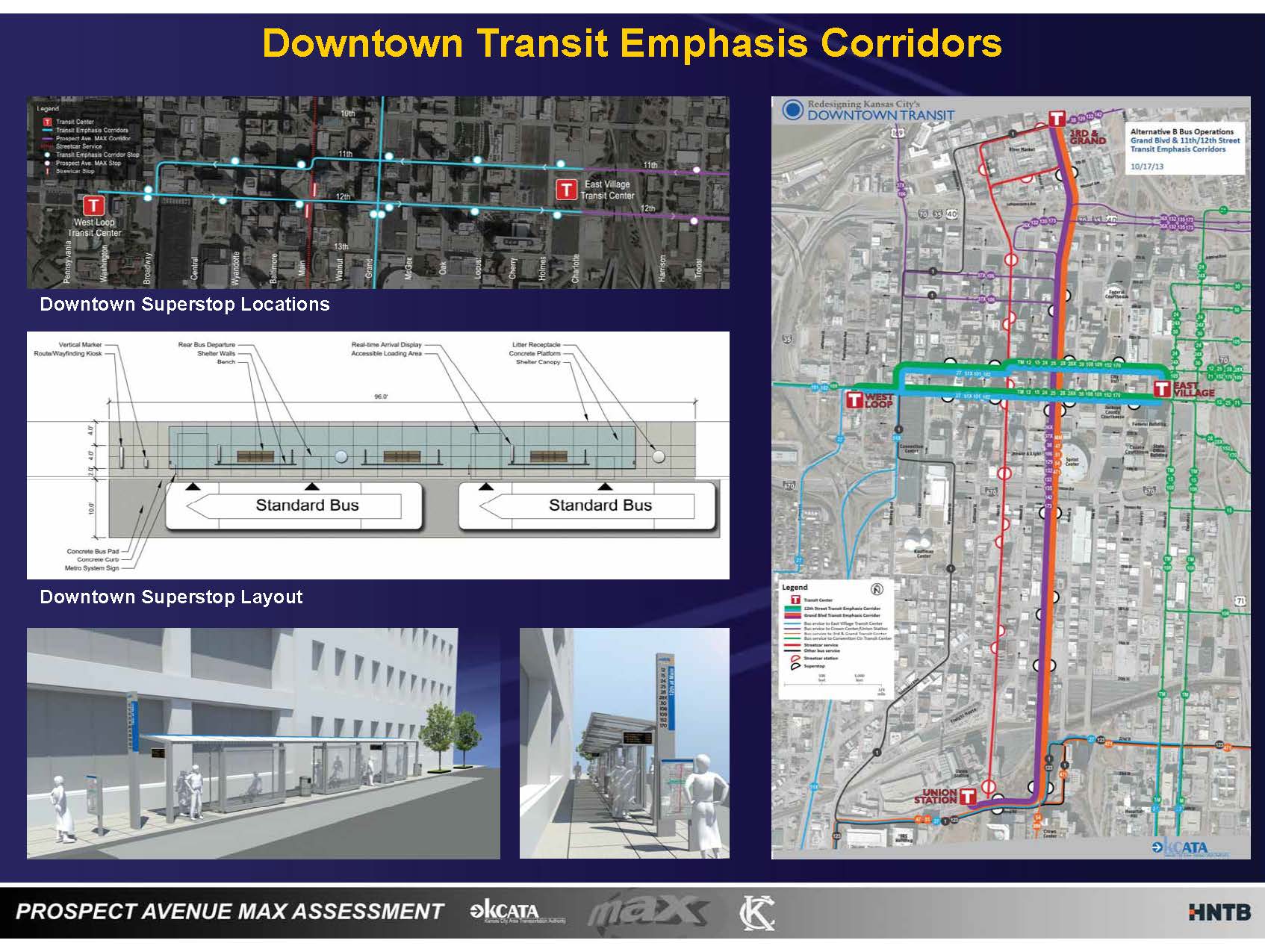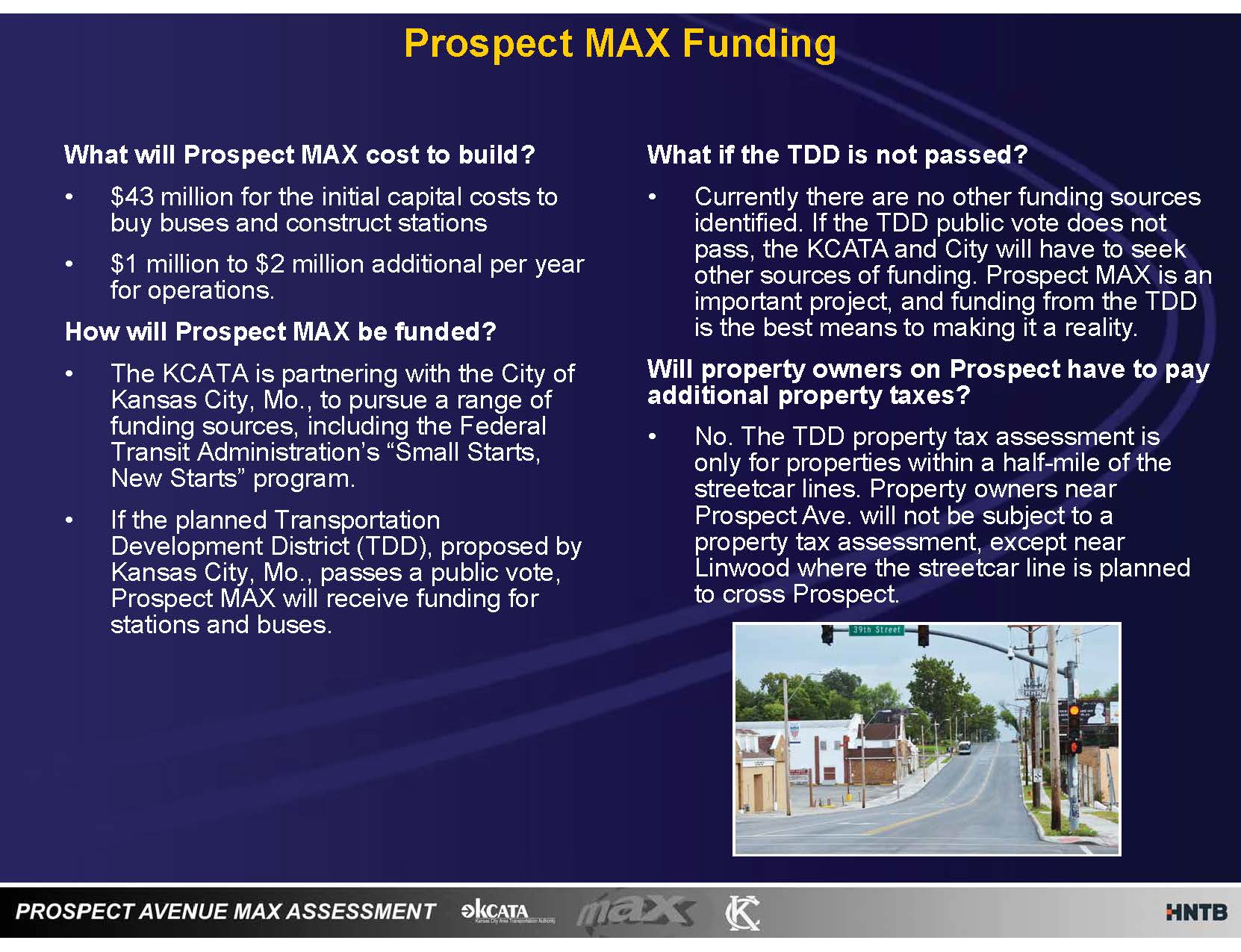 ?
Back
Prospect Ave. MAX FAQ
Frequently Asked Questions
What is Prospect MAX?
Metro Area Express (MAX) – is Bus Rapid Transit service providing faster, more frequent service, featuring the latest technology in the transit industry. MAX uses easy- to-identify vehicles, well-lit specially designed stations with highly visible information markers. The information markers feature real-time electronic signs that display bus arrival information so that customers may wait with greater confidence.
KCATA introduced MAX service on Main Street serving Midtown and the Country Club Plaza in 2005 and followed with Troost MAX in 2011. Both MAX routes have been highly successful.
How is Prospect MAX different from the current Troost or Main Street MAX BRT service?
Prospect BRT will be very similar to those services. Prospect MAX is still in the planning stage and all of the features have not been decided upon.
Where will Prospect MAX run?
The Prospect MAX will run between Downtown and south Kansas City on 12th Street and Prospect Ave. The southern terminus of the route is still to be determined. Capital costs, annual operating costs, anticipated ridership, and community interest are all factors in determining the initial southern terminus of Prospect MAX.
What will Prospect MAX stops/shelters look like?
While they are not yet designed, the KCATA anticipates that Prospect BRT stations will be similar to those on Troost MAX, including lighting and real-time information.
Where will the stops/shelters be located?
The KCATA is working with the community and planners to make those decisions. Stops will be spaced every four-to-six blocks and located at transfer points with other Metro routes and at high ridership generators like Research Medical Center. Frequently Asked Questions Prospect Ave.
How will Prospect MAX and the proposed streetcar system work together?
The two different types of public transportation will link together by having stops near each other at key locations, including Linwood and 12th and Main downtown. MAX and streetcars will work together to provide efficient and effective public transit.
What is the difference between MAX and streetcars?
MAX and the streetcar both provide a premium, high-frequency service with enhanced transit stations. MAX is KCATA's version of bus rapid transit, proven effective for longer work trips as well as other purposes. MAX service uses buses with the MAX branding theme; Prospect MAX buses will be powered by clean, compressed natural gas (CNG). MAX is faster due to fewer stations and traffic signal priority. Instead of bus stops, MAX has stations with unique shelters and furnishings, lighting, electronic next bus arrival signs and MAX branding.
Streetcars are steel-wheeled electrically powered vehicles that operate along tracks in the street. The streetcar being built in downtown Kansas City is a modern version of the old streetcars that last operated in Kansas City in 1957. The modern streetcars are 60 to 70 feet in length and can hold 100 passengers or more. Streetcars are best suited for higher density areas with many attractions, such as high activity areas, where travelers are making shorter trips.
What will Prospect MAX cost to build?
The project is still in the planning stage, but preliminary estimates are approximately $43 million for the initial capital costs to buy buses and construct stations, and $1 million to $2 million additional per year for operations.
How will Prospect MAX be funded?
The KCATA is partnering with the City of Kansas City, Mo., and the Mid-America Regional Council to pursue a range of funding sources, including the Federal Transit Administration's "Small Starts, New Starts" program. Even if federal funding is secured, significant local funds will be needed for local match and to cover operations.
Despite the defeats of Missouri Amendment 7 and the proposal to expand the transit benefit district to fund the streetcar on Aug. 5, 2014, Prospect MAX planning and development continues. We are continuing to complete the design work, refine our cost estimate and advance the project so that we will be in a position to move forward once funding has been identified.
When will Prospect MAX be operational?
Depending on when funding is secured, Prospect MAX could be operating by 2018.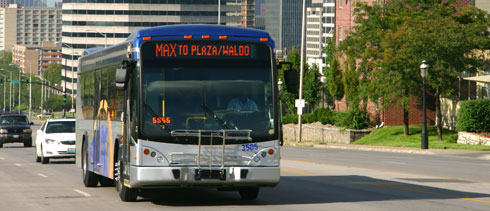 Back
Prospect Ave. MAX

KCATA is proposing enhanced transit service along Kansas City's Prospect Ave. corridor from downtown to south Kansas City.
For more information, see the Frequently Asked Questions. A draft Planning Assessment Report [PDF] with more detailed information is also available.
The Prospect Corridor is served by KCATA's second busiest route, 71-Prospect, with about 6,000 passengers on a typical weekday. The transit service enhancement under consideration is the establishment of MAX service, bus rapid transit (BRT). Ridership significantly increased and remains strong on KCATA MAX routes on Main St., launched in 2005, and Troost Ave., which began in 2011.
Information about proposed station locations, possible amenities, benefits and project timelines are available in this document [PDF] and below.
The presentation made to the March 2015 meeting of the Prospect Advisory committee is available online [PDF].
About MAX and the Project
MAX is KCATA's Bus Rapid Transit (BRT).
BRT:
Is used around the world to enhance transit service in high density corridors
Is similar to rail transit service in terms of convenience and reliability, but at a fraction of the cost
Combines a robust service plan with a capital improvement plan
KCATA currently has two MAX routes: Main Street MAX Orange Line and Troost MAX Green Line.
Features of MAX:
Frequent service: all day and to late night
Transit priority
Transit stations, not just stops – higher visibility
Fewer stations – like rail – makes the service faster and more reliable
Unique identity and brand
About the Project
Prior studies have identified MAX as the preferred approach to better transit on Prospect Avenue.
This study will determine the feasibility and funding requirements to bring MAX service to Prospect.
This is a Planning Study to answer the following questions:
Is MAX right for Prospect Avenue?
What will stations look like?
What will the service look like?
What will it cost?
What are the benefits?
How could it be funded?
The Study is underway now. A second Public Meeting was held in March 2014 to review findings gather more feedback. Findings have been submitted to KCATA Board of Commissioners and Kansas City City Council.
Prospect MAX Development Schedule
2013-14 – Planning phase
2014 – Complete planning and begin design
If funding is secured:
2016 – 2017 – Engineering / Design
2017 – Construction / Procurement
2018 – Operations begin
Project History
The Jackson County Commuter Corridors US-71 Transit Study identified MAX on Prospect as the locally preferred alternative for a major transit enhancement in the US 71/Prospect Ave. corridor. MAX service on Prospect would include enhanced passenger stations, electronic real-time bus arrival signs, distinctive new buses and faster, more reliable service.
Study partners include the City of Kansas City, Mo., Jackson County, and the Mid-America Regional Council.
Back
MAX & Bus Rapid Transit
MAX Bus Rapid Transit service provides faster, more frequent service, and features the latest technology in the transit industry. MAX uses easy-to-identify vehicles. Its stops are well-lit, with highly visible information markers and newly designed passenger shelters. Information markers feature real-time MAX arrival information so that customers may wait with greater confidence. Read additional facts on MAX BRT service.

MAX Is Coming To Troost
Due to the success of MAX on Main, a second BRT line will open on Troost Avenue in 2011. Get the latest: Route - Timeline - Green Technologies - Funding MAX's popularity expands to Troost, bringing:
Fewer stops for faster service
Well-lit, attractive stations will feature real-time arrival signs loaded with information
Uniquely designed, accessible passenger shelters with attractive landscaping
Hybrid buses
Easy, convenient schedules and route maps
The latest GPS technology for reliable, rapid service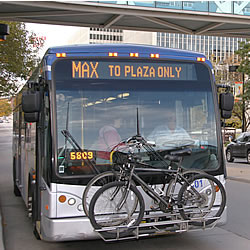 Kansas City's first BRT line, otherwise known as MAX, currently serves River Market, downtown, Crown Center, midtown and the Plaza. Read more about the MAX.
Back
Light Rail
In 2008, voters defeated a proposal to fund a light rail line from Vivion Road and North Oak Trafficway to Bruce R. Watkins Roadway and 63rd Street. KCATA is completing Phase II of the Alternative Analysis, which will be available on this website when finalized. Below is information about the project and light rail planning in Kansas City.
Final Land Use Summary
The Final Land Use Report [PDF format] analyzes conditions and current plans and policies affecting development patterns within the proposed transit corridor. The report discussed the proposed route in relation to the federal government's New Starts criteria. The report also includes recommendations based on both this land use analysis and the real estate market analysis, which assesses the future development potential within several market areas. The project study area is an approximate 12-mile transit corridor between the intersection of I-29 with North Oak Trafficway and US-169 in the northern portion of Kansas City, Missouri to the intersection of 63rd Street and Bruce R. Watkins Drive. The corridor includes the Kansas City metropolitan region's most concentrated employment and residential areas and many of the region's significant institutional and cultural attractions.
Assessment of Proposed Light Rail Corridor
This technical memorandum [PDF format] provides a land use assessment for the proposed Kansas City 14-mile light rail corridor. When preparing funding recommendations to Congress, the Federal Transit Administration undertakes a formal evaluation of all projects applying for New Starts funding. This technical memorandum explains the conclusions of a land use assessment. It includes a summary and slide show of the findings. The assessment is based on the FTA land use evaluation process and breaks the alignment into eleven discrete Market Areas. In their current conditions, none of the market areas provide a strong case for benefiting greatly from, or supporting, a light rail line. However, many of the market areas are in flux, or could be redeveloped to become more transit oriented.
North/South Corridor Alternative Analysis Report (Draft)
The North/South Corridor runs from Vivion Road in the Northland to Meyer Boulevard in the south and encompasses many of the region's most important traffic generators. The Alternatives Analysis is intended to provide decision-makers with the information they require to assess a major investment in transit. North South Corridor DRAFT Alternatives Analysis Report (PDF files) - Chapters 1-2 - Chapter 3 - Chapter 4 - Chapter 5 - Chapter 6 - Chapters 7-11
Next Steps for Light Rail in Kansas City
The results of the Alternatives Analysis will serve to inform the ongoing efforts being led by MARC to develop a long-term regional transit solution.
Video Simulation
A video shows what light rail in Kansas City may have looked like, including the line proposed in the November 2008 election. The video includes stations and light rail vehicles.
Back
Kansas City Streetcar
Downtown Streetcar Moves Forward
Kansas City's Downtown Streetcar is moving full speed ahead. The two-mile line will run largely on Main Street from the River Market to Union Station. The streetcar will run in existing street lanes, just like other vehicles. The streetcar route will include 18 stops, spaced roughly two blocks apart. Construction of the line and stops will be completed two to three blocks at a time, and opening day is expected in mid-2015. Utility investigations started, and construction is expected to begin this summer. KCATA serves as a technical adviser for the city's compliance with Federal Transit Administration criteria and guidelines, and to the streetcar authority. To follow the progress of the downtown streetcar, visit http://www.kcstreetcar.org.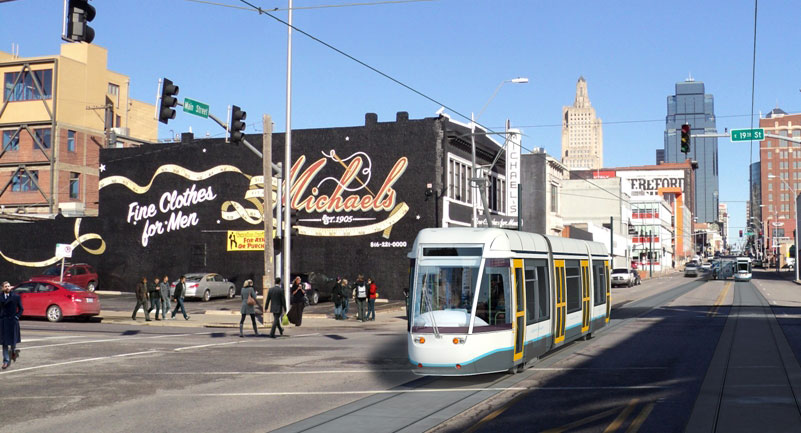 Back
Downtown Service Improvement Concept
Downtown Kansas City, Missouri, is currently served by 42 KCATA and eight Johnson County Transit "The JO" bus routes, designed primarily to transport workers into and out of downtown. The major focal point of service is KCATA's 10th & Main Transit Center, but its small size requires many routes to operate to other locations in downtown. Consequently, there is currently little consistency in how bus service operates downtown. With development of new convention, sporting, and cultural facilities, Power and Light District, and more people moving downtown, travel demands are changing. This concept is designed to improve downtown transit service, better meet the evolving needs of Kansas City, and provide a better balance of service to residents, workers, and visitors.
Proposed Improvements
The proposed downtown service improvement concept includes the following interrelated elements:
The reconfiguration of downtown routes based on an intersecting trunk route service design, forming Transit Emphasis Corridors (TEC) along Grand Boulevard and 11th and 12th Streets to simplify, accelerate, and improve downtown transit service.
Facilitate connections between bus routes and streetcar service.
Bus lanes on Grand Boulevard and on 11th and 12th Streets to make service faster and more reliable.
The consolidation of regular bus stops into Transit Emphasis Corridor (TEC) Stations to make waiting more comfortable and service faster. TEC Stations would provide facilities and amenities similar to MAX stops.
The development of a new East Village transit hub to improve connections and elimination of 10th & Main Transit Center.
Upgraded Barney Allis Station (Proposed) (click for larger view)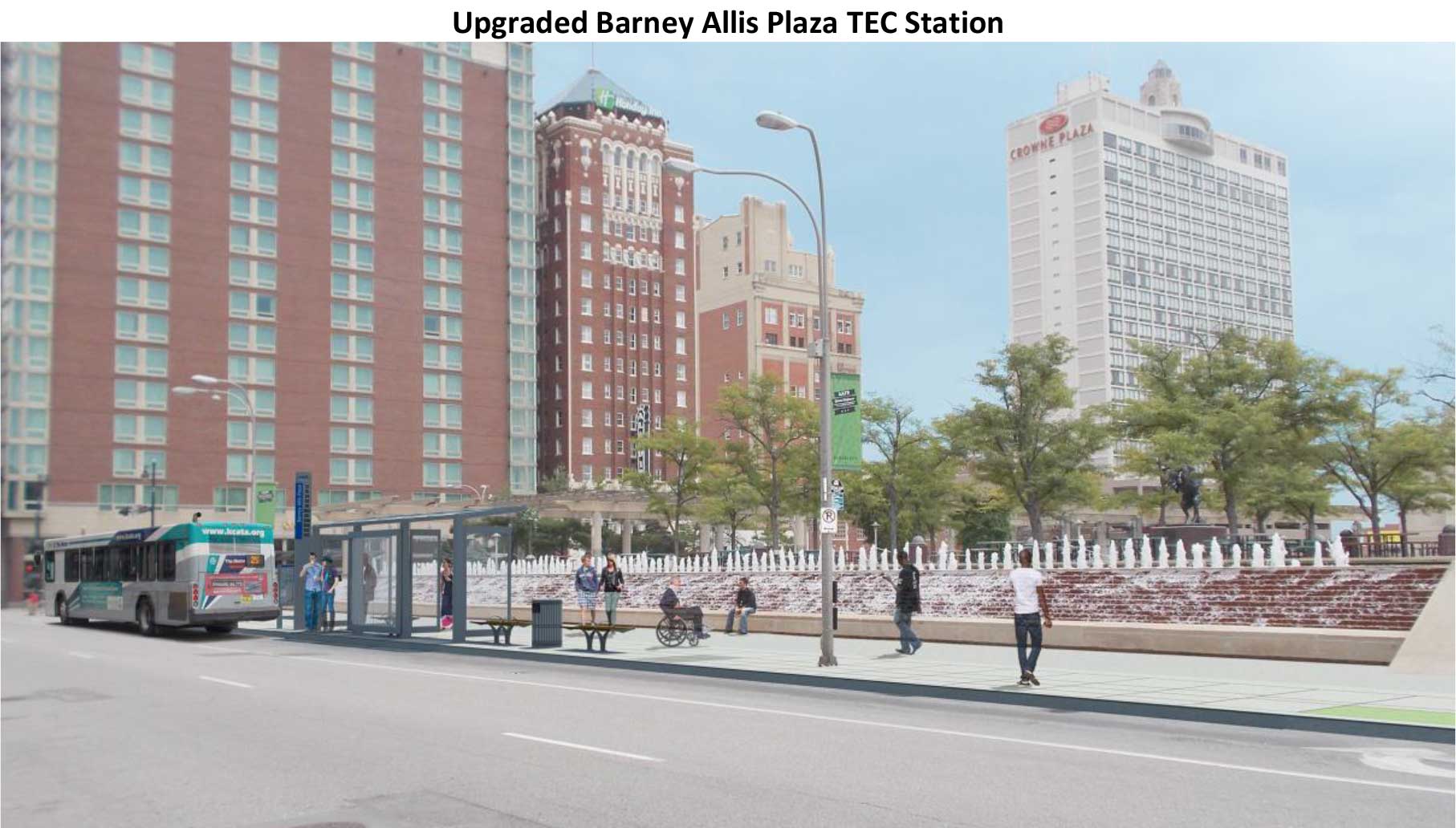 Map of Transit Emphasis Corridors Along 11th/12th Streets and Grand Blvd. (click for larger view)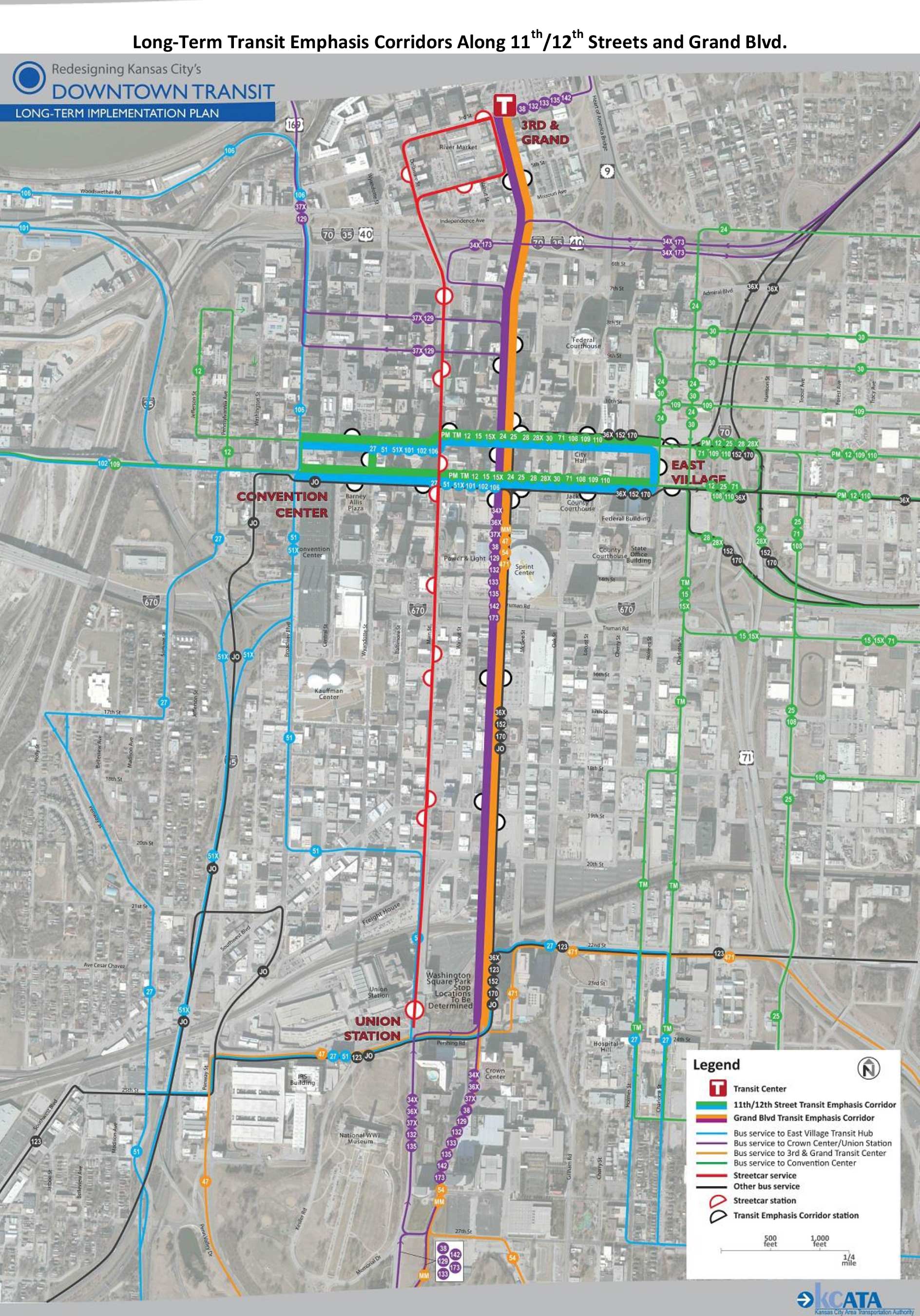 Map of Proposed Downtown Alignment of JO routes (click for larger view)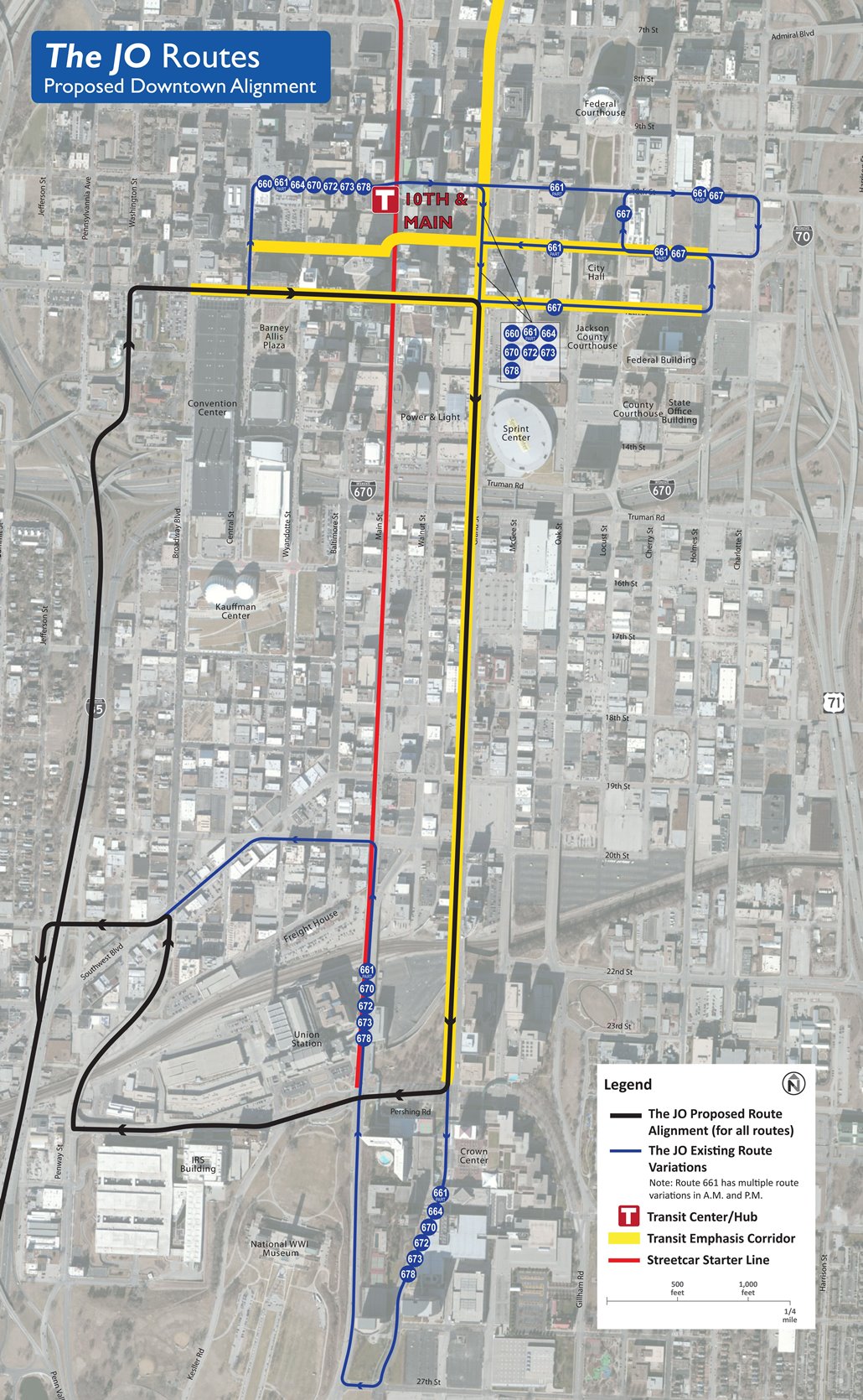 Proposed near-term changes to 51-Ward Parkway (click for larger view)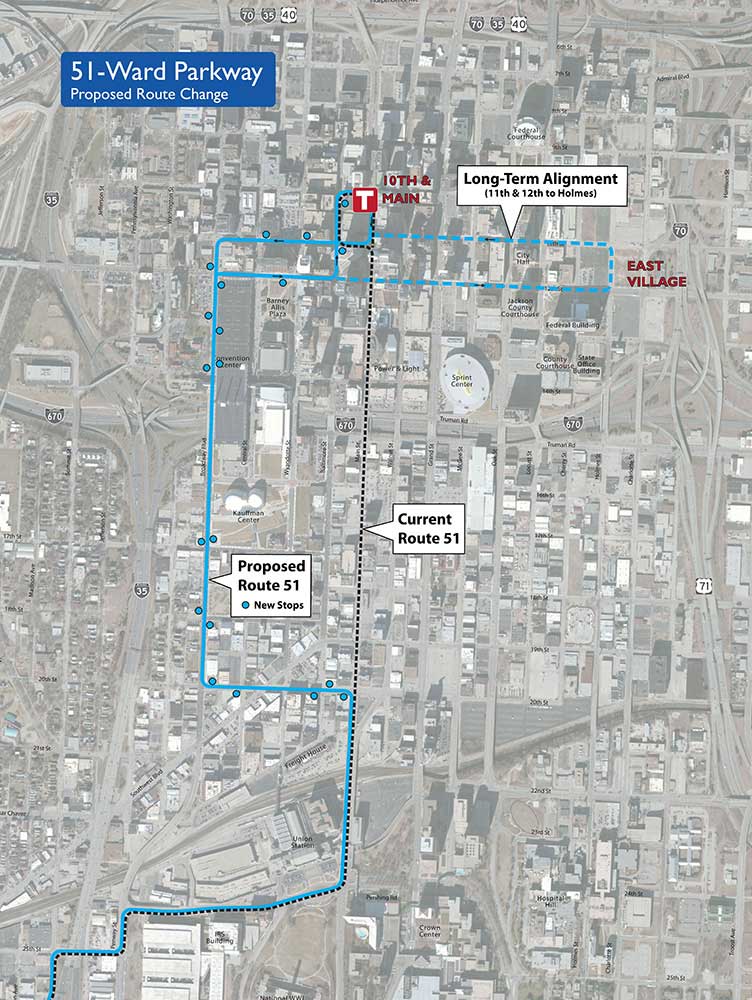 Presentation from Feb. 11 meetings [PDF, 3MB]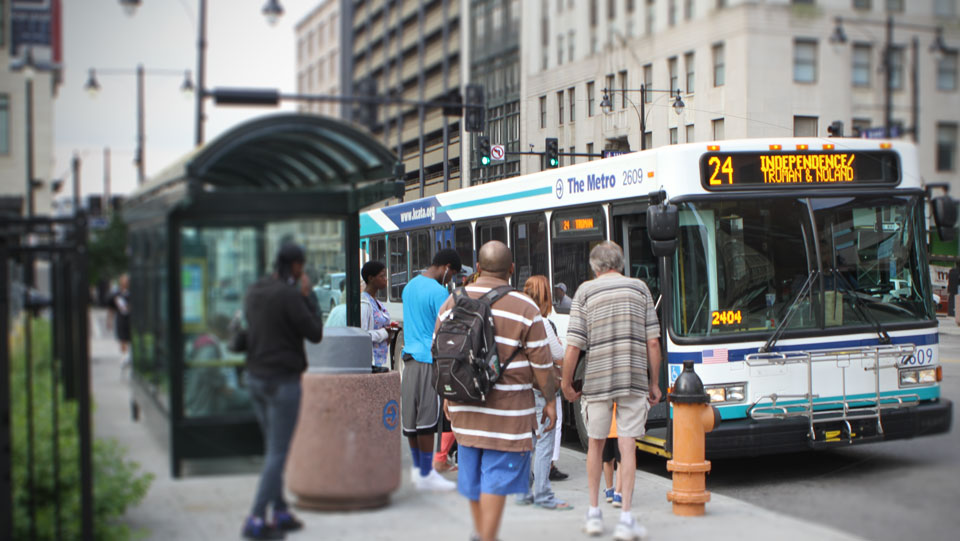 Back