KCATA's CEO Robbie Makinen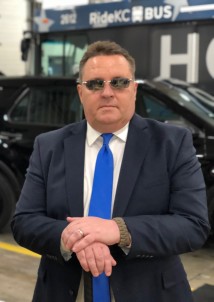 As President and Chief Executive Officer of the Kansas City Area Transportation Authority, Robbie Makinen has led the Kansas City region through a dramatic transformation aimed at bringing together five different transit systems under one umbrella called RideKC. Today, those transit agencies work together as one network to provide more than 16 million trips throughout the metropolitan area.
Under Robbie Makinen's leadership, several innovative programs have launched. For example, RideKC Freedom On-Demand is an app-based ride hailing service that is providing premium service to those with disabilities and offering another safe transportation option for those who are not disabled. More than 85,000 trips have been taken so far. Through a partnership with the Veterans Community Project and the Greater Kansas City AFL-CIO Makinen also launched a Veterans Pass so that all who have served in the military can ride transit for free. More than 1.4 million veterans have accessed jobs, medical care, educations and more at no cost. KCATA also implemented a mobile app where customers may purchase their fare, plan their trip and track it all from their smartphone.
Prior to being selected as CEO, Robbie served as KCATA board chair for five years and was on the KCATA Board representing Jackson County, Missouri, 2007-2015.
Transit has been of keen interest to Robbie since he worked as Ozanam Children's Services director of its learning center and program development. He recognized early on the critical need for transportation for this vulnerable population.
Under Robbie's leadership, KCATA is connecting the dots for the region in an effort to give the public a seamless, easy-to-use menu of transportation choices. All modes working together to connect people to opportunities throughout the region.