Strategic Plan

KCATA is moving forward – and we're doing so at a rapid pace. The theme of this strategic plan, Mobility Momentum, captures the hyper-focused attention we are placing on efforts to continue our evolution as an impactful regional asset for innovative transportation and economic development.
Over the next three years, we will be reinventing KCATA from a bus agency into a regional Transportation Authority; we will become the region's premier mobility resource; and we will continue to explore Innovative funding models so that our vision is sustainable.
While Mobility Momentum is a three-year initiative, this Strategic Plan outlines a road map for specific projects and programs KCATA teams will undertake over the coming fiscal year.
The plan focuses on three strategic elements to our core priorities of Ridership, Revenue, and Relationships:
What success milestones we propose to achieve,
How we propose to achieve them, and
Who will contribute to the work involved to achieve success.
This ambitious and actionable plan incorporates a performance scorecard system which KCATA will track on a quarterly basis.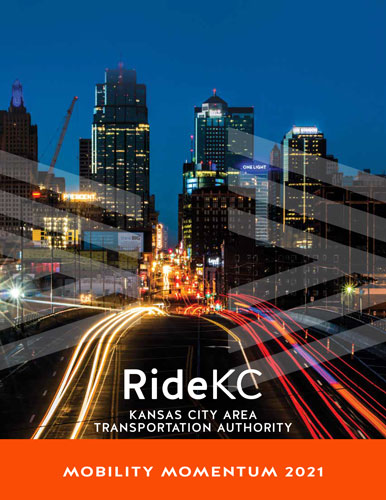 2019 Goals
Improve customer satisfaction to 92%
Reduce costs by 3%
Reduce safety and security incidents by 15%
Improve employee engagement
Complete system redesign
Implement Prospect MAX BRT line