Fares
Whether you're traveling within the central city or from the suburbs, paying your fare in cash or using a Metro pass, riding The Metro is the most affordable way to get around. You'll save even more on The Metro's low fares if you're eligible for reduced rates or if your employer is a Transit Riders' Incentive Plan (TRIP) partner.
Fares
| Service | Regular | Reduced |
| --- | --- | --- |
| Kansas City, Mo., Kansas City, Kan., Raytown, Gladstone and Independence (including 28X-Blue Ridge, 471-71 Highway Express, 37XX-North Broadway, 38X-Meadowbrook, 51X-Ward Parkway, 56X-Red Bridge and 133X-Vivion/Antioch) | $1.50 | $0.75 |
| 152-Lee's Summit/Raytown Express, 170-Blue Springs Express | $3.00 | $1.50 |
| 34X-Shoal Creek-Liberty Express | $3.00 | N/A |
31-Day Passes
| Service | Regular | Reduced |
| --- | --- | --- |
| Regular and express service, including MAX | $50.00 | $25.00 |
| 34X-Shoal Creek-Liberty Express, 152-Lee's Summit/Raytown Express, 170-Blue Springs Express | $95.00 | N/A |
Cash: The base fare is $1.50 on most Metro routes; it is higher on commuter express buses. Children five years old and younger ride free. You may use coins, $1, $5, $10 or $20 bills. Be advised that Metro operators nor the fareboxes can issue change. If you pay more than the required fare, you will receive a Change Card. When boarding the bus, you may ask for a free transfer, which is good for two hours from the first boarding.
31-Day Pass: For 31 consecutive days, you get unlimited rides for only $50. Passes cost more on commuter express routes. The 31-Day Pass is available at area pass outlets, including the KCATA offices. The Customer Service Lobby at 1200 E. 18th Street accepts cash and credit cards. There will be a $2 convenience fee for credit card transactions.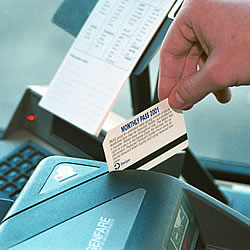 Other Fare Options
Day Pass: Buy it on the bus for only $3. Enjoy unlimited rides all day!
Visitor Pass: This three-day pass costs just $10 for unlimited rides three days in a row on The Metro and MAX. Pass is activated on the bus and expires at midnight on the third day. Not valid on commuter express routes.
Reduced Fares: The Metro's reduced fare programs can save money for senior citizens (65 or older), persons with disabilities and youths (12–18). Simply show the Metro bus driver your Reduced Farecard or Medicare Card and pay the reduced fare. To apply for a Reduced Farecard, call (816) 221-0660 or download the appropriate application.
Youth Fares: 12 -to 18-year-olds with a Reduced Farecard pay only 75 cents. 6-to 11-year-olds do not need a Reduced Farecard. Children 5 and under ride for free with an adult. During the summer, they can buy a monthly Tranz It for just $12.