Employer Pass Discounts
You and your employer can save on commuting costs through the Transit Riders' Incentive Plan or "TRIP."
More than 150 employers offer this valuable tax-free, tax deductible transit benefit to their employees.
TRIP member employers save as much as $100 per employee on yearly payroll taxes. Likewise, employees are enjoying the pre-tax savings, discounted monthly bus passes and lower costs to maintain their automobile through TRIP.
How TRIP Works
Through TRIP, employers pay at least $4 toward the cost of a Metro Monthly Bus Pass; many pay more. KCATA matches the $4, so that the minimum employee discount is $8. And that's just the beginning.
Employer Benefits
When you, as an employer, enroll in the TRIP program, you:
Save up to $100 per employee per year in payroll taxes. (Federal legislation allows employers to receive a tax deduction if you sponsor a transit benefit program such as TRIP.)
Improve employee recruitment and retention by offering employees discounts on already low-cost bus passes.
Enhance the benefits package you already offer, without increasing overall costs.
Help reduce employees' commuting costs such as gasoline, maintenance and parking fees.
Show your support for creating sustainable communities.
To enroll in TRIP, contact us at .(JavaScript must be enabled to view this email address) or call (816) 346-0274. Our TRIP coordinator will answer your questions, and provide you with everything you need to get started.
TRIP is a low-risk employee benefit that is simple to administer.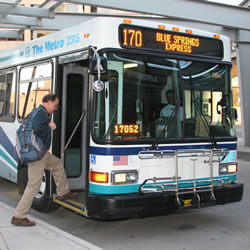 Employee Benefits
Employees will enjoy the savings and benefits immediately:
Your monthly pass will automatically cost you at least $8 less per month.
When you pay for your pass through payroll deduction, that amount is exempt from payroll taxes. The maximum tax-free discount is $230 per month.
Your commuting cost is lowered by at least *$650 a year.
Enjoy the convenience of buying your pass at work.
You are also eligible for the Guaranteed Ride Home program in case of daytime emergencies.
If your employer is currently a TRIP member, signing up is easy. Just contact your Human Resources Dept. or the department designated to handle employee benefits.
If your employer is not a TRIP member, have an HR representative or company decision-maker e-mail us at .(JavaScript must be enabled to view this email address) or call (816) 346-0274 to request information and further explanation of TRIP.
*Based on AAA 2004 average cost per mile of 14.1 for gasoline, automobile maintenance and tires. Current average could be higher as a result of higher gasoline prices.
Back