Reduced Fares
The Metro's reduced fare programs can save money for senior citizens (65 or older), persons with disabilities and youths (12–18). With a Metro Reduced Farecard or a Medicare Card, qualifying persons can ride all regular Metro service at a reduced fare. Simply show the Metro bus driver your Reduced Farecard or Medicare Card and pay the reduced fare. The Metro 31-Day Pass may also be purchased at a reduced rate. Both the Reduced Farecard and the 31-Day Pass must be shown to the driver when boarding.
Who Qualifies
Senior Citizens (renew every three years for $1.)
* Age 65 and older
* Medicare Card Holders
Youth (renew every year for $1.)
* Age 12-18 (If you are 18 when you apply, you must still be 18 on Sept. 1 of the year for which the card becomes effective.)
Persons with Disabilities (renew every three years for $1.)
* Disabilities certifiable with The Metro guidelines
* Medicare Card Holders
* Social Security Income (SSI) recipients If a person with a disability is also 65 or older, the Senior Citizen Reduced Fare Card should be applied for, not the Persons with Disabilities Fare Card.
Medicare Card Holders are not required to have a Reduced Fare Card to ride Metro buses at a reduced rate. However, if you prefer to use a Metro Reduced Fare Card rather than your Medicare Card, simply fill out the appropriate application and attach a copy of your Medicare Card. (Note that State Medicaid does not qualify as Medicare.)
Applications
Call (816) 221-0660 to request the appropriate application, or download the appropriate application in PDF format. Agencies that serve persons with disabilities may fill out an Application for Certifying Agency Status for their clients.
Reduced Farecard Applications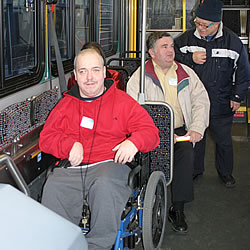 Submit Materials
Mail or bring the following items to The Metro office:
Completed application
Proof of eligibility
$1 cash or money order (no checks accepted)
Allow 10-14 working days to receive your Reduced Fare Card. (No fare cards are issued over the counter.)
The Metro Office Address
Kansas City Area Transportation Authority 1200 E. 18th Street Kansas City, MO 64108
Replacement Cards
In the event a card gets lost or stolen, a replacement card will cost $5 the first time, $10 the second time and $15 the third time. A fourth replacement card will not be issued. The individual may reapply after the expiration date shown on the front of the card. Lost or stolen cards must be reported to The Metro immediately by calling (816) 346-0265. Mutilated cards should be brought to The Metro's general offices. All parts must be returned for a replacement. The replacement will not count as one of the three allowable replacements.
The Metro reserves the right to confiscate a reduced farecard that has been used improperly. Reduced farecards should not be loaned or borrowed. A confiscated card will not be returned or replaced. The individual may reapply after the expiration date shown on the front of the card.
Proof of Eligibility
Please do not mail any original form of identification, only mail a copy.
Senior Citizens and Youth: Provide a copy of your birth certificate, driver's license, or passport.
Persons with Disabilities: Your physician or one of The Metro's certifying agencies must complete the back of the Reduced Fare Card application. Or provide a copy of your Medicare Card. SSI recipients must attach an award letter dated within the past two years.
Back