Youth Fares
Teens Ride For Half the Cost
For 12- to 18-year-olds, a Metro ride to work, school, after school activities, to hook up with friends, or even to volunteer, is half the cost of regular bus fare. If you are 12 to 18 years old, you can ride The Metro for just 75 cents, but first you must get a Youth Reduced Farecard. Whether you pay with cash or a 31-Day Pass, without the ID, be ready to pay full price. For 6 to 11 year olds, the ride is also 75 cents but a Youth Reduced Farecard is not necessary.
Summer Tranz It For Only $12
The medallion is a hit with teens 12 to 18 years old who have places to go and people to see. Tranz It works like a 31-Day pass. The medallion is color coded by month – June, July and August. It is valid all day, all month on The Metro and MAX. Unlimited monthly rides for just $12 means huge savings over high gas prices. Teens just wear Tranz It around the neck, show the operator and take a seat. Buy Tranz It online. Be sure to include the last four digits of The Metro Youth Reduced Farecard when ordering. A $1 handling fee will be charged. For mail or walk-in orders, fill out the form on the back. Mail or bring in the form with a *check or money order. Teens who don't have a youth card can provide their birth certificate or driver's license copy as proof of age.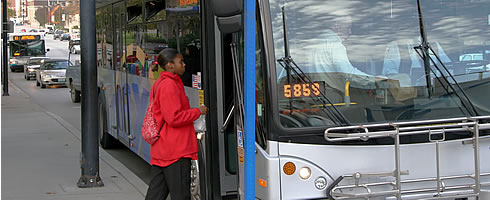 3 Ways to Purchase Tranz It
Mail-in Orders must be received by May 15, June 15 and July 15 so that orders can be processed and passes received in the mail by the first of June, July and August. Mail a completed order form included in the Tranz It brochure, *required proof of age and a check or money order to KCATA. You can also download the online Tranz It form.
Walk-in Purchase allows you to buy Tranz It on the spot. They go on sale at KCATA Customer Service Lobby, 1200 E. 18th St. (corner of 18th & Forest) the around middle of the month. You must bring cash or money order and the *required proof of age.
June: Available May 15 - June 14, 2015
July: Available June 15 - July 14, 2015
August: Available July 15 - August 15, 2015
Buy Online at store.kcata.org/youth anytime after the 15th of May, June and July. All you need is a VISA or MasterCard and the Youth Reduced Farecard ID number. Tranz It will be in the mailed within 48 hours. *Proof of age is also required to purchase Tranz It. Simply include the youth reduced farecard number on the order form or for online purchases. Or, mail in a copy of a birth certificate or valid driver's license.
Need That Youth Reduced Farecard?
If you don't have the Youth Reduced Farecard, it's easy to apply. Download the youth application or call (816) 221-0660 to request one. Mail or bring in the completed application, proof of age (copy of a birth certificate or driver's license) and a $1 handling fee in cash or money order. The card will be mailed within two weeks.
Back