Downtown Service Improvement Concept
Learn more:
Send us your comments
Individual route concepts
More details and downtown map
Public meetings, July 17
The Kansas City Area Transportation Authority is asking for public input as they develop a strategic plan for Downtown's transit future. This vision to create a more intuitive, faster, and integrated system includes:
Transit emphasis corridors along Grand Blvd. (north and south) and 11th and 12th streets (east and west)
Dedicated bus lanes and improved transit stations
Two new transit hubs
The project is one part of a comprehensive downtown transit plan that includes the Prospect MAX line and the extension of the KC Streetcar starter line into three additional corridors.
Public Meetings
The Kansas City Area Transportation Authority (KCATA) hosted two public meetings on Thursday, July 17, to discuss Kansas City's long-term vision for downtown transit.
Presentation materials are available for those who were not able to attend the meeting.
Presentation [PDF]
Video version:
Brief presentations will introduce the downtown service concept to simplify and enhance transit options for downtown transit customers. The public will then be invited to view, ask questions, and comment on proposed downtown route changes along the transit emphasis corridors and on the conceptual designs of proposed transit facilities.
Individual Route Concepts
Main St. MAX Proposal
Troost MAX Proposal
12-12th Street Proposal
15-Truman Road Proposal
15X-Truman Road Express Proposal
24-Independence Proposal
25-Troost Proposal
27-27th Street Proposal
28-Blue Ridge Proposal
28X-Blue Ridge Express Proposal
30-Northeast Proposal
34X-Shoal Creek Liberty Express
36X-Gladstone Express Proposal
37X-North Broadway Express Proposal
38-Meadowbrook Proposal
47-Broadway Proposal
51-Ward Parkway Proposal
51X-Ward Parkway Express Proposal
54-Armour-Paseo
71-Prospect Proposal
101-State Ave. Connex Proposal
102-Central Ave. Proposal
106-Quindaro Proposal
108-Indiana Proposal
109-9th Street Proposal
110-Woodland-Brooklyn Proposal
129-KCI-Boardwalk Proposal
132-Gracemor Express Proposal
133-Vivion-Antioch Proposal
135-Winwood 69 Hwy. Express Proposal
142-North Oak Proposal
152-Lee's Summit Raytown Express Proposal
170-Blue Springs Express Proposal
173-Casino Cruiser Proposal
201-Downtown Airport
471-71 Highway Express
Concept: Route serving west side of Downtown
Documents and maps
Click on the map for a larger view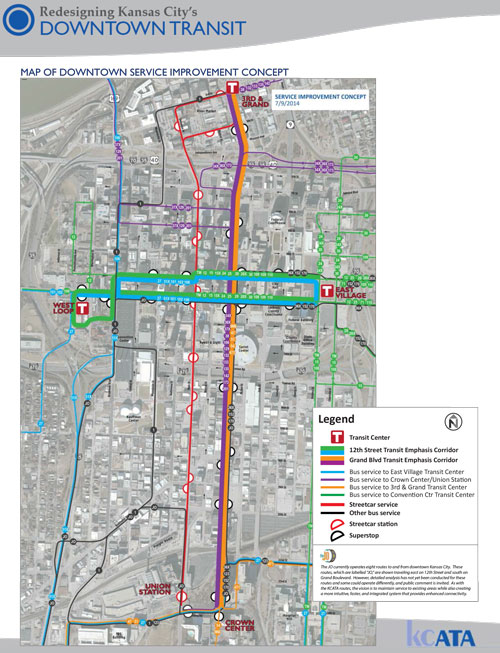 Comment
In addition to attending public meetings, citizens can submit comments about the downtown transit concept using any of the following methods:
Online Form: https://www.surveymonkey.com/s/downtowntransit
Mail: KCATA, Planning Dept., 1200 E. 18th St., Kansas City, MO 64108
Phone: 816‐346‐0300 (leave comment on prerecorded line)
Email: .(JavaScript must be enabled to view this email address)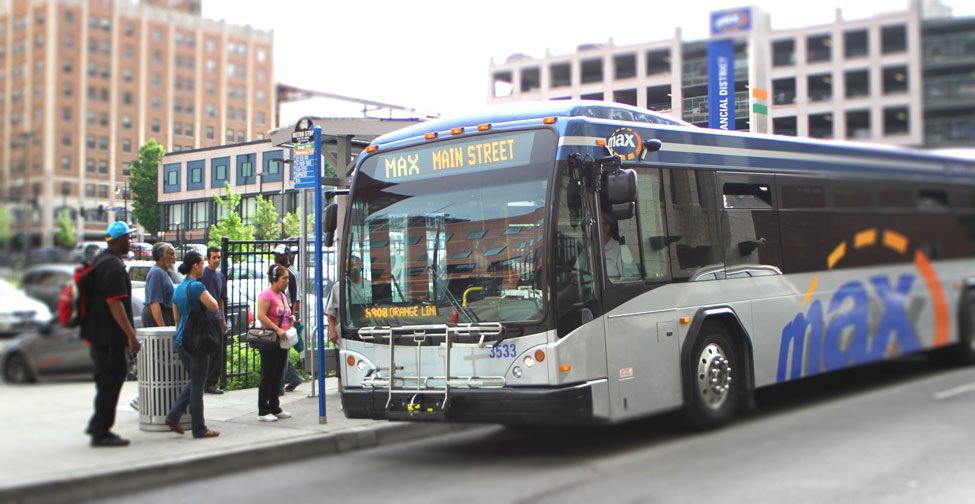 ​
Back