Metro Area Express (MAX)

The Maps.
View detailed maps:
Reasons to Ride.
MAX is the new bus rapid transit service.
Do the MAX for...Quicker commutes. Exceptional service. No parking worries or driving costs. MAX is simply the easiest, most affordable, stress-free way to work and play.
MAX connects you with your community -- from the River Market to The Plaza and all points in between.
MAX is a new form of transit providing faster, more convenient commutes than traditional bus service. Stylish MAX buses operate on existing streets. Vehicles use dedicated lanes during rush hour and have the ability to prolong green lights at intersections to remain on schedule.
The Schedule.
Thanks to MAX station's real-time display, you'll always know how close MAX is to your stop. Rolling seven days a week, MAX is up early and stays out late -- on the road from 5 a.m. to 1 a.m.
Early mornings -- every 15 minutes
Morning and evening rush hours -- every 9 minutes
Midday until 7 p.m. -- every 15 minutes
After 7 p.m. -- every 30 minutes
Saturdays -- every 15 minutes
Sundays -- every 30 minutes
Travel time from the Plaza to Downtown will be 17 minutes, and 6 minutes from Union Station to 12th and Main.
The Route.
Operating along the Main Street corridor from the River Market in the north, through downtown, past Union Station, and Crown Center, and on to the Country Club Plaza, MAX connects an estimated 150,000 jobs and thousands of convention visitors with Kansas City. See route map.
The Cost.
Just $1.50, collected on board, with free transfers to the rest of The Metro system.
The Stations.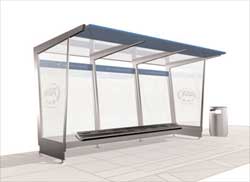 All MAX stations area well-lit and feature a distinctive, easily identifiable information marker, and a specially designed passenger shelter. All the stations are clearly marked and named, featuring easy-to-understand route maps and real-time transit information. Using global positioning satellite (GPS) technology, riders have instant and constantly updated access to the exact arrival time of MAX. With fewer stops, MAX commutes are quicker and the businesses around MAX stations benefit from more foot traffic.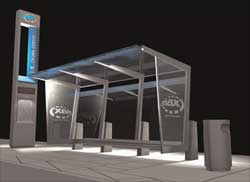 MAX has been created through a cooperative effort between KCATA and the City of Kansas City, Missouri. The budget for creating MAX is $21 million, with $16.8 million in federal funding and $4.2 million in local funding.
Contact Information
Kansas City Area Transportation Authority 1200 East 18th Street Kansas City, Missouri 64108 attn: MAX project director (816) 221-0660
Back