Metro2012: Route Changes
The Comprehensive Service Analysis studied each route in Kansas City, Mo., and developed recommendations. Route changes will be implemented in phases in 2012-2013. From September through December 2011, KCATA asked for input from customers on the proposed changes, and more than 700 comments were received. As a result of these comments, The Metro made changes to 25 of the initial recommendations.
Route changes are intended to support a network of key corridors that form the foundation of The Metro system. New schedules will be designed to improve reliability, provide more direct service and better match demand. One of the goals of the CSA is to make riding transit more attractive by designing service that is more intuitive and rider-friendly. This webpage includes information about the individual route changes (below), as well as an overview of the recommended changes [PDF].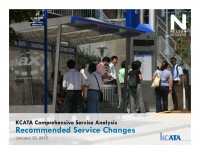 See a presentation made to the January 2012 Board of Commissioners, providing an overview of the changes. [PDF]
The PDF documents below describe the proposed changes, including:
An overview of the route and issues.
A description of proposed changes.
Before and after service statistics
Related changes to other routes.
A map of the proposed change.
System Map [PDF] of routes with changes.




Total routes = 54
Plans revised from initial recommendations = 25 (See comprehensive list of revisions.)
Revisions based upon review of customer input and additional plan review

Back