Welcome to KCATA
the region's largest public transportation provider As a first-time, regular or an occasional Metro rider, you can easily access helpful instructions to plan your trip by bus. Our website is complete with schedules and maps on fixed-route, on-demand and rapid transit bus routes. In addition, there's more to learn about KCATA whenever you need information on employment and business opportunities, future transit-oriented projects and the latest in transit news. Kansas City Area Transportation Authority:
Serves seven counties
Operates more than 70 Metro routes
Averages 50,000 daily boardings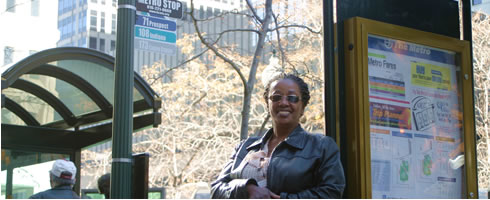 New Riders
Whether you are new to Kansas City or are just looking for an alternative to driving - this is the place to start. As a first-time Metro rider, you can easily access helpful instructions to plan your trip by bus. We welcome the opportunity to help you get started. Take a look at our "How-To-Ride" Video series to show you the ins and outs of riding The Metro. Also, be sure to:
Plan ahead by referring to online schedules, using the online trip planner or by calling (816) 221-0660 before you head out.
Arrive at the bus stop at least five minutes early.
Look for Metro signs at the bus stop, Metro shelter, park-and-ride lot or transit center showing the route name and number.
Catch the right bus by viewing the overhead sign and a smaller sign in the bus' lower right corner window.
Have your fare or pass ready as the bus approaches.
Wait for the bus the come to a complete stop before boarding and exiting.
Safely move about the bus using safety rails and watching for anything that may cause you to slip.
Observe interior signage for additional safety and courtesy tips.