Bike-N-Bus - How to Load Your Bike
Loading and unloading your bike is simple. Instructions are also printed on the bike racks.
1. When waiting at a Metro stop, be sure to get off your bike and flag down the bus. Wait for the bus to come to a complete stop. Any loose items, such as air pumps, bags, etc., should be removed from your bike before the bus gets to the stop.
2. With one hand, squeeze the rack handle and lower the rack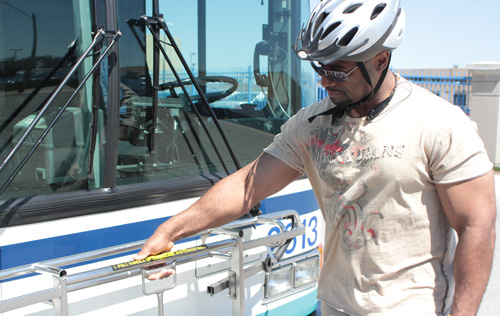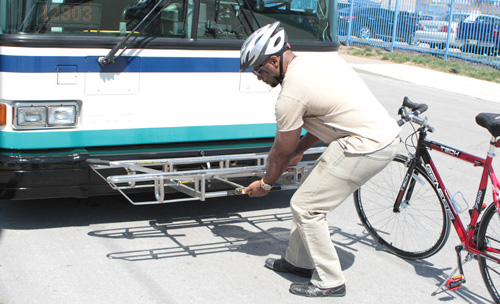 3. Load your bike into the bike slot. If both slots are open, load your bike in the slot nearer to the bus. Wheel slots are labeled for front and back tires. If only the slot nearest to the bus is open, load your bike from the curb, rolling it into the rack.

4. Raise the bike support arm over the front wheel, just past the highest point of the tire. The arm should rest on the tire, not the fender. Please do not lock your bike to the rack with a bike lock.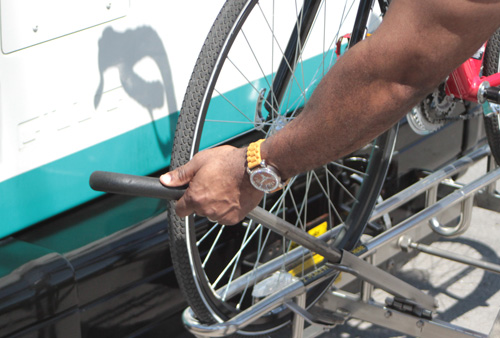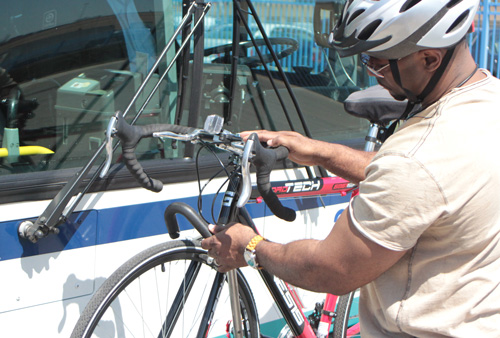 5. After your bike is secured to the rack you're ready to board the bus. Pay the required fare, but remember no extra fare is required for using the bike rack.
6. When getting off the bus, be sure to tell the Metro operator that you need to remove your bike, then exit through the front door.
7. To unload your bike, release the support arm and lift the bike from the rack. Once the rack is empty, squeeze the silver handle to return it to the upright position.
8. For your safety, please remain on the sidewalk until the bus leaves the stop. For the safety of other passengers, Metro operators cannot assist with loading or unloading bicycles.