MetroCenters & Park-and-Rides
The MetroCenter facilities located at 39th & Troost, in the Northland and Independence, Mo., offer a comfortable, safe environment for customers as they wait for and transfer between buses. Information kiosks display bus departure times for routes serving each location.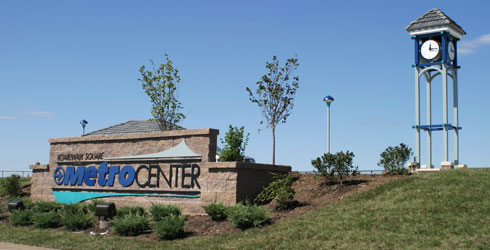 The Northland and Independence MetroCenters also feature park-and-ride service for customers who prefer to ride instead of drive to their destination.
Boardwalk Square MetroCenter located on North Boardwalk Avenue, just north of I-29 & Barry Rd., includes three Metro shelters, 42 commuter parking spaces and a clock tower. Two of the shelters feature push-button heating systems.
Independence MetroCenter off Truman and Noland Road in Independence, Mo., also features a park-and-ride for 18 automobiles, two bike racks, partially covered rustic brick shelters, a granite globe in the center with artwork, a fountain, lighted poles and other passenger amenities.
The 39th & Troost MetroCenter also houses the Metro Learning Center operated by the YMCA of Greater Kansas City. This unique transit-child care facility makes it convenient for parents to access quality early childhood learning services and The Metro's Troost MAX, 39-39th St. and 25-Troost routes.
The 10th & Main MetroCenter in the heart of downtown Kansas City allows for convenient transfers. Routes from the Northland, Kansas, South Kansas City and East Kansas City converge on this MetroCenter. The transit center features a fountain, artwork, benches, and shade trees.
Other park-and-ride locations.