Snow Plan
When snowfall blankets the city it may be necessary for some buses to use alternate routes. The reroutes listed below are common problem spots during inclement weather. Make sure you are familiar with them before severe weather hits. To find out whether snow reroutes are in effect:
Listen for additional reroutes and delays in case weather conditions affect routes not listed in this brochure. Share-A-Fare service may also be affected by winter weather.
Travel Tips for Metro Customers
Please use caution getting on and off buses. We expect thawing and refreezing over the next several days. Even if pavement looks clear, it may be icy.
Dress for the weather.
Carry a cellphone.
Be cautious walking to the bus stops and boarding buses.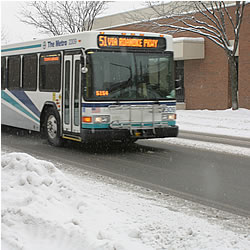 Routes affected by Metro's Snow Reroute Plan
Check the list to see if your route is part of the Snow Reroute Plan.
31-31ST ST. Buses will use Hwy. 40 to Sterling Ave. Buses will not use Pittman Rd. in either direction, nor travel through Stonegate Meadows Apartments.

47-BROADWAY Eastwood Hills buses will use 51st St. betweenEastwood Trfwy. and Sni-A-Bar Rd., if Ararat is impassable.
51-WARD PARKWAY From 99th & Holmes, buses will travel south on Holmes to 101st Terr., east and south on 101st Terr. to 103rd, east on 103rd to Virginia, north on Virginia to 101st, east on 101st to Lydia, north on Lydia to Bannister.

51X-WARD PARKWAY EXPRESS The express bus will not use Madison or Belleview between 47th and Westport. Northbound and southbound buses will use Roanoke then resume regular route.

108-INDIANA Buses will use 68th St. between Cleveland and Jackson instead of 68th Terr.

109-9TH ST. (12TH & WINCHESTER) Eastbound buses will go east on 12th to Winchester, south on Winchester to Truman Rd., west on Truman Rd. to Ewing, north on Ewing to 12th and resume regular route.

105-ROSEDALE Buses will travel on US 69 Hwy. between Merriam Lane and Metropolitan and not use Steele Rd. and 22nd St.

110-WOODLAND/BROOKLYN Buses will travel on Brooklyn between 22nd and 25th Streets and not use 22nd, 25th and Vine Streets.

123-23RD ST. Buses will not travel to Blue Valley Court Townhouses on Wheeling & Park Tower Dr. Instead, eastbound buses will enter Blue Valley Park from 23rd & Topping, circle the park drive and then exit the park, returning to regular route at 23rd & Topping.

471-71 HWY. EXPRESS (A.M.) Buses will use Hwy. 71 between Red Bridge and Bannister Rd. Buses will not use Hillcrest in either direction.

MetroFlex Snow Pick-up & Drop-off Plan
During bad weather, road conditions may not allow MetroFlex to reach certain parts of a Service Area. Travel may be restricted to major streets. Customers may need to go to a major street to catch MetroFlex. During inclement weather, call the MetroFlex office at 816-346-0346 to check travel restrictions.
Areas where buses may not be able to travel:
237 - Gladstone/Antioch MetroFlex
Jefferson & Broadway (between Englewood & 72nd)
Antioch at 64th St. over to 72nd East (before Antioch changes to Prospect)
65th, Wayne, Flore & Shady Lane Rd.
Bennington (Between Parvin & 48th)
45th Terr (Winn to to Chouteau Trafficway)
244 - NKC MetroFlex
Sunny Hills Apartments
French Quarters to Clark Ferguson
252 - Lee's Summit MetroFlex
Between Langsford & Scruggs, off Todd George
South of Oldham/North of Persels, between 291 & S.E. Ward Rd.
1423 River Oak Apts.
1501 Bench Mark Apts.
608 SE 291 (The Lodge Apts.)
253 - Raytown MetroFlex
59th & Woodson to 350 & Woodson
83rd St. to 350 Highway
296 - Bannister Hillcrest MetroFlex
Hillcrest between Bannister and Redbridge
South of Red Bridge, west of 71 Highway
West of 99th between James A. Reed and Blue Ridge
Bannister & Spring Valley (neighborhoods both North and South)
Ruskin Heights Neighborhood (between Red Bridge, Longview Rd., Blue Ridge and Greenwood)
298 - South Kansas City MetroFlex
Willow Creek/100th & Wornall
Neighborhoods Wornall & Holmes (between 99th & 95th)
Wornall & Holmes (Between 91st & 92nd)
Holmes to Troost (Between Minor & 120th)
Lydia (Mews, between Bannister and 99th)
Park-and-Rides Get Snow Day Priority
If you are a park-and-ride customer, please be aware that Metro crews clear some of the park-and-rides while other park-and-rides are cleared by the owners of the property. View all Park-and-Ride locations. Metro crews will be out long before rush hour on heavy snow days to make sure the following Metro park-and-rides are cleared as quickly as possible.
FIRST UNITED METHODIST CHURCH (54TH & BLUE RIDGE CUT-OFF)
28-Blue Ridge
28X-Blue Ridge Express
253-Raytown MetroFlex
I-70 AT BLUE RIDGE
28-Blue Ridge Local
251-TMC Lakewood Connector
ANTIOCH SHOPPING CENTER (VIVION & ANTIOCH ROADS)
36X-Gladstone Express
38-Meadowbrook/Antioch Center
121-Cleveland
133-Vivion/Antioch
136-Boardwalk/Antioch Connector
237-Gladstone MetroFlex
243-Antioch/Barry Rd.
GREGORY & WORNALL
Main St. MAX Orange Line
74TH TERR. & WORNALL
Main St. MAX Orange Line
SECOND MISSIONARY BAPTIST CHURCH, GRANDVIEW, MO. (HARRY TRUMAN DR. & BLUE RIDGE BLVD.)
28-Blue Ridge
BOARDWALK SQUARE METROCENTER (AMBASSADOR DR. & BARRY RD.)
129-I-29 Express
136-Boardwalk/Antioch Connector
142-North Oak
230-West Tiffany Springs
231-East Tiffany Springs
BANNISTER & DRURY
Troost MAX Green Line
28-Blue Ridge
175-75th St.
253-Raytown MetroFlex
296-Bannister/Hillcrest MetroFlex
471-Hwy. 71 Express
BANNISTER & TROOST
Troost MAX Green Line
51-Ward Parkway
298-South KC MetroFlex
31ST & TROOST
Troost MAX Green Line
31-31st St.
RED BRIDGE & 71 HWY.
471-71 Hwy. Express
Other park-and-rides will be cleared by Metro crews and property owners as quickly as possible.