Youth Services
Teen Rides? Go Metro!
The trip planner gives you complete information to catch your bus. You can also download maps and schedules or call (816) 221-0660 for help planning your trip. Pay half price if you're 12 to 18 years old, but first you have to get carded. The Metro issues a Youth Reduced Farecard that lets you ride for half-price – whether you pay with cash or use a 31-Day Pass. Without the ID, be ready to pay full price. (For 6- to 11-year-olds, the ride is also half fare, but a Youth Reduced Farecard is not necessary.)
Tranz It
The Summer Tranz It is the best buy for only $12 a month. During June, July and August, Tranz It works exactly like a 31-day pass – unlimited rides – no transfers. Plus, leave your Metro Youth ID at home. Simply wear the colorful medallion around your neck, in plain sight for the Metro operator to see.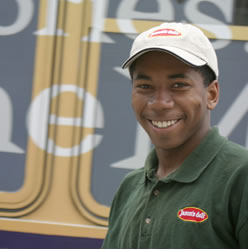 Get a Tranz It brochure online, which includes an order form, by calling us at (816) 221-0660, or at a Metro display rack. For the ultimate convenience, order your Tranz It online and we'll send it straight to your home. It's easy to apply for a Youth Reduced Farecard. Download the application from our website or call (816) 221-0660 to request one. Mail or bring in the completed application, proof of age (copy of a birth certificate or driver's license) and a $1 handling fee in cash or money order. The card will be mailed within two weeks.
Rules of the Road
Keeping you safe while riding is our number one priority. So remember:
Board the bus safely without pushing and shoving.
Use respectful language when talking among yourselves, other passengers and Metro operators.
Use your indoor voice, unless there's an emergency and you need to get the operator's attention.
Offer your seat to the elderly, especially if the bus is overcrowded.
Keep the aisles clear of backpacks, book bags, packages, etc.
Always be sure to use handrails when moving about the bus.
Give the operator advance notice as the bus approaches your stop.
All Metro buses provide a Safe Place for young people who need assistance when experiencing difficult situations or when in danger. Just ask The Metro operator for help, who has been trained to take it from there.
If you know someone who needs language interpretation of transit services over-the-phone, call (816) 221-0660 request TeleLanguage assistance.
Do your part to help improve the quality of the air we breathe. Ride The Metro on Ozone Alert! days.