$50 Million for Transit, Green Impact Zone Improvements Announced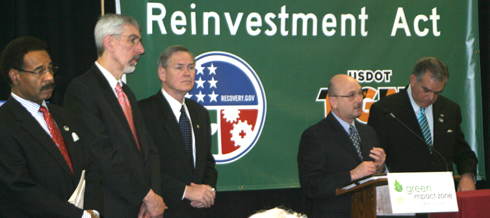 $50 Million for Transit and Green Impact Zone Improvements Announced by U.S. Transportation Secretary LaHood
(Kansas City, Mo. – Feb. 18, 2010) U.S. Secretary of Transportation Ray LaHood announced that Kansas City will receive $50 million as part of the Transportation Investment Generating Economic Recovery (TIGER) grant program. This money will create jobs while providing improvements in key transit corridors and the Green Impact Zone of Missouri.
Public transit improvements will occur along several major transit corridors:
Bus stop and pedestrian improvements along North Oak in North Kansas City, Gladstone and Kansas City, Mo.
Bus stop and pedestrian upgrades within the Linwood/US 40 corridor, from midtown Kansas City to eastern Jackson County.
Independence, Mo., Transit Center improvements, and enhancements to bus stops between Kansas City, Mo., and Independence.
State Avenue in Kansas City, Kan., improvements will include two new transit centers and additional upgrades along State Avenue.
Enhancements along Metcalf Avenue and Shawnee Mission Parkway in Johnson County, Kan., including sidewalk improvements.
Within the Green Impact Zone, transit enhancements will include sidewalk repair and construction, concrete bus pads and pullouts, and new passenger amenities. At 39th & Prospect, bus pullouts and shelter upgrades are planned to improve traffic flow creating a safer and more comfortable environment for Metro customers waiting to board buses. Along the MAX bus rapid transit route on Troost, reconstruction of the Troost Bridge over Brush Creek by the City of Kansas City, Mo., will receive $8 million in funds. In addition, funds are allocated for street improvements, traffic signal upgrades, and traffic signal interconnectivity.
KCATA General Manager Mark Huffer said this project further strengthens transit's role in providing vital services to the Kansas City community.
"This is an infrastructure improvement to make Metro service more attractive to customers who currently use the bus and to attract people who do not yet use The Metro," Huffer said. "These funds will help us create transfer centers, erect benches and shelters and construct or repair sidewalks at key stops throughout the region. Projects from these funds will enhance transit's connectivity to where people live, work, and shop. We are delighted that the Secretary recognized the positive transit improvements already implemented in our region, and chose to fund additional projects to keep the positive momentum going."
U.S. Transportation Secretary Ray LaHood stated these discretionary grants are a good investment on the part of the federal government.
"TIGER grants will tackle the kind of major transportation projects that have been difficult to build under other funding programs," LaHood said. "This will help us meet the 21st century challenges of improving the environment, making our communities more livable and enhancing safety, all while creating jobs and growing the economy."
Proposed by U.S. Congressman Emanuel Cleaver, II, the Green Impact Zone initiative was hailed by President Obama in July for its focus on "transforming a low-income community into a national model of sustainability by weatherizing homes and building a green local transit system."
The Kansas City project was selected from more than 1,400 applications, totaling over $60 billion in requests, were submitted to the U.S. Department of Transportation. Awards throughout the country will total $1.5 million. The Kansas City Regional TIGER application was submitted to USDOT by the Mid-America Regional Council. The TIGER program required that projects be shovel ready and be able to generate short- and long-term economic impacts, generate added outcomes of livability, promote safety, and involve innovative technology and financing.