MAX & Bus Rapid Transit
MAX Bus Rapid Transit service provides faster, more frequent service, and features the latest technology in the transit industry. MAX uses easy-to-identify vehicles. Its stops are well-lit, with highly visible information markers and newly designed passenger shelters. Information markers feature real-time MAX arrival information so that customers may wait with greater confidence. Read additional facts on MAX BRT service.

MAX Is Coming To Troost
Due to the success of MAX on Main, a second BRT line will open on Troost Avenue in 2011. Get the latest: Route - Timeline - Green Technologies - Funding MAX's popularity expands to Troost, bringing:
Fewer stops for faster service
Well-lit, attractive stations will feature real-time arrival signs loaded with information
Uniquely designed, accessible passenger shelters with attractive landscaping
Hybrid buses
Easy, convenient schedules and route maps
The latest GPS technology for reliable, rapid service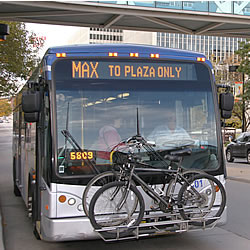 Kansas City's first BRT line, otherwise known as MAX, currently serves River Market, downtown, Crown Center, midtown and the Plaza. Read more about the MAX.
Back