Prospect MAX
Features, route, station design and funding
MAX is RideKC's bus rapid transit line (BRT) serving highly populated residential and commercial corridors in Kansas City, Mo.
Plans are underway to implement this premium service along Prospect Ave. and into downtown KCMO. From its vehicles to service, MAX touts its unique identity. Customers reach their destinations with greater ease because of MAX's faster, more reliable service. MAX vehicles have a distinctively sleek design, while MAX stations are substantially larger than standard bus stops. In addition, one of the more popular customer-friendly MAX features includes real-time arrival information that helps transit customers know exactly when MAX will arrive.
By adding up-to-date technologies and an array of modern passenger amenities, Prospect MAX will substantially enhance the transit experience for existing riders while attracting new transit customers.
MAX Features
Frequent service
Traffic signal priority
Fewer stops for faster service
Highly visible MAX stations
Sleek, distinctly designed vehicles
Unique branding
In addition, Prospect MAX will offer:
Ticket-vending machines at select locations
Free Wi-Fi on buses and at MAX stations
Mobility hubs with on-demand services such as bikeshare and carshare
KCATA currently operates two MAX BRT lines – Main MAX opened in 2005 and Troost MAX opened in 2011. Both routes have positively impacted the community with:
Improved jobs access
Streetscape improvements
Transit-related economic development
Improved safety
Public artwork
Operations
Bus service for Prospect Avenue MAX is patterned after Troost Avenue MAX, resulting in increased service, reduced travel times and stronger connections to neighborhoods. Below is a summary of the service details.
Station Design
Downtown Prospect Avenue MAX stations are designed to blend with the downtown streetscape, making it easier for pedestrian traffic on sidewalks.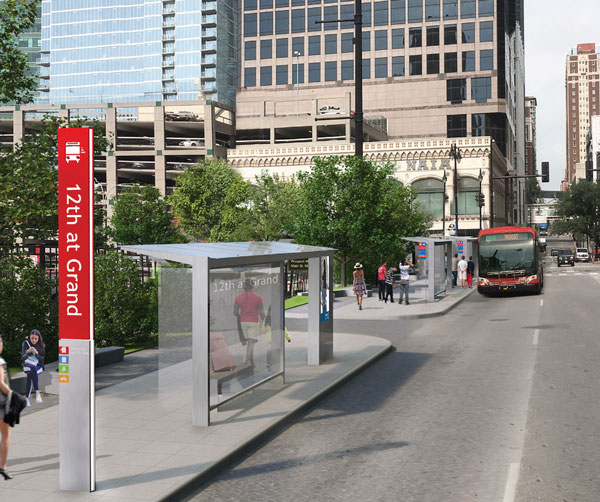 Prospect Avenue MAX stations will feature an interactive smart kiosk, real-time bus arrival information, shelter protection from the elements and enhanced lighting for improved safety and greater visibility.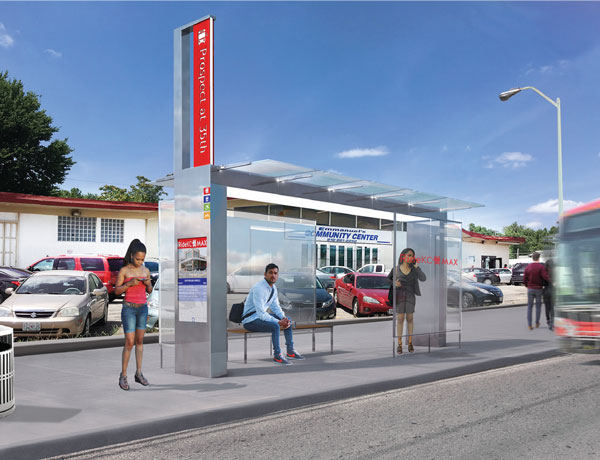 Funding and Implementation Schedule
With service similar to rail, MAX BRT operates at a fraction of the cost. KCATA estimates Prospect MAX project will cost approximately $54 million. The project will be funded through a mix of federal and local funds.
Federal Transit Administration (FTA) Small Starts Program - $29.98 million
Surface Transportation Program (STP) - $8 million
City of Kansas City, Mo. - $12.5 million
KCATA - $3 million
2016: Environmental Documentation, FTA Funding Decision, Approved CE, Project Development
2017: Final Design, Vehicle Purchase begins, Construction Grant Agreement
2018-2020: Construction
2020: Startup Testing & Operations, Begin Service
Route Map
Click map for a larger view.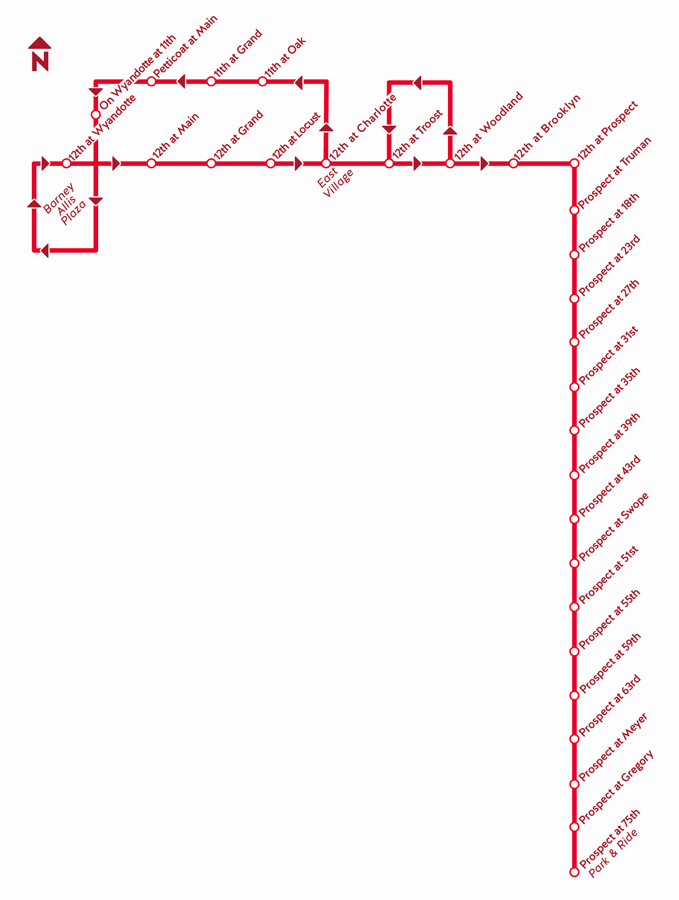 Back