Prospect MAX
Prospect MAX service begins December 9!
After years of planning and building, Prospect MAX is almost ready to roll. By the end of 2019, the 10-mile Bus Rapid Transit (BRT) line will make its maiden voyage from Downtown to the new 75th & Prospect Transit Center at Alphapointe. Prospect MAX is Kansas City's third BRT line.
Building off the success of Main MAX and Troost MAX, Prospect MAX offers BRT amenities like frequent service, upgraded MAX stations and vehicles, traffic signal priority at stoplights and fewer stops for faster service. Prospect MAX will also introduce customers to brand new BRT amenities.
Transforming a Community
Prospect MAX is a $56 million transportation investment in one of the highest ridership corridors in the region. Just take a walk along the 40,000 feet of built and repaired sidewalks, improved intersections and pedestrian access. This investment, made possible by local and federal funding, has made this corridor safer and more inviting for pedestrians, transit customers, and bike and scooter riders.
RideKC's priority is returning economic and community value to our region through transit-oriented development – to enhance places where people are and create areas where people want to be.
When KCATA invests in transit, we're investing in a stronger economy, more access to opportunity, a safer community and a great place to live, work and play.
Station Features
Here's what's new about Prospect MAX
Level boarding: Several high ridership stations will have level boarding to help people get on and off the bus more easily and quickly. Level boarding is especially helpful for people who have trouble with steps or are pushing strollers or using wheelchairs or walkers.
Ice-melting pavement: Also new to Prospect MAX is a special blend of concrete that de-ices pavement without the need for chemicals that uses electricity to melt away snow and sleet. This winter will be RideKC's first ice melting test!
Touchscreen technology and free WiFi: RideKC buses have offered free WiFi for many years, but now, Prospect MAX also offers free WiFi at stations. Waiting customers can access internet service to fill out job applications, order groceries or read an online book right at the MAX station.
Two new transit centers with enhanced waiting areas, opening in 2020!
Paving the Way
Honoring local contributors along the route.
This program recognizes some of the people who have paved the way with significant contributions
in the neighborhoods along Prospect Ave. A short history and digital biography of their legacy will be available on the station kiosks.
Honorees will be recognized with granite tile plaques (pictured below) placed in the sidewalk at bus stops along Prospect Ave. with a short biography that is accessible on the bus shelters' touchscreens. A public survey conducted in the fall of 2018 selected the first 10 honorees, with more to be selected later by the community.
Honoree announcement coming soon!
Operations
Bus service for Prospect MAX is patterned after Troost MAX, resulting in increased service, reduced travel times and stronger connections to neighborhoods. Below is a summary of the service details.
Station Design
Downtown Prospect Avenue MAX stations are designed to blend with the downtown streetscape, making it easier for pedestrian traffic on sidewalks.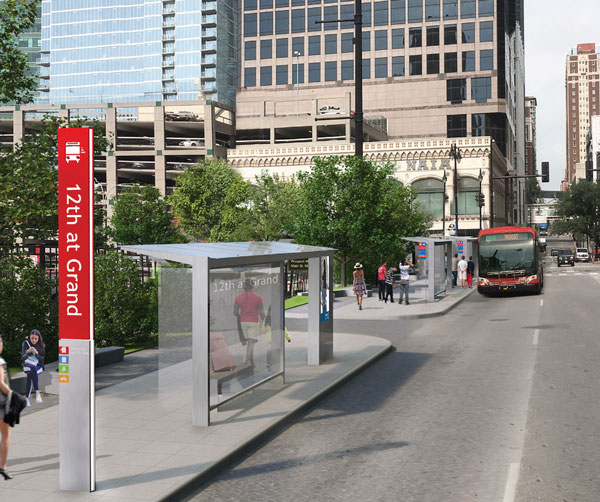 Prospect Avenue MAX stations will feature an interactive smart kiosk, real-time bus arrival information, shelter protection from the elements and enhanced lighting for improved safety and greater visibility.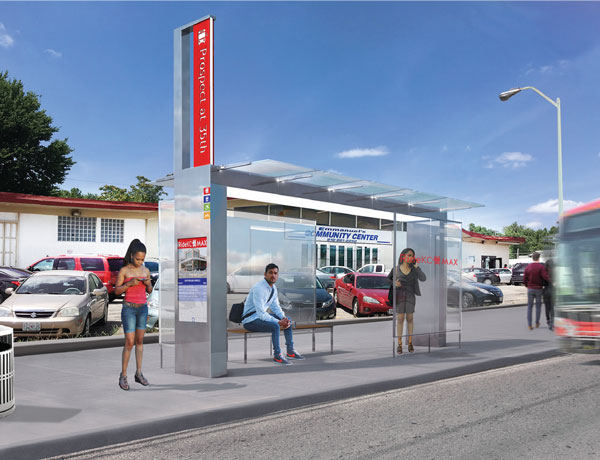 Funding and Implementation Schedule
With service similar to rail, MAX BRT operates at a fraction of the cost. KCATA estimates Prospect MAX project will cost approximately $54 million. The project will be funded through a mix of federal and local funds.
Federal Transit Administration (FTA) Small Starts Program - $29.98 million
Surface Transportation Program (STP) - $8 million
City of Kansas City, Mo. - $12.5 million
KCATA - $3 million
2016: Environmental Documentation, FTA Funding Decision, Approved CE, Project Development
2017: Final Design, Vehicle Purchase begins, Construction Grant Agreement
2018-2020: Construction
2019: Startup Testing & Operations, Begin Service
Route Map
Click map for a larger view.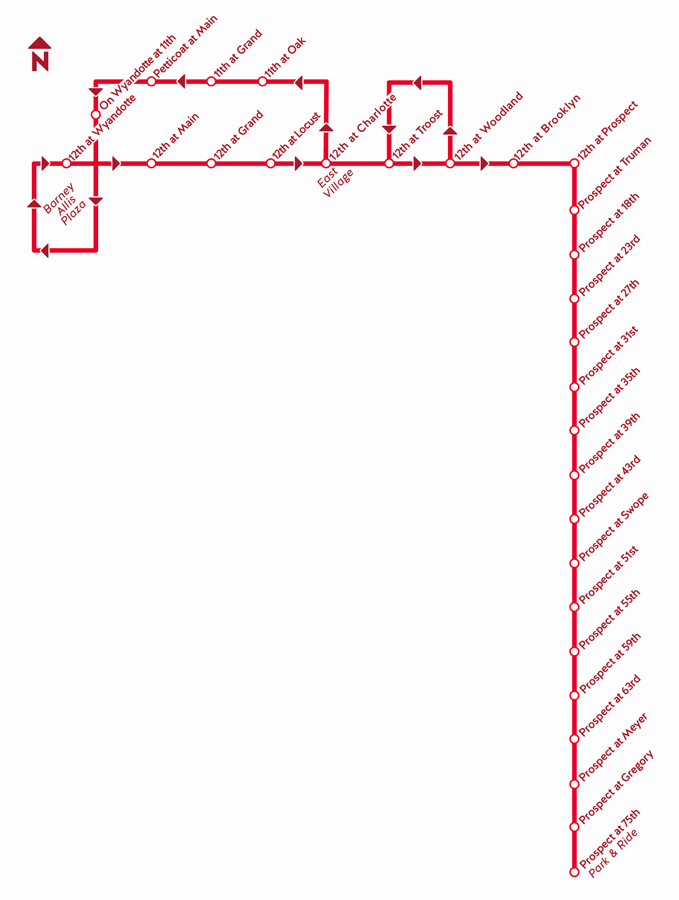 Back