Board of Commissioners
The KCATA is governed by a 10-member Board of Commissioners, five from Missouri and five from Kansas. Commissioners are limited to two consecutive four-year terms. The Board is responsible for adopting all general policies of the Authority, including the adoption of annual capital and operating budgets, establishing strategic direction and goals for the Authority, approval of significant agreements and contracts, and the selection of a President/CEO. The Board may delegate certain duties and responsibilities to the President/CEO for the management and operation of the Authority.
Commissioners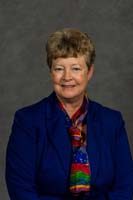 Melissa Bynum, Chair, Unified Government, Kansas
Unified Government Board of Commissioners, Executive Director of Shepherd's Center of KCKS
Melissa Bynum was elected KCATA Board Chair in January 2022. Melissa Bynum was appointed to the board by Mayor Mark Holland of the Unified Government of Wyandotte County/Kansas City, Kan. Elected to the Unified Government's Board of Commissioners in April 2015. Bynum serves as the executive director of the Shepherd's Center of Kansas City, Kan., which advocates for the aging. The former publisher of the Wyandotte West newspaper, Bynum has worked for various non-profit groups in Wyandotte County for more than 20 years.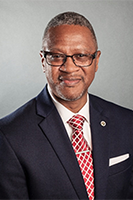 Reginald Townsend, Vice Chair, Cass County, Missouri
Raymore City Councilman
Reginald Townsend, of Raymore, was appointed to the Kansas City Area Transportation Authority by Governor Mike Parson. Townsend has been dedicated to improving the roads of Missouri through strategic municipal partnerships. He campaigned on transportation issues unique to the North Cass County region and has since used his position as Raymore City Councilman to elevate said projects to the State level. Townsend's role on the Mid-American Regional Council's Total Transportation Policy Committee has expanded his insight on the multimodal transportation system at-large.
When he is not behind the dais, he can be found presiding over the not-for-profit youth organization Raymore-Peculiar Sunrise Optimist Club as their chapter president and the Lieutenant Governor of the Western Missouri Optimist District.
A 22-year retired officer of the United States Marine Corps, where he now works as a federal employee, Townsend is a devoted husband and father of two.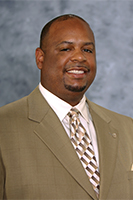 Michael J. Shaw, Treasurer, City of Kansas City, Missouri
Michael J. Shaw is the Director of Public Works for the City of Kansas City, Mo. Michael is a graduate of Central Missouri State University and has over 28 years of municipal government experience, serving in various leadership roles in the KCMO Solid Waste Services Division and Public Works Department for the last 14 years.
As an Assistant Director, Michael maintained the management of Solid Waste and its programs, including bulky item collection, residential trash collection, residential recycling collection, neighborhood clean ups, illegal dumping clean ups, dead animal removal, commercial collection from City facilities, special event recycling, disaster response and Land Bank maintenance which consists of mowing, maintenance and cleaning of over 5,000 derelict properties.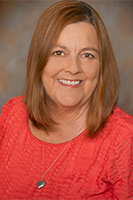 Vicky Kaaz, Secretary, Leavenworth County, Kansas
Vicky Kaaz is a Commissioner for Leavenworth County, representing the 2nd District. She moved to Leavenworth County in 1974 as a military dependent, with her parents Col. Frank and Anne Glover. She is a graduate of Leavenworth High School and graduated with honors from the university of St. Mary with a BS degree in Education. Vicky is married to Stephan Kaaz, and they have two children. Over the past thirty years, Vicky has dedicated herself to serving the people of Leavenworth County. Her professional life and volunteer activities have given her the opportunity to develop strong management, communication, and leadership skills.
Vicky enjoys working with and for diverse populations. Her experiences have allowed her to develop a clear understanding of the opportunities and challenges that are present in our city. She firmly believes that we all the responsibility and capacity to make a difference.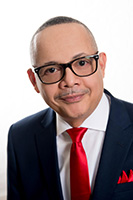 Byron Craddolph, Jackson County, Missouri
Byron Craddolph was appointed to the Kansas City Area Transportation Board by Jackson County Executive Frank White, Jr. in February 2023. Mr. Craddolph's primary job is with the Ford Motor Kansas City Assembly Plant. He has held multiple appointments in Blue Springs government including the Solid Waste Commission, several multi sector task force committees, and he is currently a standing member on the Community Development Block Committee in addition to the Planning Commission. Mr. Craddolph is also a member of the National and Missouri Planning Association.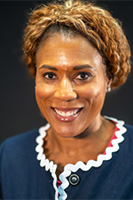 Dr. Tyjaun Lee, Platte County, Missouri
President, MCC-Penn Valley
Tyjaun A. Lee, Ph.D., is president of the Metropolitan Community College-Penn Valley Campus. Dr. Lee has more than two decades of experience in higher education. Before coming to MCC-Penn Valley in August 2017, she was vice president of student affairs at Prince George's Community College in Maryland.
She was inducted into the Black Achievers Society of Greater Kansas City in 2019. She is also on the board of directors of the Urban Ranger Corps and serves on the Broadway Westport Council, which oversees community development projects. Lee is a native of Cleveland, Ohio and holds three degrees from Ohio University in Athens, Ohio, including a doctorate of philosophy in educational leadership with an emphasis in higher education administration.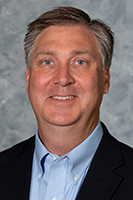 Jade Liska, Clay County, Missouri
Deputy Director, Planning and Engineering Division, City of Kansas City, Aviation Department, Kansas City, Missouri
Jade Liska was appointed to the KCATA Board in April 2023 by the City of Kansas City, Missouri (KCMO), Mayor Quinton Lucas. Liska is the Deputy Director of the Planning and Engineering Division for the Aviation Department. Jade served as the Lead-Project Manager on building the new $1.5 billion single terminal and infrastructure project for Kansas City. He has worked for KCMO since 2005, serving in a variety of management roles starting in the Planning and Development Department, then moving to the Aviation Department in 2013. In 2018, Liska was promoted to Deputy Director of Planning and Engineering for the Aviation Department. Prior to working for KCMO, Jade was working in the private sector for Engineering-Land Planning firms for over 11 years. Jade is a licensed Professional Landscape Architect in the states of Kansas and Missouri and is a graduate of Iowa State University.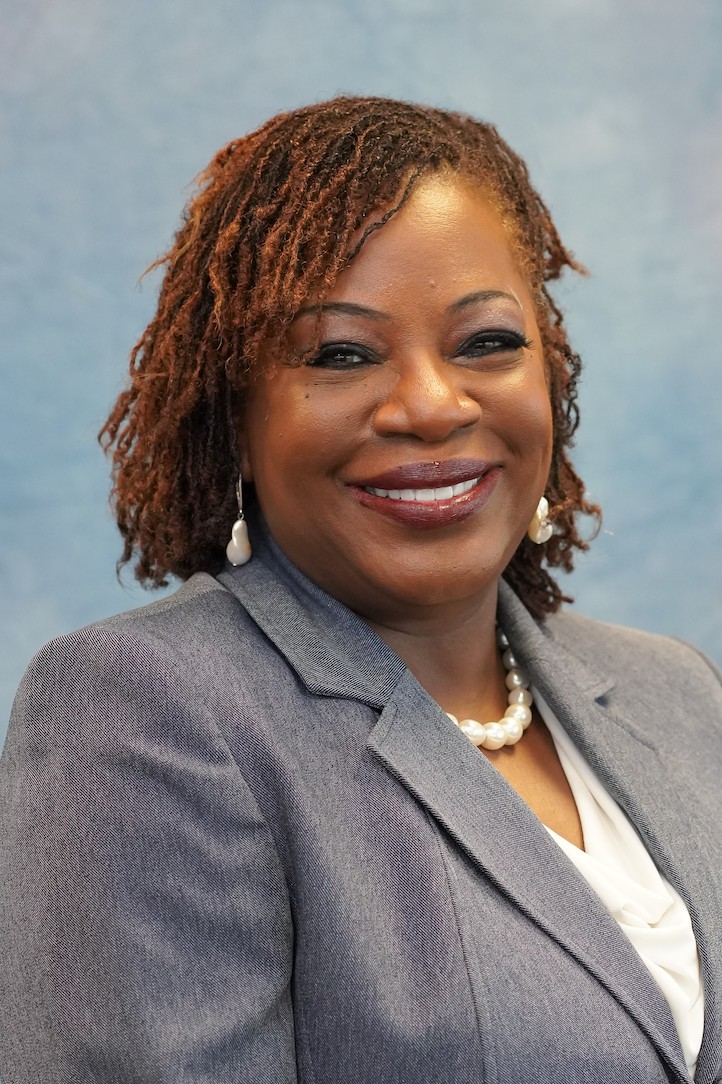 Bridgette Williams, Wyandotte County, Kansas
Executive Director, Heavy Constructors Association of Greater Kansas City
Bridgette Williams was appointed to the KCATA Board in October 2023 by Mayor Tyrone Garner of the Unified Government of Wyandotte County/Kansas City, Kan. Williams has over 30 years of experience in the fields of transportation, construction, economic development policy, problem-solving, contract negotiations and people management. She is the first African American and the first female to hold the top position in an AGC chapter in the country. Founded in 1950, the Heavy Constructors Association has been at the forefront of transportation, public works, infrastructure issues, and campaigns in the Greater Kansas City Area, and in the states of Kansas and Missouri.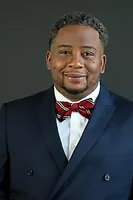 Ervin "Jason" Sims, Unified Government, Kansas
Commissioner Jason Sims is the Operations Program Director at Kapsch TrafficCom North America. Kapsch Trafficom is one of the largest transportation consulting firms in the world. Commissioner Sims is directly responsible for over 200 people and a 60 million dollar portfolio. He earned a B.S. in Civil Engineering and an MBA from the University of Kansas. He has over 20 years of experience working as a Transportation Systems Management and Operations Engineer.
Sims was installed as the Pastor of Mt. Carmel Church of God in Christ in Kansas City, Kansas in December of 2019. Pastor Sims has been married to LaSandra Sims for 17 years and they have four children.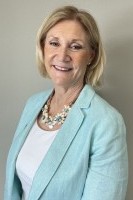 Julie Lorenz, Johnson County, Kansas
Julie Lorenz was appointed Secretary of the Kansas Department of Transportation and Director of the Kansas Turnpike Authority in January 2019. Julie recently joined 1898 & Co., the business and technology consulting arm of Burns & McDonnell, as a principal consultant. With more than 25 years of experience, she's known as a national leader in policy development, collaboration and implementing vision initiatives.
She previously led strategic consulting for Burns & McDonnell's Transportation Group from 2011 through 2018. Julie served as the Director of Public Affairs at the KDOT, where she led strategic planning and integrated collaboration/communication efforts from 2002 to 2011. Notably, KDOT secured an $8.2 billion 10-year funding program in spring 2010, resulting largely from stakeholder collaboration and a focus on economic impact analysis.
Board of Commissioners Meetings
The Board of Commissioners meets monthly, on Wednesdays.
See agenda page for for meeting dates and locations.
Meetings are be in the Breen Administration Building, 1200 E. 18th Street, Kansas City, Mo., 64108. See below for variations to the schedule.
2023 Meetings
January 25
February 22
March 22
April 26
May 24
June 28
July 26
August 23
September 27
October 25
November 15
December 20
Board Committees
See agenda page for for meeting dates and locations.
Committees include:
Board Governance
​Finance, held monthly
​RideKC Development Corporation
​Marketing
Planning and Operations​
Previous meeting agendas dating back to 2019 are archived on this website.
Kansas Commissioner Appointment Process
From the inception of the ATA in 1965 until 2000, the Governor of Kansas appointed commissioners, subject to confirmation by the State Senate and the Kansas Commissioners representing Johnson and Leavenworth counties. In 2000, the process was changed so that these two commissioners are now appointed by their respective county commissioners. The other three Kansas commissioners, representing the Wyandotte County jurisdiction, have always been appointed by the Mayor of Kansas City, Kansas, now known as the Unified Government of Wyandotte County/Kansas City, Kansas. However in 2000, the process changed to include a requirement that these appointments must be approved by the City Commissioners.
Missouri Commissioner Appointment Process
The Kansas City, Missouri, Mayor appoints three of the five Missouri Commissioners, including a direct appointment that must be a Kansas City, Mo., resident. The Clay and Platte County Commissioners will each submit a list of three eligible candidates for the Mayor's consideration. The Jackson County Executive appoints a Commissioner from a community, other than Kansas City which contracts with KCATA for service. The other Missouri Commissioner must reside in Cass County, be nominated by that county's commission, then be appointed by the Governor and confirmed by the State Senate.