Board of Commissioners
The ATA is governed by a 10-member Board of Commissioners, five from Missouri and five from Kansas. Commissioners are limited to two consecutive four-year terms. Responsibility for the management, control and operation of the Authority and its properties is vested in the Board. The Board exercises its responsibility by adopting all general policies of the Authority, including the adoption of annual capital and operating budgets, the establishment of the goals of the Authority, and the selection of a President/CEO. The Board may delegate certain duties and responsibilities to the President/CEO for the management and operation of the Authority.
Commissioners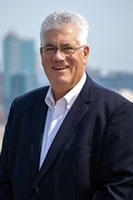 David Bower, Chair, Jackson County, Missouri
David Bower was elected KCATA Board Chair in January 2020. The former two-term mayor of Raytown is a leader on regional transit initiatives. He has more than 25 years of public service experience. He served as Raytown mayor from 2007 to 2015. During his time as mayor, Bower was actively involved in efforts promoting regionalism. He served as a board member of the Mid-America Regional Council from 2008 to 2015, including three years as an executive board member. In 2008, Bower was a co-leader in a regional effort to organize local elected officials to develop feasible transit plans.
Bower has a bachelor's degrees in architecture and construction science from Kansas State University.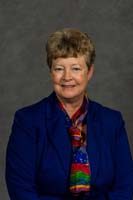 Melissa Bynum, Vice Chair, Unified Government
Unified Government Board of Commissioners, Executive Director of Shepherd's Center of KCKS
Melissa Bynum was appointed to the board by Mayor Mark Holland of the Unified Government of Wyandotte County/Kansas City, Kan. Elected to the Unified Government's Board of Commissioners in April 2015. Bynum serves as the executive director of the Shepherd's Center of Kansas City, Kan., which advocates for the aging. The former publisher of the Wyandotte West newspaper, Bynum has worked for various non-profit groups in Wyandotte County for more than 20 years.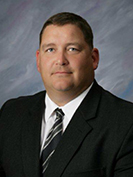 Joe Peterson, Secretary, Unified Government
Former Bonner Springs City Council member, Transportation Industry
KCATA welcomed Joe Peterson to the Board of Commissioners in 2018. Peterson was appointed to the Board by Mayor and CEO of Unified Government of Wyandotte County/ Kansas City, Kan., David Alvey. Peterson was elected council member for Bonner Springs in 2013 and held his position until 2018. Before that, he was on the Kansas City, Kansas Park Board from 2003 until 2011.
Peterson is the Transportation Supervisor for Turner Unified School District. Using his background in transportation, Peterson's goal is to provide all citizens of the metropolitan area with transportation for their needs and wants.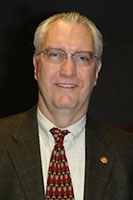 Louie A. Wright, Treasurer, Clay County, Missouri
Attorney, Wright Law Offices, LLC; Adjunct Professor, UMKC School of Law
Wright represents Clay County, Missouri, on the KCATA Board. He also operates his own law practice, Wright Law Offices, LLC, and is an Adjunct Professor at UMKC School of Law, where he teaches Labor Law. Wright is currently Chair of Kansas City's Health Care Trust and the City's Workers' Compensation Board. He also serves on the Firefighters' Pension Board.
Wright holds a master's degree in Public Administration from Harvard University's John F. Kennedy School of Government and a Juris Doctor degree from the UMKC School of Law. Wright is retired from the Kansas City Fire Department and previously served as the President of Local No. 42 of International Association of Fire Fighters and on International's Executive Board, representing members in Missouri, Iowa, Nebraska and Kansas. Wright resides in Kansas City, Missouri, with his wife Melinda. He has two adult children, Joanna and Nick, who both live in New York City, with their families.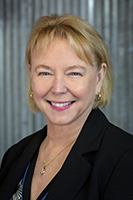 Nancy Bauder, Leavenworth County, Kansas
Business Owner
The Leavenworth, Kan., Board of County Commissioners voted unanimously to appoint Bauder to represent the county on the KCATA board. Bauder became mayor of the City of Leavenworth earlier this year. In addition to her role on the Leavenworth City Commission and as Mayor of Leavenworth, Bauder is owner of Bauder Arts, Inc. She was named the Business Woman of the Year by Leavenworth-Lansing Area Chamber of Commerce.
Bauder has previously served as the Executive Director of United Way of Leavenworth County. She also has been actively involved in community development in her roles as the Executive Director of the Community Development Corporation of Leavenworth, Kan. and Executive Director of the Leavenworth Main Street Program.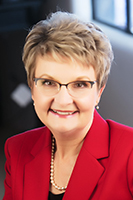 Janee Hanzlick, Johnson County, Kansas
Johnson County Board of County Commissioners for District 4
Janeé Hanzlick was elected in 2018 to the Johnson County Board of County Commissioners for District 4. As Commissioner, her priorities include strengthening services around transit, mental health, aging, housing, and climate action. Commissioner Hanzlick also serves as a member of the Board of the Mid America Regional Council (MARC), the Total Transportation Policy Committee (TTPC), and as liaison to the Johnson County Transportation Council (JCTC).
Commissioner Hanzlick has an extensive background in human services, having most recently served as the CEO of Safehome, Johnson County's domestic violence agency, where she worked for 20 years. Commissioner Hanzlick earned a master's degree in social work (MSW) from The Catholic University of America, Washington, DC, and she is a licensed master social worker (LMSW) in Kansas. While living in Washington, DC, Hanzlick relied on the bus and Metrorail for transportation.

Tamika McClaine, Unified Government
Business Owner
Tamika McClaine has been a transit advocate for public school children for nearly a decade. She started in public service on her local school's PTA Board. While working on the board of the Kansas City, Kansas PTA council, she pushed for parent involvement and safer routes to schools. She also served on the board of Drive Wisely - Wyandotte and was integral in helping get infrastructure improvements near local schools.
As a representative from Wyandotte County, she aims to be a voice to ensure the county's transportation needs are represented. McClaine is a small business owner, blogger and speaker. She's married with three children.
(not pictured)
John Stamm, City of Kansas City, Mo.
Chief of Staff, Office of the Mayor, City of Kansas City, Mo.
John Stamm was born and raised in Kansas City, Missouri, graduating from UMKC with degrees in Business and Philosophy. While at UMKC, he founded a nonprofit tutoring company, helping hundreds of low-income students improve their ACT and SAT scores. After working in New York City as a fundraising consultant, he moved to St. Louis for a position at The Salvation Army and ultimately leading fundraising as Director of Global Philanthropy for Junior Chamber International. After serving as Vice President of St. Louis Area Mensa and being appointed by the Governor to the Missouri Community Service Commission, he returned to his hometown of Kansas City to manage Quinton Lucas' campaign for mayor, and now serves as the Mayor's Chief of Staff. Stamm is now a downtown resident preparing to be a dog owner and occasionally enjoying rock climbing.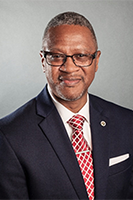 Reginald Townsend, Cass County, Missouri
Raymore City Councilman
Reginald Townsend, of Raymore, was appointed to the Kansas City Area Transportation Authority by Governor Mike Parson. Townsend has been dedicated to improving the roads of Missouri through strategic municipal partnerships. He campaigned on transportation issues unique to the North Cass County region and has since used his position as Raymore City Councilman to elevate said projects to the State level. Townsend's role on the Mid-American Regional Council's Total Transportation Policy Committee has expanded his insight on the multimodal transportation system at-large.
When he is not behind the dais, he can be found presiding over the not-for-profit youth organization Raymore-Peculiar Sunrise Optimist Club as their chapter president and the Lieutenant Governor of the Western Missouri Optimist District.
A 22-year retired officer of the United States Marine Corps, where he now works as a federal employee, Townsend is a devoted husband and father of two.
Vacant seat:
Platte County, Missouri
Board of Commissioners Meetings
The Board of Commissioners meets bi-monthly, on Wednesdays.
Meetings are be in the Breen Administration Building, 1200 E. 18th Street, Kansas City, Mo., 64108. See below for variations to the schedule.
2021 Meetings
January 27
March 24
May 26
July 28
September 11, Special Meeting, 11 a.m. - 1 p.m.
September 22
October 20, Special Meeting, 1-2:30 p.m.
November 17

NOTE, March 2020: Until further notice, all regular meetings, committee meetings and special meetings of the Board of Commissioners will be held via teleconference. All callers other than Board members and participating staff members will be muted on the call.
Board Committees
See agenda page for for meeting dates and locations.
Committees include:
Board Governance
​Finance, held monthly
​RideKC Development Corporation
​Marketing
Planning and Operations​
Kansas Commissioner Appointment Process
From the inception of the ATA in 1965 until 2000, the Governor of Kansas appointed commissioners, subject to confirmation by the State Senate and the Kansas Commissioners representing Johnson and Leavenworth counties. In 2000, the process was changed so that these two commissioners are now appointed by their respective county commissioners. The other three Kansas commissioners, representing the Wyandotte County jurisdiction, have always been appointed by the Mayor of Kansas City, Kansas, now known as the Unified Government of Wyandotte County/Kansas City, Kansas. However in 2000, the process changed to include a requirement that these appointments must be approved by the City Commissioners.
Missouri Commissioner Appointment Process
The Kansas City, Missouri, Mayor appoints three of the five Missouri Commissioners, including a direct appointment that must be a Kansas City, Mo., resident. The Clay and Platte County Commissioners will each submit a list of three eligible candidates for the Mayor's consideration. The Jackson County Executive appoints a Commissioner from a community, other than Kansas City which contracts with KCATA for service. The other Missouri Commissioner must reside in Cass County, be nominated by that county's commission, then be appointed by the Governor and confirmed by the State Senate.
2020 Meetings
Agendas from 2020 are available here.
January 22
March 25
April 22
May 27
July 22
September 23
November 18
2019 Meetings:
Agendas from 2019 are available here.
January 30
February 27
March 27
April 24
May 22
June 26
July 24
August 28
September 25
October 23
Novemeber 20
December 18
2018 Meetings:
2017 Board of Commissioner Meetings: