Kansas City Streetcar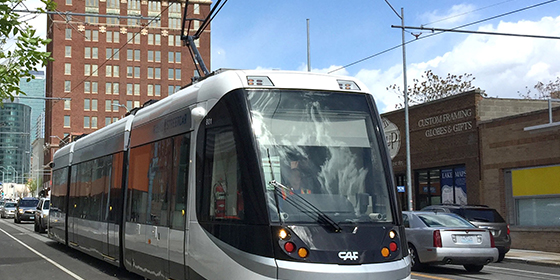 Running from the River Market on the north end to Union Station and Crown Center on the south, KC Streetcar connects all the downtown neighborhoods with 16 platform stops and 2 miles of track. Visit the KC Streeetcar website.
With streetcars arriving approximately every 10 minutes during peak hours, offering level boarding and fare-free, visitors and residents alike can easily explore Kansas City on their schedule using the route map and at stop signage.
The downtown KC Streetcar line is the first step in a regional, integrated transit system connecting the greater metropolitan area. Public transportation creates more vibrant, livable urban centers by attracting new residents and new jobs – which lead to significant economic growth and large investments encouraging even development. With more than $4 billion invested in downtown Kansas City already, the boundaries are limitless. Not to mention, the KC Streetcar is fun and easy to ride!
Getting downtown
Regional zero fare RideKC Bus connections to KC Streetcar can be made at the following locations:
River Market North, connect at bus stops at 3rd & Grand
Metro Center, connect at bus stops on 11th or 12th near Main
Union Station, connect at bus stops at Pershing and Main or Pershing and Grand. The Link walkway connects Crown Center and Union Station.
Plan your connecting trip at ridekc.org or use the free Transit app.
Parking Downtown
Ample parking along the route is available. Drive on over then let the KC Streetcar take you from there. And with long service hours (especially on the weekends) you never have to worry about missing the fun or the last streetcar back.
Back