KCATA Now Offering Live Transit Information in Google Maps
(Kansas City, Mo. – April 24, 2015) Kansas City Area Transportation Authority (KCATA) has partnered with Google to provide real time transit information to its riders.
Customers can now see Metro and MAX real time departures on Google Maps (maps.google.com) and Google Maps for Mobile (on iOS and Android). This builds on the transit trip planning features already provided in Google Maps.
"This is a great development for customers, both old and new," said KCATA CEO Joe Reardon. "Real-time information adds a high level of confidence for customers. Although our buses have an on-time performance rating of 90 percent or higher, real time information increases the confidence of customers as they wait for the bus."
While the largest Metro routes offer service every 10 minutes on weekdays, there are plenty of smaller routes with less frequent service. And lower demand for transit on nights and weekends means that buses may only come every 30 or 60 minutes.
Having that real time information, combined with the schedule information, helps a rider decide whether they should leave soon, or if they can relax for a bit longer.
"Imagine a rider at a restaurant, finishing up a meal," said Reardon. "Google Live Transit will predict if the bus is 10 minutes away or 45 minutes away. Being able to pull up that real time information might help her decide if there is time for a desert or after-dinner drink, or if it's time to ask for the check."
Google began offering real time information with select cities in the US and Europe in 2011.
The Metro and MAX real time information has been available for several years through on-street signs and the WebWatch feature at [url=http://www.kcata.org]http://www.kcata.org[/url].
An example of the real time information, as viewed on a desktop computer. Dots after the times indicate real time prediction: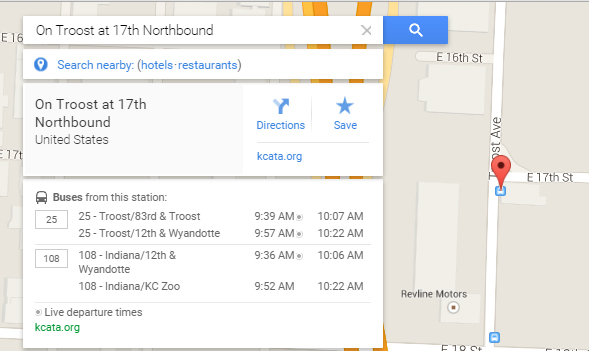 An example of the real time information, as viewed on a mobile device. Green times indicate real time prediction: