MAX Offers More Frequent Service For WaterFire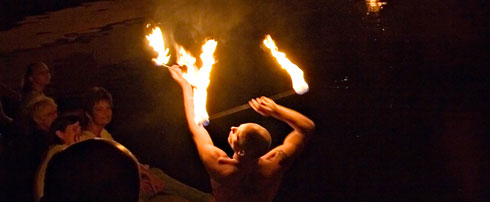 Images: WSK_2005 (Kansas City, Mo. – October 11, 2013) The Kansas City Area Transportation Authority's Main St. MAX Orange line will offer more frequent service for WaterFire on Saturday, October 12, from 6 p.m. to 12:30 a.m. MAX Orange Line buses will operate about every 15 minutes, instead of every 30 minutes. MAX will run on a 15-minute frequency:
Begin at 6:10 p.m. from 74th Terrace & Broadway.
Begin at 6:21 p.m. from 3rd & Grand Park-and-Ride.
Last northbound bus leaves The Plaza at 12:54 a.m.
Last southbound bus leaves The Plaza at 12:49 a.m.
Throughout the rest of the day, MAX will operate its regular Saturday schedule. Regular fare on MAX and Metro buses is $1.50.
About WaterFire
WaterFire Kansas City is a unique event featuring beautiful floating bonfires on Brush Creek, live music and dance performances, and great food from Plaza restaurants. The event is on Ward Parkway, along Brush Creek, and begins at dusk and runs until midnight. Visit [url=http://www.countryclubplaza.com/Events/WaterFire]http://www.countryclubplaza.com/Events/WaterFire[/url] for more information about WaterFire Kansas City. For more information about MAX and Metro service, call the Regional Call Center at (816) 221-0660 weekdays from 6 a.m. to 7 p.m. or visit [url=http://www.kcata.org.&nbsp]http://www.kcata.org.&nbsp[/url];