Connecting Swope Study

Feb. 2018 Meeting Materials
On Feb. 1, KCATA and consultants met with neighbors in the study area to present possible solutions and gather feedback. We are continuing to gather feedback. Take a five-minute survey to learn more and provide input.

Presentation [PDF]
Project Screening List [PDF] List summarizes the types of possible solutions, and ranks their cost, reach and effectiveness.
Report of Existing Conditions [PDF] in the Connecting Swope study area, 74 pages.
Displays:
Click for larger view in a new window.
Restitching the Grid: A potential project could be constructing new street overpasses (similar to those at Meyer Blvd and 63rd Street) or upgrading existing signalized intersections connecting across 71 Highway to provide street crossings at least every quarter mile.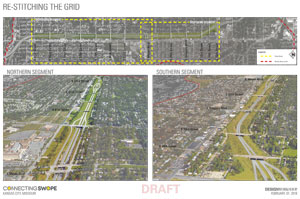 At-Grade Crossing: A potential project could be constructing new intersections with traffic signals across 71 Highway, particularly at 53rd and 69th streets, to provide street crossings at least every quarter mile. This would create new intersections where drivers on 71 Highway would stop at the signal to allow vehicles, pedestrians, and bicyclists the opportunity to cross.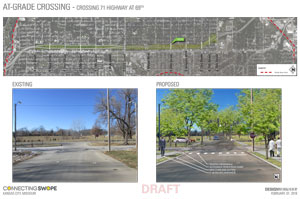 Neighborhood Intersection: A potential project could be improving the neighborhood streets with enhanced pedestrian crossings, protected bicycle facilities, green infrastructure, and technology information.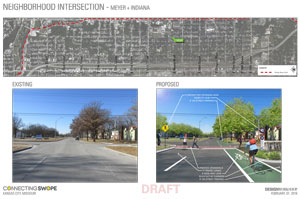 Pedestrian Options (Overpass and underpass): A potential project could be constructing new bicycle and pedestrian overpasses or tunnels across 71 Highway where crossings do not currently exist, to provide crossing locations at least every quarter mile.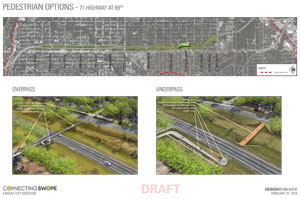 Project Overview
Prospect Avenue has some of the highest bus ridership in the region and will soon be converted into a bus rapid transit (BRT) corridor - Prospect MAX.
U.S. 71 Highway runs a block east of, and parallel to, Prospect Avenue between Swope Parkway and 75th Street. For potential transit users, pedestrians, and bicyclists, there are few opportunities to cross the highway, high vehicle speeds, and wide intersections that all hinder accessibility.
The Connecting Swope Project will identify ways to improve connections across U.S. 71 Highway to the Prospect MAX line. Building on the needs expressed in past studies, the team will recommend projects and programs that address issues of access, safety, convenience, and comfort in the area.
The goals of the study are to:
Identify barriers and gaps in connectivity for pedestrians, transit riders, and bicyclists;
Ensure access to the Prospect MAX bus rapid transit stations; and
Improve the safety, comfort, and ease of crossing U.S. 71 Highway.
Study Area
This study is focused on improving travel from Swope Parkway to 85th Street and The Paseo to Cleveland Ave.
Background
This project is being closely coordinated with the KCATA Prospect MAX line and the KCMO Prospect Corridor Streetscape project.
Funding for the initiative is provided by the Mid-America Regional Council (MARC) Planning Sustainable Places program.
This study will last from July 2017 through May 2018.
Back