Career spotlight: Bus Operator (Driver)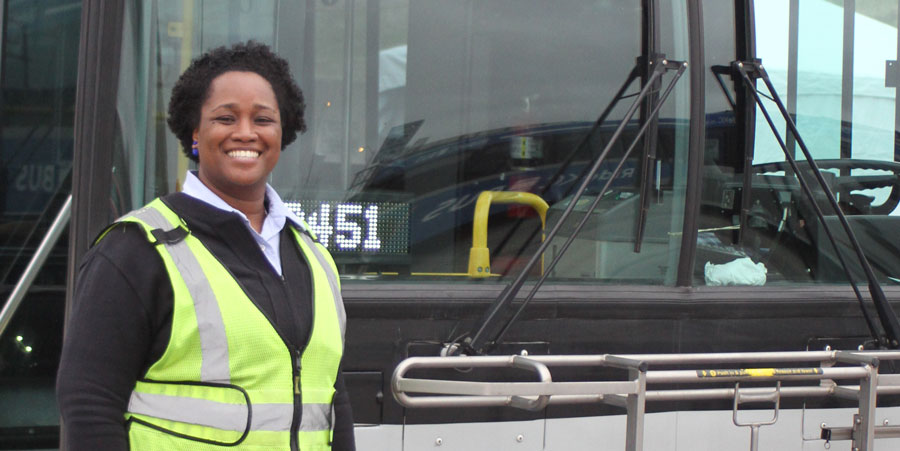 Our Bus Operators are the driving force behind our Mission: "We connect people to opportunities."
Bus Operators do so much more than drive — they're the reliable, friendly face for KCATA riders, ensuring reliable and on-time passenger connections. Often our drivers are guides, providing trip and service information to navigate our amazing transit system and can be found assisting residents and visitors.
Through hands-on training, learn the necessary skills to drive state-of-the-art buses and vehicles, and how to provide excellent customer service. Work in a safe environment. Our high-tech buses are equipped with surveillance cameras, GPS (global positioning system) that identifies the location of buses at all times, radio communication, and other technology that ensures a comfortable and safe ride.
DRIVER OPPORTUNITIES. Our driving force.
Bus Operators (Full and Part Time) – Large Bus
$20.91 to $29.87 per hour / $43,492 - $62.131 per year plus benefits*
Bus Operators (Full and Part Time) – Small Bus
$19.41 to $22.40 per hour / $40,385 - $46,598 per year plus benefits*
Bus Operators (Full and Part Time) – RideKC Flex
$17.92 per hour / $37,279 per year plus benefits*
Experience not required. CDL training provided.
We pay you to train! Employees receive paid training to obtain your Class B CDL (Commercial Driver License) @ $17.92 per hour.
Advancement opportunities
All local work
No overnight travel
Annual pay raises
Represented by Local 1287, Amalgamated Transit Union
* per 2021 pay rates, higher figure represents increases to the fourth year
* Based on eligibility. See benefits section.
REQUIREMENTS
You are ready with:
Age 21 or older
High School Diploma or GED
Valid Driver's License with excellent driving record
Ability to pass a physical agility test, Motor Vehicle Records search, criminal background check, Department of Transportation (DOT) physical exam and drug screening (All tests conducted and paid for by KCATA as part of the application process)
Class B CDL Permit OR Class B CDL with passenger endorsement and no airbrake restriction. We will train you on the rest of it!
Proof of completed COVID-19 vaccination (unless as exception applied – contact Human Resources for details)
Prompt and reliable attendance
Neat in appearance; comply with the dress code
Respectful, customer service oriented with a positive attitude
Open availability for flexible scheduling the first approximately two years as shift assignments and routes are based on seniority. During this time hours and shifts will vary daily; driving assignments can vary across transit vehicles, including large bus, small bus and Flex vehicles; routes are assigned quarterly, with bus operators selecting work assignments based on seniority.
What you will need to start:
Class B CDL Permit or Class B CDL with passenger endorsement and no airbrake restriction. We will train you on the rest of it!
Department of Transportation (DOT) eligible: Physical Exam and Drug Screening (Paid by KCATA)
Motor Vehicle Records search and criminal background check (Paid by KCATA)
WHAT KCATA OPERATORS DO AND JOB REWARDS
Operate and drive a transit vehicle safely, courteously, and reliably throughout Kansas City metropolitan area
Build relationships with riders
Make stops at designated bus stops to load and unload riders
Navigate our amazing transit system and assist residents and tourists
Operate on-board computer fare boxes and destination signs
Perform pre/post trip vehicle inspections
Communicate with Operations Command Center/Dispatch Team to identify and ensure route times and safety
Bus operator hiring occurs in cycles as classes are scheduled. If the Open Positions do not list an opening for bus drivers, email .(JavaScript must be enabled to view this email address) to ask when the next opening is scheduled.