Job Benefits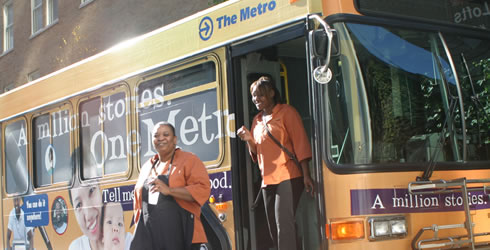 Working at the Kansas City Area Transportation Authority has its benefits: The ATA offers health, dental and life insurance to eligible full-time employees. Health and dental insurance are also available to part-time employees. Flexible spending accounts are available pre-tax for out-of-pocket family health care or dependent care expenses. In addition, employees may purchase voluntary products (i.e., long-term and short-term disability, group term life insurance). A deferred compensation plan is available, which allows employees to set aside monies for retirement. ATA also provides a Defined Benefit Pension Plan for full-time employees. This plan is to provide retirement benefits for employees who retire. Full-time employees are eligible to accrue vacation and sick leave based on their years of service. KCATA recognizes nine paid holidays, plus the employee's birthday and one floating holiday.
Fostering a healthy work environment is important to the ATA. North Kansas City Hospital partners with the ATA to identify and work with high-risk employees. During our annual health fair, on-site medical services are provided, such as blood pressure, diabetes and cholesterol screenings. These services give employees insight on how they can improve their lifestyle. A free bus pass for the employee and dependents, on-site fitness center, cellphone discounts, and employee recognition events are just a few additional perks ATA employees enjoy.
The above description of benefits is to provide a general overview of benefits available, and does not represent a binding commitment of offerings. Benefits are subject to change with or without website posting. Firm benefits will be detailed at time of hire.